Let's get ready to rumble, because Bullet Sunday starts... now...

• Canadia. Best of luck to our friends to the Great White North on their Prime Minister election. Will ten long years of Stephen Harper douchebaggery be enough? Guess we'll find out.

• Feels. ZOMG. Kitten raised with ferrets thinks she's a ferret!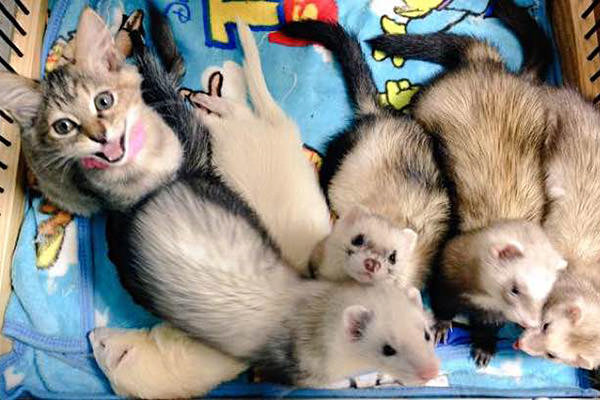 Photo by MichaelMankus.
Cuteness overload.

• Future? Now incredibly sad at how badly our once-promising future has so severely missed the mark...
I can only guess that Biff Tannen has created an alternate 1985 that turned into this pile of shit.

• Fleeced. Yet another terrific article tearing down Carly Fiorina's carefully constructed (and wholly hysterical) façade that she's some kind of awesome businesswoman that's fit to be president...

Photo by Justin Sullivan and Getty Images.
All hail to Jobs!

• Duty! The Duggar clan is a never-ending fountain of wisdom that just keeps giving. Apparently men are merely sexual animals with absolutely no rational thought when it comes to getting the sex they need. Yes, NEED. They will die without it. Or cheat on you. Regardless, it's all your fault. So if you have a headache, you just need to buck up and fuck your husband before something terrible happens. If you don't, that would make you a murderer... or single... or both. It's not your man's fault that you are physically and mentally exhausted. So don't you dare put that on him. He doesn't need to deal with it and he is mentally unable to understand it. Slam a 5-Hour Energy and fuck your husband. Stabbed in the eye with a fork? Throw on an eyepatch and fuck your husband. Nine months pregnant? Fuck your husband. Get shot foiling a bank robbery? Fuck your husband. Bad hair day? Make yourself presentable THEN fuck your husband. Because men? Men simply cannot process the alternative. And shame on you for even thinking that they should have to.

• Wonder? And I thought the David E. Kelley's 2011 Wonder Woman pilot was heinous crap. This... this... has to be the most horrendous take on the character possible...
Thank God Lynda Carter came along in 1975 to give us a Wonder Woman that still holds hop even today. Lyda Carter was Wonder Woman. Still is. Probably always will be.

And... time for bed. Sundays make me sleepy.