Today's your lucky day! There's a brand-spanking-new (and FREE!) issue of Thrice Fiction out today!
As usual, I'll be discussing the artwork that went into our latest issue. This may or may not include spoilers for the stories, so I urge you to please read it before proceeding.
All done? Then... here... we... go...
Putting together the artwork for a non-profit magazine which relies solely on the generosity of its contributors is both a thrilling and frightening prospect. On one hand, you get to work with some amazingly talented people at the top of their game who regularly blow you away with their creativity and their kindness. On the other hand, people working for free can be an unreliable resource. And who can blame them? If a paying gig comes along that's going to take care of your rent and put food on your table, you drop everything and take the job. If you have an opportunity to do something that will advance your career as an artist, you drop everything and do it. Heck, even if it's something frivolous and fun that comes your way when the alternative is slaving away on something you're not getting paid for? Yeah, go for it. I get it. Honestly I do. And I try not to be upset when it happens, because that's just the way free work goes.
This month I had the grand ambition of letting our stable of "regulars" have an issue off. It's a busy summer for everybody, I've gotten plenty of new submissions for artwork, and it seemed a nice thing to do.
Except when all four of your new artists end up not working out. Then it's just plain folly.
Luckily for me, begging and pleading to Thrice Fiction staples Kyra, Katelin, and Chad were met with offers of help, or you'd be reading this is October. The fact that they not only took time out of their busy schedule to step up and bail me out... but that they did so at the last possible moment with a ridiculously short deadline is what I'm talking about when I say "amazingly talented people at the top of their game who regularly blow you away with their creativity and their kindness." Truly, from the bottom of my heart, thanks so much for your dedication to Thrice Fiction, which would be something entirely different if not for you.
And now for a look at the art that went into the first half of Issue No. 14...
This installment's cover was dreamed up by yours truly. It came about as I was reading an article about the increasingly horrific consequences of all the "space junk" humans are leaving in orbit with breakfast one morning. Then, as I was driving to work, I saw that somebody had tossed a sack of McDonald's garbage on the road, and it occurred to me that it's only a matter of time before that stuff like this ends up in orbit as well. Yadda yadda yadda... heeeere's our cover! Originally I used a photo of that same McDonald's garbage (which I stopped and picked up) for the elements on the cover. But it wasn't blowing my socks off, so I decided to use a metal Coke can instead of the McPaper Cup since it reflects light better... and a previous photo of McDonald's fries that was more interesting than what I got. The background image is a photo I shot out of an airplane which has been layered with a starry night photo I took in Africa. All thirteen parts of the finished illustration were independently textured, shaded, then composited Photoshop.
It turned out rather good, if I do say so myself. If nothing else, it has terrific visual impact and a good sense of "What the heck?!?" which is what I like for our covers in the hopes that it makes people curious enough to download the magazine.
And now, for a look at the first half of the art included in this issue, read onward in an extended entry...
INSIDE FRONT COVER. When plans for the inside-front-cover image fell through at zero hour, I asked Kyra Wilson if she had a painting that might work. Instead she offered up this gorgeous photo that could not have been more perfect than if she captured it just for us. Flawless composition and bokeh so beautiful I could eat it with a spoon.
THRICE 14 NOTES. R.W. isn't lying when he says Thrice Fiction has a gun to our head. And it could pull the trigger at any moment, which is why I found this piece by Katelin Kinney so perfect for his notes on this issue.
PAGE 3. Eleanor Levine's Edgar Sinatra hit all the right notes for me, and was a terrific example of what Thrice is all about. After reading the piece multiple times, I decided I wanted something slightly disturbing under the surface. Most of my ideas revolved around "Ol' Blue Eyes" as a theme, and I eventually decided I wanted to photograph artificial eyeballs in dim illumination set cockeyed on a newspaper. That ended up being too creepy and didn't have the vibe the story was needing, so I went back to the idea of depicting Frank Sinatra's "son" somehow. Perhaps with a doll that has blue eyes. And then I remembered there's a Sinatra song with a kewpie doll in it, and here we are. It took days of thrift shop browsing before I found exactly the kewpie doll I had in mind to photograph. Cute but disturbing. I saturated his eyes more than a Dune freeman, then drew around him to exaggerate his shape, dirtied him up, then processed him in four color screening to add a bit of nostalgia. The second shot I took darker to reflect the ongoing tone of the story.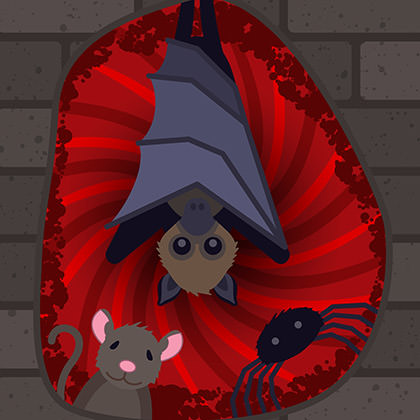 PAGE 6. When it comes to using cartoons for Thrice, I'm always hesitant because I don't want it to seem like I'm trivializing a story or adding levity where it's not appropriate. Which is why I started out with the idea to draw up some kind of dark woodcut piece with bats to accompany E.M. Storm's Screamport. Problem was, all of my sketches didn't fit the story at all. We've got a bat called "Batso" and a family of mice called "The Mousers," after all. So I went full-on cartoon hoping that it would fit the story better. I'm still not entirely sure it was the right choice, but at least it doesn't conflict with the opening paragraph quite so much as if I had done something a little more sinister.
PAGE 8-9. When I first read through Julieanna Blackwell's The Answer, I had a serious "Columbus soliciting Queen Isabella" vibe hit my imagination, but the reference to George Washington had me thinking that perhaps I was misreading the story entirely. So I unpaired it with Ray Nessly's Postcard (which you'll read about tomorrow) and decided it paired better with James Claffey's Conflagration: August 1971 instead. Originally I drew some crossed fingers on pink lace, but abandoned that because I wanted the spread to tie together somehow. Once I realized that both stories had an iconic woman at an important juncture, I started searching through photos of statues I've taken in my travels. The Answer was taken from a piece in a church in Spain set on pink lace. Conflagration was taken from a statue of Mary that faces the sea in Santa Margherita Ligure in Italy set on a green sea... the waves ripple ever on.
BIT O' TRIVIA: I had to restyle the hair for the statue on The Answer to closer match the story. And what a darn fine job I did! Should have considered work as a hair stylist, I guess.
PAGE 10. In thanking Kyra, Kateline, and Chad for stepping up at the last minute... I would be remiss if I didn't thank Thrice newcomer Monica Burns as well. Little did she know when she sent a submission our way that I would be writing back with "CAN YOU START RIGHT NOW?!??" because I was scrambling to find art for those pieces that fell to the wayside. After looking through her portfolio, I thought that Karly Perez's beautifully haunting Away might be an interesting match-up, and I wasn't disappointed. What Monica came up with has more ties to the story the more you look at it, and I can't offer much better praise than that.
PAGE 13. Conrad Smyth's Lot 1507 had a grounded sense of "slice of life" realism that I don't seem to interpret very well, but which Monica's portfolio suggested she could easily handle. The look on the parking enforcement officer's face here echoes the sentiment of the story perfectly, and makes "Murray" come to life in a way that I could never hope to match.
PAGE 15. Beate Sigriddaughter's Her Fairytale was that One Story that kind of threw me for a loop in trying to find an idea, but I thought I had found an artist which could do it justice. When that fell through, I wanted to see where Katelin Kinney would go with it. She liked the story very much, and said "Her Fairytale just screams cancer in so many ways, so I thought this depiction of a matter spreading and taking over other forms worked well." And she's right. The story has a tangible sentiment to it that's tempered with a terrible brutality that anybody facing loss has to confront. By skipping the sentiment and going straight for the brutality, Katelin ends up with a much more powerful depiction of the story. It's a contrast and contradiction that never would have occurred to me, but now I can't imagine it any other way.
PAGE 17. One of the perks of being art director for Thrice is getting to snatch an occasional story for yourself just because you don't want anybody else to have it. J.A. Pak's Chresmographion (a word I had to look up) was that story this time around. All I needed to see was "Contessa" and "Tomatoes" to know exactly where I wanted to go. Tomatoes, you see, have that little crown tiara on top, just like I'd imagine a contessa would wear, so it seemed a natural place to take the artwork. I added the pearls after reading about the Contessa's jewelry box, thinking it would tie the tomato closer to the Contessa than without. That Oliver and Olivia ended up taking a big slice out of the Contessa by story's end, well, that's just the icing on the cake now, isn't it?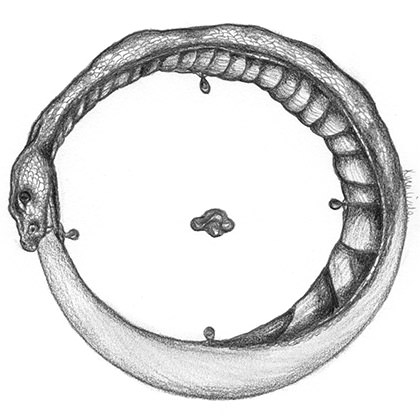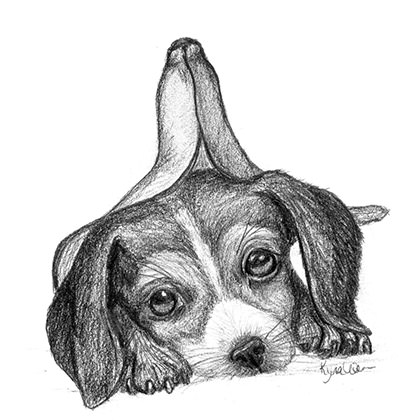 PAGES 21 and 24. One of the biggest surprises to come out of Thrice Fiction has been how much fun I've had interpreting the works of John M. Bennett. His pieces say different things to different people, each latching on to those words... phrases... passages which speak to them most. Over the years I've gotten to create some fantastic stuff to accompany all things Bennett here, but ultimately realized I was being a bit greedy. Some of the other artists here might want in on the fun. Chad was first to step up to the plate with his awesome piece for node controls in Thrice Fiction Issue No. 12. This time I decided to go 180 degrees opposite by asking Kyra to take a shot at it. To the surprise of absolutely nobody, she tapped into that limitless well of creativity she possesses and came up with two interpretations that are predictably perfect... but would have never occurred to me in a million years. Which is exactly why I shouldn't be so greedy in the first place.
Annnnd... we're at the half-way point. I'll run through the remaining pieces tomorrow.