Much to my shock and dismay, my faithful iMac died a horrible death for no apparent reason after a mere four(!) years. My guess is that the video card crapped out but, as you would expect from an all-in-one unit, it's not like I can rip into it and effect repairs. So I am now using a shiny new iMac with 5K Retina Display at work.
Since I have a Retina Display on my MacBook, which is admittedly very nice, I didn't think going full-Retina on my desktop would be a big deal.
I was so wrong. This display is the most glorious thing I've ever seen in my life.
The Sistine Chapel? Utter shit by comparison.
I don't want to look at anything else ever again unless it is displayed in this iMac...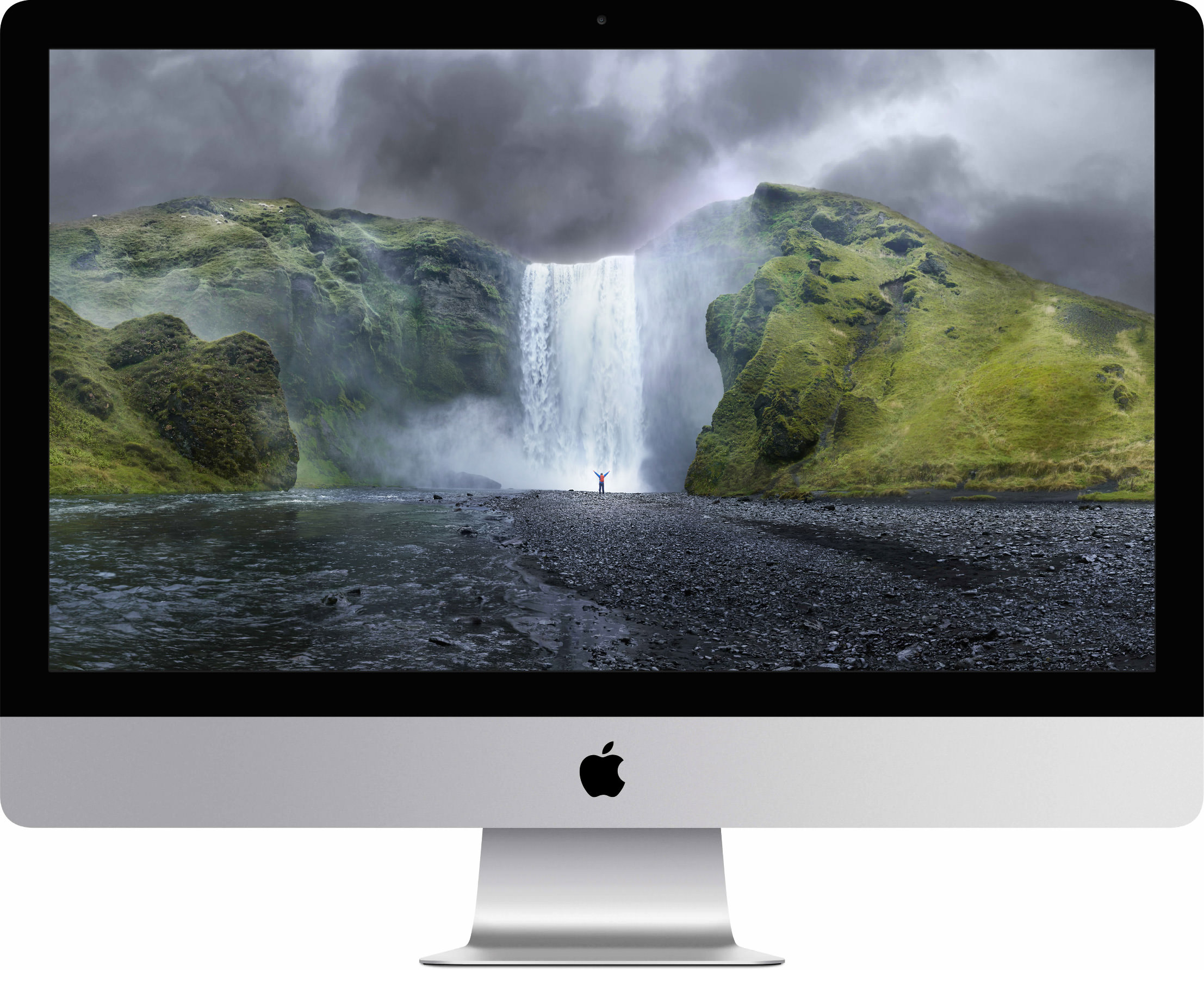 I'm not sure how I managed to avoid sneaking into an Apple Store and taking a look at this jaw-dropping piece of Apple hotness over the past five months since release, but I'm kinda glad I didn't. Because firing up a 5K display and seeing just how amazing it looks is something you can only do once, and having it be on your own machine is priceless...
What's even more amazing than how it looks is what it costs. Or, more accurately, what it doesn't cost. To purchase a 5K display alone will cost you around $2,500. The iMac with Retina 5K Display starts at... wait for it... $2,500. And you can bet your ass that Apple's display is probably superior quality to boot. Which means the best 5K display on the market essentially comes with a pretty decent Mac attached for free.
To power such a massively beautiful display requires all kinds of technological advancements that Apple goes over in detail here. Sure it all sounds very impressive and everything... but there's simply no substitute for sitting in front of the machine and looking at some great quality photographs. Or reading small text. Or just looking at the icons in your Apps folder. Everything is so incredibly sharp... so mind-bogglingly vibrant... so orgasmically beautiful... that you have a hard time believing you're looking at a computer display. It's higher res than HD. It looks better than the best quality print you've ever seen. There's just no comparing it to, well, anything, really. The future is here, and it's stunning...
But what about that Mac part?
The computer itself tapers to a surprisingly thin 5mm on the edges and looks fantastic. I'm guessing there are fans in there but, if they ever turn on, I've not heard them. Overall its a gorgeous Mac that makes previous implementations look clunky and archaic by comparison.
I opted for the pricier 4GHz Quad-Core Intel Core i7 chip, which is a pretty good performer. Sadly, it looks like this i7 is using the older "Haswell" architecture instead of the newer "Broadwell" chips that Intel has unleashed, but I don't know that the newer CPU would give me a terribly huge real-world advantage. Guess we'll just have to wait for the benchmarks when Apple catches up. In any event, it's plenty fast for the rather intensive applications I run, so there's no complaint there.
I also chose to upgrade the standard AMD Radeon R9 M290X 2GB GDDR5 to a full 4GB. I have no idea if the $250 price tag was a worthwhile investment, but I figured I'd rather be safe than sorry in case Photoshop needs the extra room when I have to work on massive-sized files.
Storage was a tough call for me. I have long-since given up on "regular" hard drives as boot drives, because once you've experienced the terrifying speeds of a Solid State Drive (SSD) you will never go back. But Apple has a technology called "Fusion Drive" which marries a 128GB SSD with a 1TB hard drive in a single volume. The system then optimizes your experience for fastest results by keeping commonly-used files (like the operating system) on the SSD and transferring seldom-used files to the HD. Probably because I haven't filled up my SSD section yet, but the disk access feels as fast as it ever was when using the SSD-only unit on my old Mac, so I'm happy.
Physical expansion is pretty much what you'd expect from a modern Mac... four USB-3 ports, a couple of Thunderbolt 2 ports, GB Ethernet, a headphone jack, and an SDXC card slot. No USB-C connector like on the brand new MacBook Pro, but that's no big deal for me, as I plan on sticking with Thunderbolt peripherals for the foreseeable future.
Everything else is pretty much current implementations of modern standards... including 802.11ac WiFi and Bluetooth 4.0. This allows full AirDrop and Continuity support, which is much appreciated.
About the only thing you don't get is a CD SuperDrive, which is to be expected now-a-days. I can't tell you the last time I had to read or burn a CD, but it was knowing that I could do so if I needed to that added a bit of comfort to my previous iMac purchase. Oh well. Something tells me I won't be missing it.
And that's a wrap!
It's easy to recommend a Mac where the display alone is worth the cost of admission (both literally and figuratively)... even when that cost is $2,500. One look and you'll know it's worth every penny.
So don't look unless you have $2,500 burning a hole in your pocket.