No more holiday shopping for you... because Bullet Sunday on Monday starts... now...

• Little! One of the most wonderful books ever crafted, Le Petit Prince has inspired a new animated motion picture of the same name...
Yeah. Definitely going to make time to see that.

• TURN IT! So there I was... freaking out because yet another video had been shot in vertical and posted to my wall... when I run across THIS...
AND THIS...
YES. FOR HEAVEN'S SAKE... TURN YOUR DAMN PHONE!

• Last Days of Ivory. An elephant is murdered every 15 minutes...

• Petty Assholes! Take, for example, genocide...
Yeah. Somebody definitely needs to focus on The Big Picture here.

• Peace? And Greenpeace moves to the top of my Stupid Assholes list. Not only did they not give a crap about preserving a glorious WORLD HERITAGE SITE... it's obvious they did this idiotic stunt because they're self-serving pieces of shit. They made this perfectly clear... WHEN THEY SIGNED IT WITH THEIR LOGO!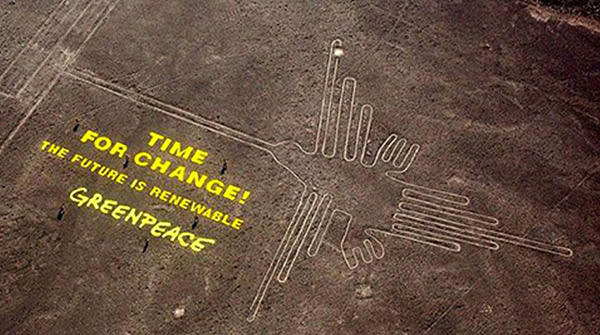 Image front Reuters
Their subsequent non-apology apology only makes them even worse... not sorry we did it... sorry you're offended. Yeah, take your "message of hope" and shove it straight up your hypocritical asses.

And... Bullet Sunday out.