Grab a grey base plate, because an ALL-LEGO edition of Bullet Sunday starts... now...

• Movie Game! I haven't had a chance to finish the LEGO Marvel Super-Heroes videogame yet, but decided to jump into The LEGO Movie Videogame to check it out. One thing I can say from the levels I've played... you need to see the movie first. Events in the game are ripped directly out of the movie, so it is a massive spoiler if you play before you watch...
Shocker... this LEGO videogame is pretty much like all the other LEGO videogames. You take control of a LEGO minifig to collect LEGO studs and solve mostly easy puzzles based on the film...
The voice talent is pretty good, as half the time I didn't know if the characters were being voiced by their movie actor counterparts... or if they just managed to get really good imitators. A new addition to the LEGO games is the need to hunt down "instruction books" to build some items, but most everything else you've probably seen before. Not that this is a bad thing... most times it's a relief that Traveler's Tales Games has had time to refine their play mechanics to such a fine point. But not always. Racing controls are still shitty, just as they are in every other game where you have to take command of a vehicle. And yet... still a lot of fun, as expected. I'm going to wrap up Marvel LEGO Super-Heroes first, but look forward into playing more of The LEGO Movie Videogame.

• Movie Essentials! All the things I loved most about The LEGO Movie are beautifully examined in DK's Essential Guide to the film. Like all DK LEGO books, a lot of love went into making sure that readers get their money's worth, and I'm very glad to add this edition to my growing collection. I'd write a review, but BrickQueen has already done a brilliant job of it...
Totally worth the $8.21 it costs... especially if you love LEGO.

• Movie Minifig! I gave up trying to buy the hundreds of minifigs that LEGO releases each year because it's just too darn expensive to collect them all. But Series 12 is based on The LEGO Movie and so I'm sorely tempted because they're all pretty cool...

The problem is... even if you manage to collect all the characters in Series 12, you're still not going to have them all. LEGO released two exclusive minifigs exclusive to AMC theaters. And since I don't have an AMC within a hundred miles, getting my hands on them is not an option for me...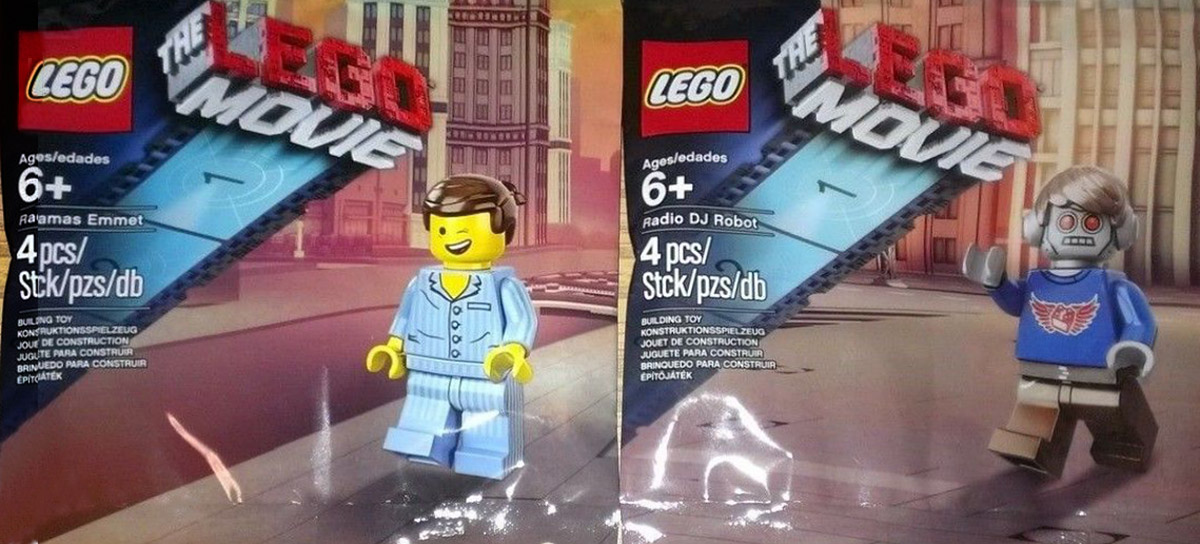 If I wanted them, I'd have to pay absurd bank on eBay. That's pretty shitty. Especially considering that there's probably other exclusives out there I don't even know about.
But, dang is Pajamas Emmet adorable.

• Soundtrack! While I had a few problems with the movie itself, the soundtrack was absolutely not one of them...
Featuring beautiful synth tracks by Mark Mothersbough, there's some good stuff to be found here. Most tracks are short bits that end before you can get into them (what I wouldn't give to hear more of Emmet's Plan, which clocks in at under two minutes!)... but they all flow together nicely. The theme song Everything is Awesome by Tegan & Sara (featuring the Andy Samberg's The Lonely Island) has some alternate versions here... including a rendition by Jo Li and a not-so-great acoustic version by Shawn Patterson and Sammy Allen. Also included is a bizarre piece by Will Anett (who plays Batman in the film) called Untitled Self Portrait. Overall more hits than misses. If you liked the film and enjoy synth music, this is worth a listen.

• Heart! There's been a few spoofs of the infamous Vinnie Jones "Hands-Only CPR" commercial from the British Heart Foundation (this one with Mini-Vinnie is classic). And now they've released one with LEGO...
Genius. Everything is better with LEGO!

• Online! I am still very, very upset that LEGO canceled LEGO Universe Online after I had invested so much money and time playing it. For this reason, I took a pass at the Legend's of Chima MMORPG when it came out. But there's a new Massive Multiplayer Online Role Playing Game coming this Summer called LEGO Minifigures...
Needless to say... after watching the trailer, I want to play it. Hopefully LEGO will find a "revenue model" this time around so they won't have to cancel it just as I'm getting into it.

Annnnnd... time to play a few more rounds of LEGO Marvel Super-Heroes!