I finally made it to Taco Bell so I could try their new "Cinnabon Delights"... which are little balls of dough that are filled with Cinnabon frosting, then rolled in cinnamon-sugar. Kind of a faster-food version of a fast-food version of a cinnamon roll.
When I first heard of them, my reaction was to say "God exists. And he's working at Taco Bell. I love stuff like this... totally bad for you, yet utterly delicious. Much like so many things on Taco Bell's menu (Cheesy Fiesta Potatoes, anyone?).
Here is what got me so excited...
Even the photo is orgasm-inducing.
But how does reality stack up?
Meh.
First of all, none of my bites were filled with hot frosting goo as shown in the ads...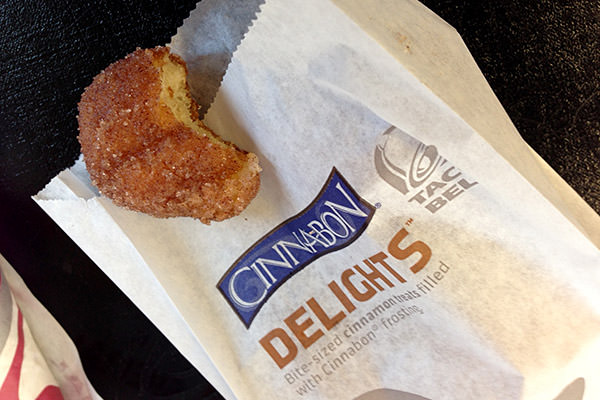 They were kind of mooshy inside... like the frosting goo had been absorbed or something. Maybe they had been sitting out too long? But they did taste like there was Cinnabon frosting inside, so I guess that's what's important.
But the bigger problem with these things is the texture. The sugar crystals are a bit big, so they add a grainy gritty feeling when you take a bite. Do not like. If they could fix this, I'd probably enjoy them a lot more because the flavor is pretty decent.
In the meanwhile, I'll just track down a Cinnabon shop when I have a craving for cinnamony goodness.
Of course the nearest Cinnabon is just over two hours away, so maybe time constraints or desperation will have me cruising Taco Bell after all.
Such is my lot in life.