And so today my Adventure by Disney officially begins (yesterday was just an add-on that I booked so I'd have a little time to recoup from the flight).
The name of this tour is apparently "Jewels of Southeast Asia," though the official website page doesn't show a name at all. Unlike most of the "Adventures by Disney" which are designed as "family vacations" which include activities for kids, this is an "adults only" tour.
Usually, I'm not big on organized tours, but when you don't have time to plan things out, it's just easier all the way around. Disney is more expensive than other companies I found, but I decided to just bite the bullet and go for it because Disney is a name I trust to do things right.
The day started when everybody boarded a bus for the Mekong River Delta. The interior was a bit unexpected, with decorations plastered everywhere...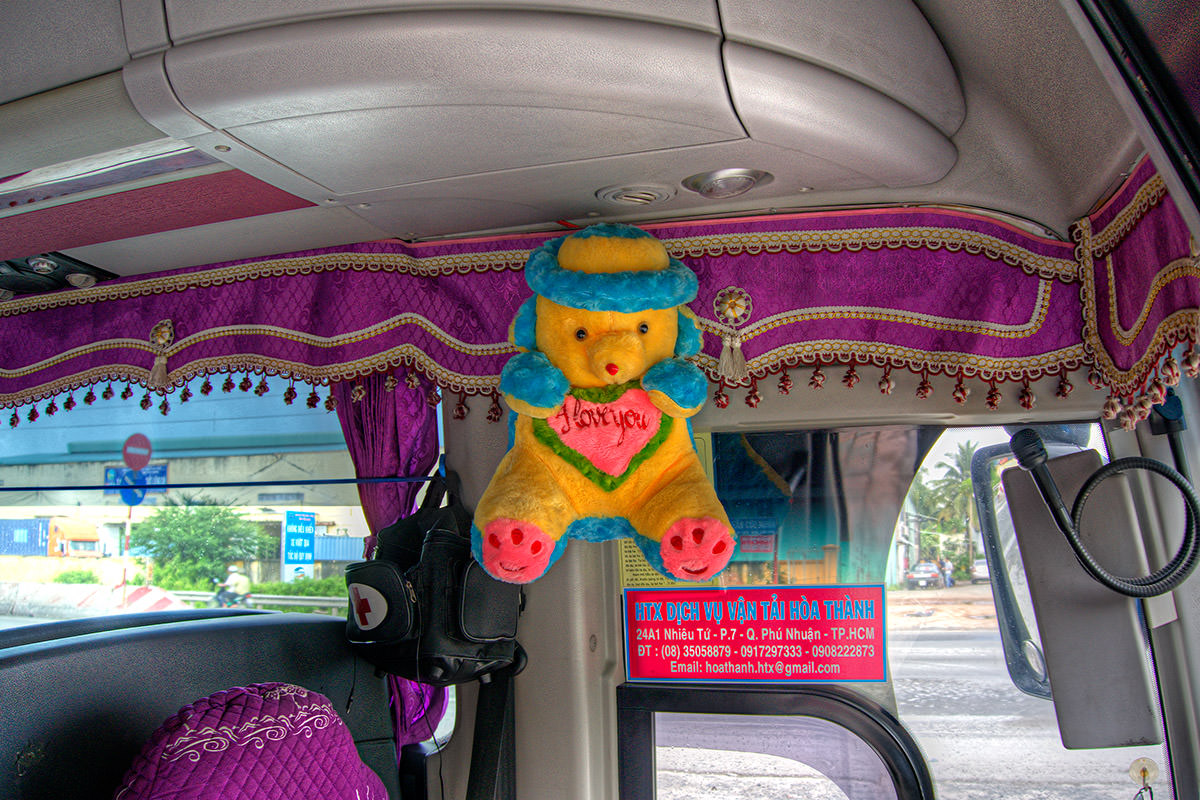 There were symbols of good luck lining the dashboard, which makes sense given the insane traffic you have to navigate through here in Saigon...
Half-way through the drive, we stopped at a rest area, which is unlike any rest area I've seen before...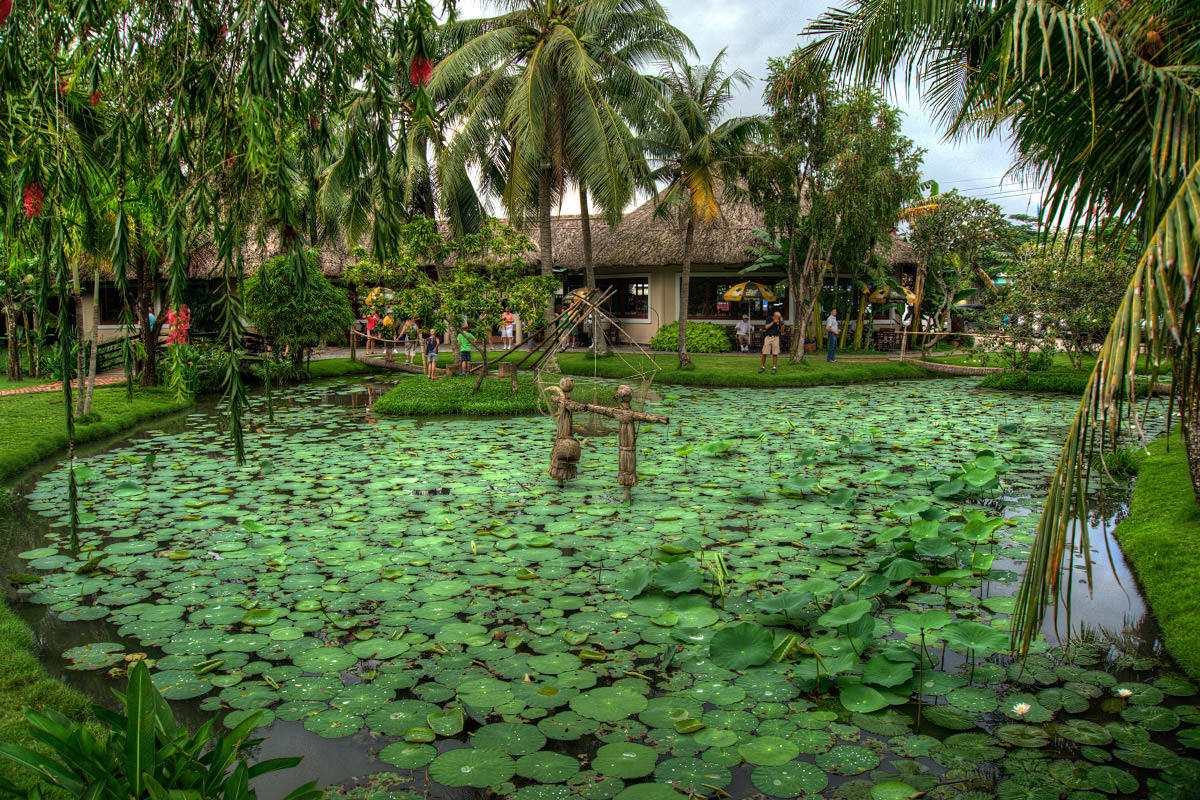 It was a long drive, but you're never bored because entertainment is always just outside your window. A guy riding a motorcycle with a washing machine while texting? Got it. Entire families of five people on a motorcycle? Yep. Babies on motorcycles? Of course! Saigon has it all...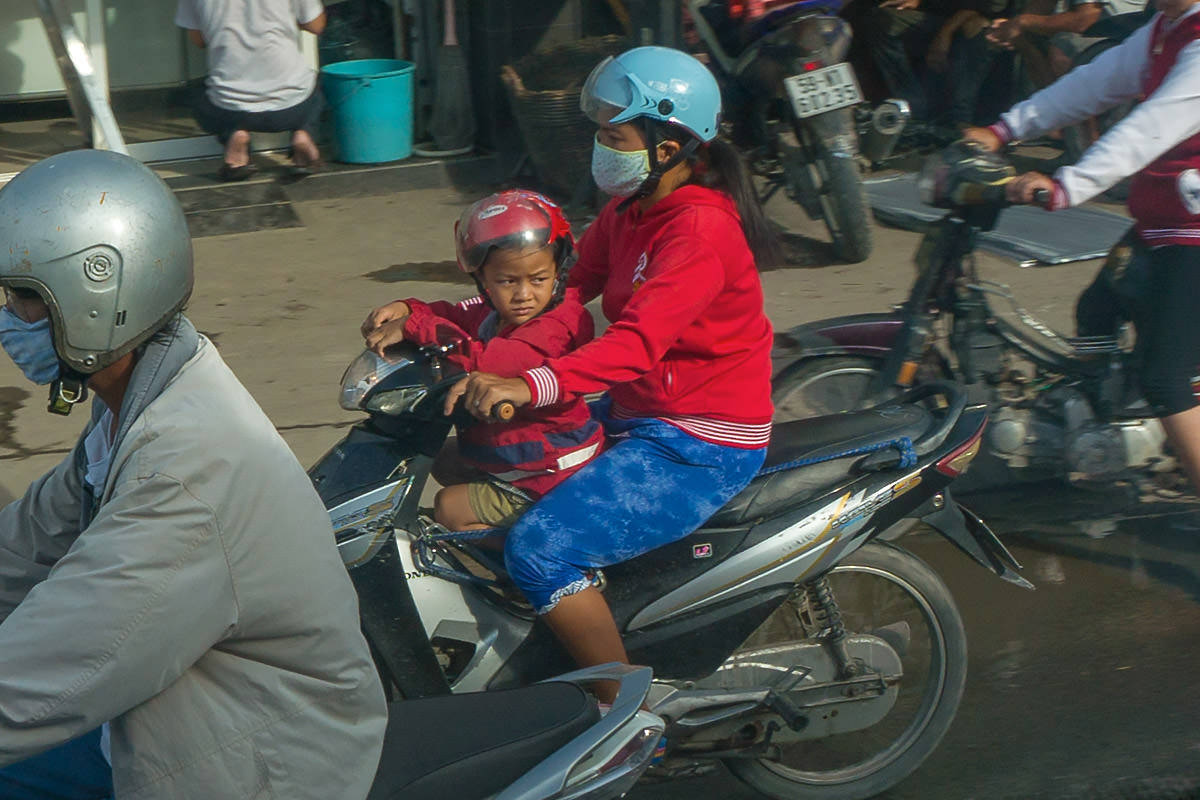 Eventually we made it to a small fishing village on the Mekong River where we boarded boats to explore life on the river...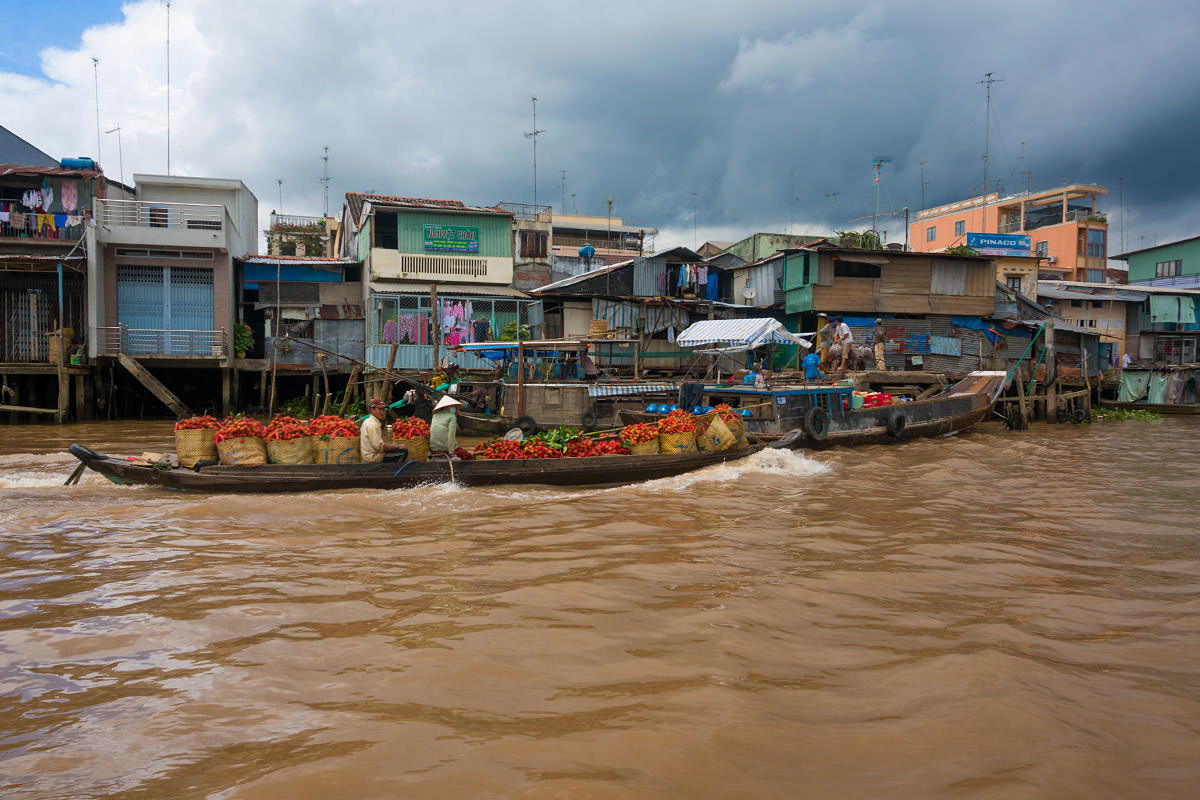 After wandering around a while, we stopped off at a family-run candy factory. One of the candies they make is from popped rice. The popping itself is accomplished with large woks filled with hot sand. The sand and rice is mixed together and, almost instantly, the popping starts. The sand is then filtered away in a sieve and, violà, rice has been popped. It's then mixed with sugars and flavorings, pressed onto a cutting table, then sliced into bite-sized pieces and wrapped for selling...
The company also hand-makes rice paper for spring rolls and such. It's a hot, tiring, difficult job, but the woman working there made it look easy...
Another item on the menu... SNAKE WINE! Wine that it cured with dead snakes in it for some reason...
All throughout the factory there were dogs laying around. We were warned that dogs here are not petted and cuddled, so trying to make friends is a bad idea. The dog may think that you reaching out to pet him is an attack, so you'll get bit...

And speaking of dogs... prosperous homes sometimes have dog statues standing guard in front. I've seen it more often than you'd think, and most times it's these exact same statues over and over again...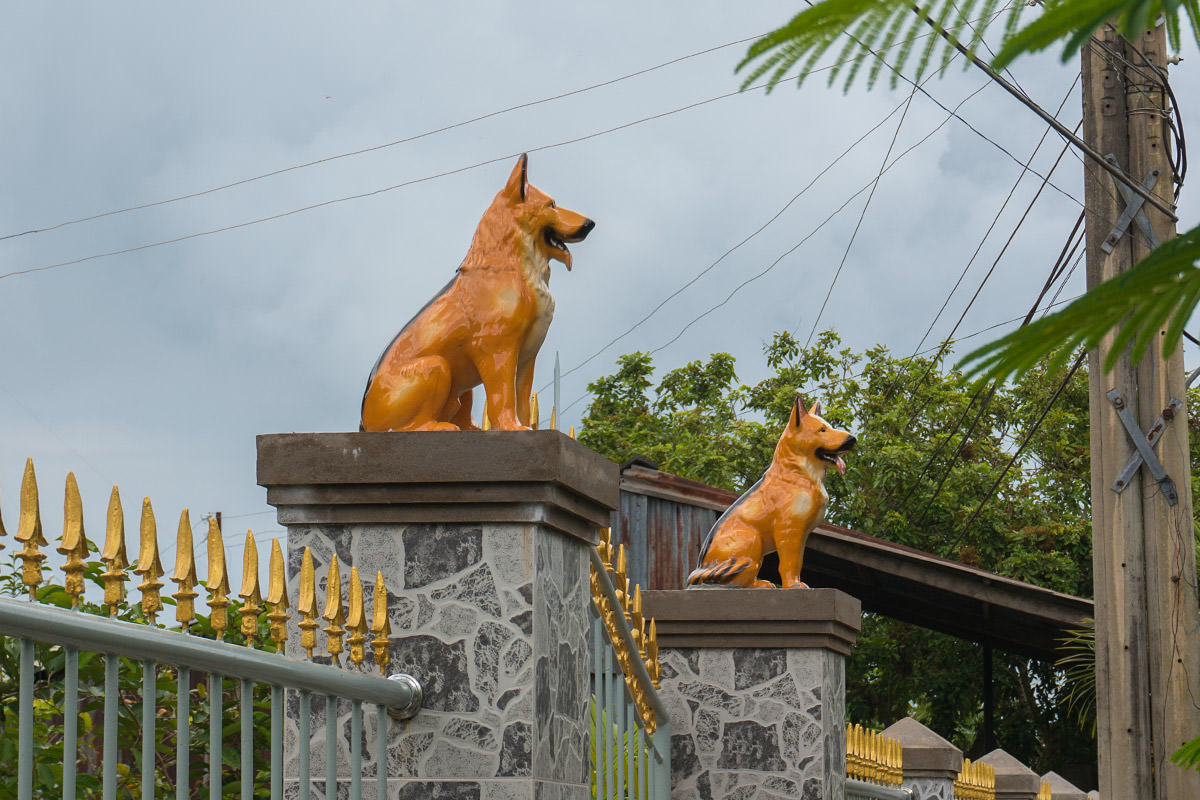 After an incredible lunch of fresh local foods, we zoomed back along the river so we could drive back to Saigon. Dinner tonight was on the 51st floor of the Bitexco Financial Tower, which is an easy building to spot because it has a helicopter pad sticking out the side of it! The view of the city was quite nice and the food pretty darn tasty...
Since this is a Disney tour, they hand out pins for you to collect. On the first day I got a welcome pin with Pluto...
Then today I got a Donald and Daisy Duck Mekong pin...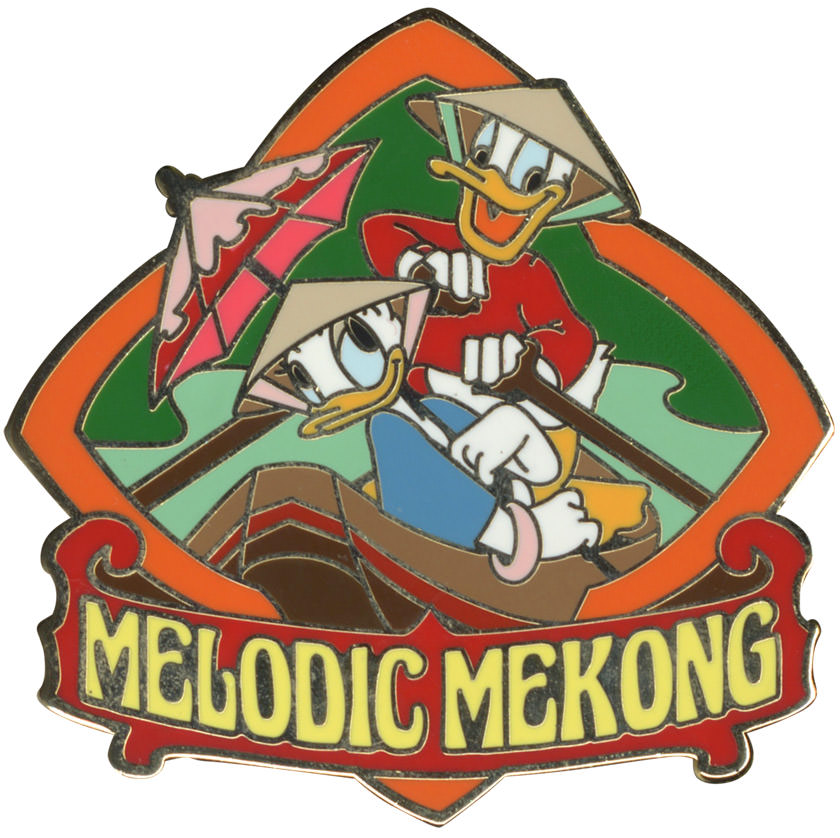 Pretty nifty.
And tomorrow starts early, so off I go...