Take off your wooden shoes and relax... because a special DUTCHYLAND TRAVEL edition of Bullet Sunday starts now...

• Schiphol! Amsterdam's International Airport is named Amsterdam Airport Schiphol, and it's easily one of my favorite airports in the world. It's incredibly well organized, navigation signs are everywhere, and I've never seen extremely long lines for anything. Today I was flying Business Class, and it was literally ten minutes between when the DutchBitch dropped me off and I had gone through bag drop-off and security to be sitting in the KLM Lounge drinking a Coke and one of Dutchy's delicious cheese sandwiches. As if that weren't enough, every employee I have ever encountered at Schiphol has been exceedingly friendly and helpful. One of the cool things they do that seems to be increasingly common outside the USA is to have a monitor to tell you when luggage from your flight has hit the baggage carousel. Schiphol goes one step further and provides an estimate as to when the bag will be unloaded...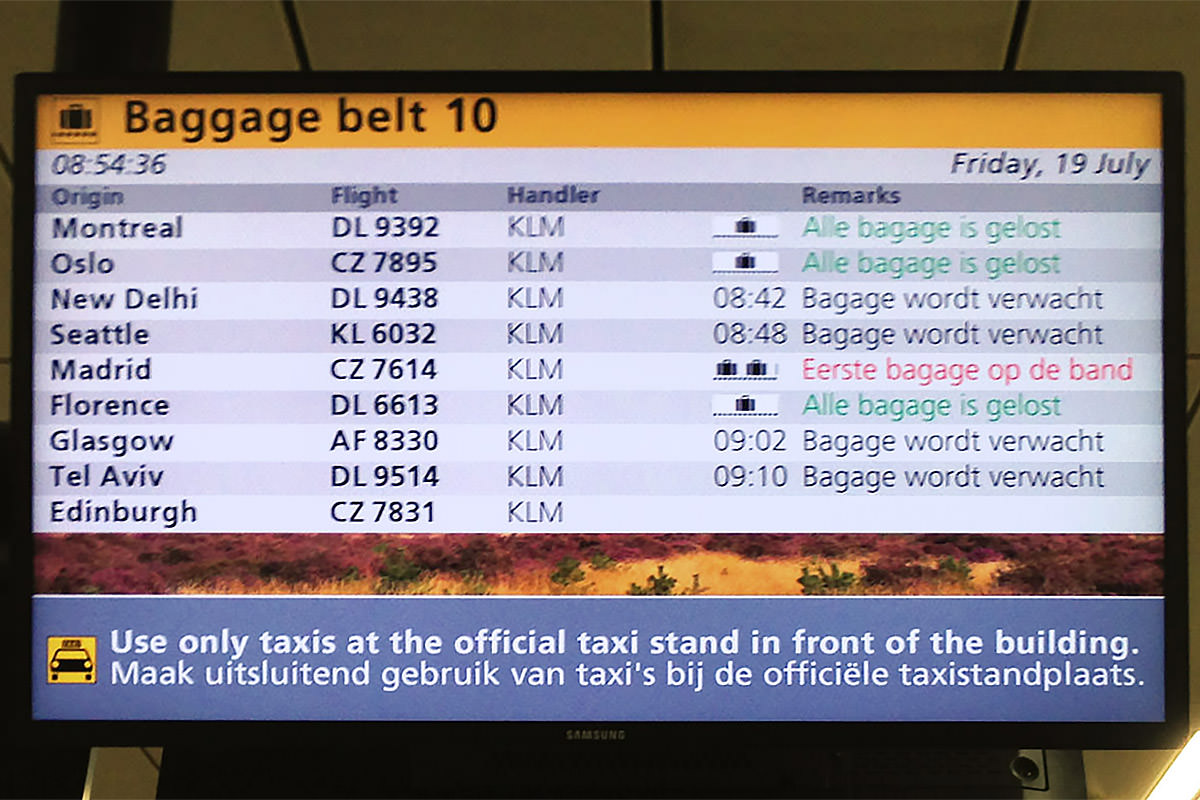 Never mind that it's almost always wrong (my suitcase was "expected" at 8:48, but it's 8:54 in this photo and it still hasn't shown up), at least they're trying to keep passengers informed!

• KLM! The major airline for the Netherlands is KLM Royal Dutch Airlines. When flying KLM, Business Class travelers are treated exceptionally well. But it's my memories of flying the airline when I was a coach passenger with little travel status that makes me love the company. As an example, way back in 2002 my Northwest Airlines flight arrived late at Schiphol and I missed my connecting KLM flight to London. When I explained that I was now going to miss my train to Edinburgh, the transfer agent asked if they could change my ticket from London to Edinburgh at no charge so I wouldn't delay my vacation. I very nearly went into shock. This just isn't done in the airline industry... especially when something is another airline's fault. But Northwest was a partner company and there was room on the next flight to Edinburgh, so KLM didn't give it a second thought. I probably had "Silver" status back then, but I don't think they even bothered to check before they made the offer. This not only saved me the cost of a train ticket, but actually ended up putting me ahead of schedule for my trip. And that's just one example. KLM has bent over backwards to help me out like that more than once, and is one of the few airlines I honestly have -zero- complaints about.

• Food! Another perk of flying KLM? The food. Yes. The food... on an airline! First of all, I can't recall a time that there wasn't a vegetarian option. Whether it be a simple sandwich or full meal service, they always seem to have a meat-free selection. Second of all, I can't recall ever having a bad meal. Tonight I wasn't hungry, but I couldn't say no when they offered dinner service... on my two-hour flight to Helsinki. Now-a-days, you'd be lucky to get a free snack on a flight that short, but here's KLM's idea of service...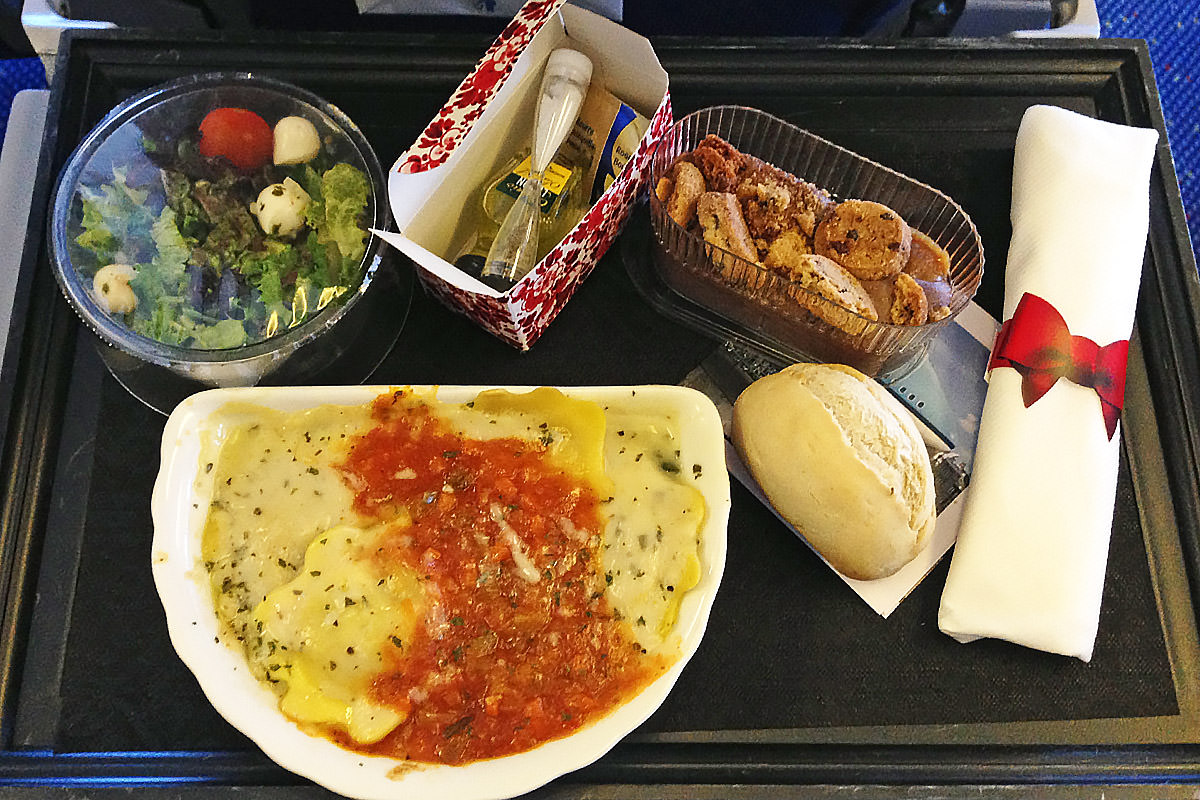 That's cheese gnocchi pasta pillows over spinach, a mozzarella and tomato salad with lemon olive oil dressing, a dinner roll with butter, and a chocolate-praline mousse pudding with cookie topping for dessert. ON A TWO-HOUR FLIGHT! Even on an hour hop, I've been served everything from delicious cheese sandwiches to pizza. It's unreal. I don't just like flying KLM, I thrill to flying KLM, and the wonderful food is a big part of that.

• Trains! In the Western USA, we don't have a very good train network at all. As an example... if I want to take the train to Seattle, I first have to drive 20 minutes to Wenatchee, then catch the one train that goes to Seattle every day... at 5:35am. This is pretty much useless, so I never take the train. Contrast that with the train network in the Netherlands...

Image grabbed from the internet... source unknown.
For a rather small country, the rail coverage is astounding. You can go just about anywhere on clean, comfortable, fast trains with schedules that are actually useful. I long for this kind of service where I live.

• S.T.E.P. The US Department of State has a program called "STEP" which is the Smart Traveler Enrollment Program. US citizens traveling or living abroad can register their trip so that if they run into a problem it's easier for them to get help from local embassies since they'll already have your information. It also lets the embassy know that you are in the area in case something seriously bad happens... like a violent uprising, government takeover, invasion, or Justin Bieber concert. I'm guessing if something like that were to happen, they could track down everybody registered in STEP and make sure they're safe. Or, I suppose they could also be hacked by terrorists so that it's easier to find potential hostages and/or victims. Regardless, given the world we now live in, I've decided to risk it and have gotten in the habit of entering my trips abroad into STEP. Whether you decide to do that or not, it's still worth your time to see what the program offers, so here's a link to the Bureau of Consular Affairs and STEP.

And on that note, I must say... Tot ziens! Vaarwel! Dag!