Don't get confused that bullets are flying on a Monday... because Bullet Sunday starts now...

• Downey Jr.! Marvel's box office streak continues. Iron Man 3 had the second biggest domestic opening of all time ($175.3 million), second only to Marvel's The Avengers (which bowed last summer with $207.4 million). This is a continuing, shining example of how staying faithful to the source material with popular characters will result in popular movies...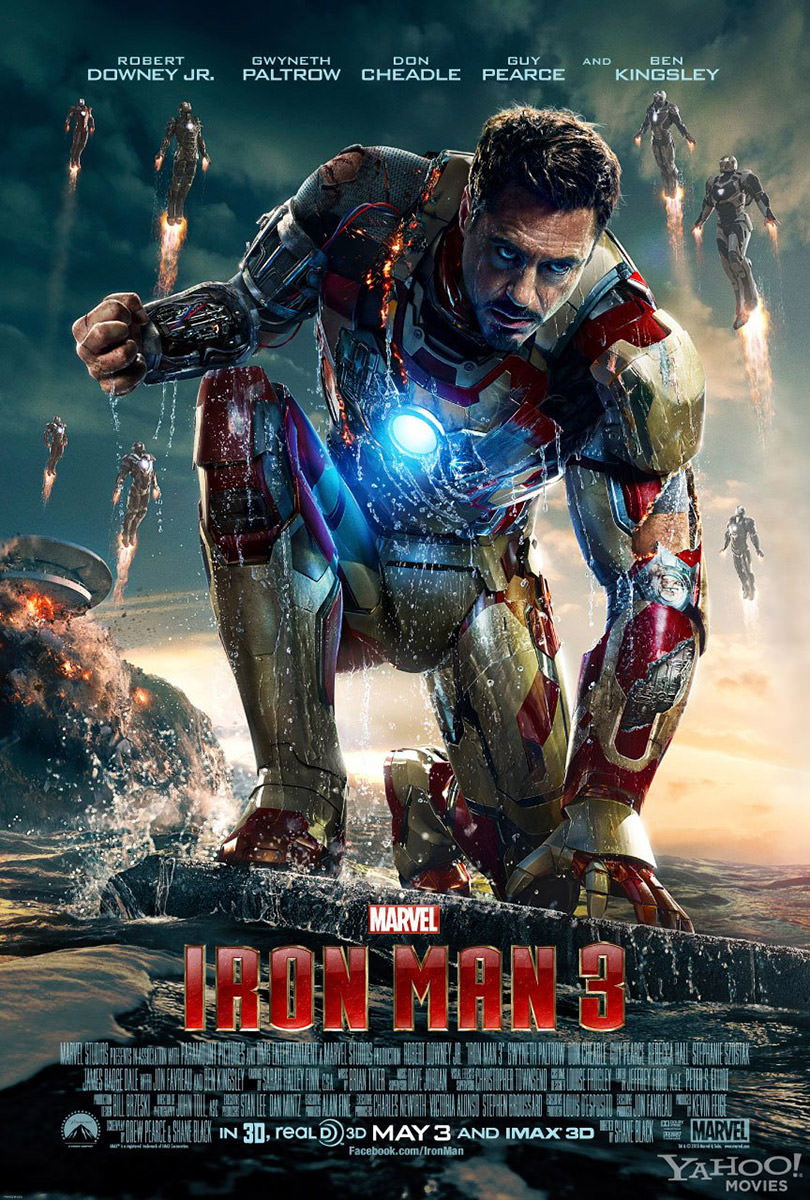 I can't wait to see it! I just have no idea when I'll have time to.

• Gates! Look, I understand that Bill Gates has to continue to support Microsoft even though he's not running the place any more. I get it. The company made him billions upon billions of dollars, and he's obligated to say fantastic things about it no matter what happens. Anything less would be ungrateful.
Really?
Look, if I am going to be doing a lot of data entry or typing a lot of text, I'm going to use a computer. But for surfing the web, taking notes, checking and writing email, reading books and comics, and dozens upon dozens of other everyday tasks? I grab for my iPad. It's not the best tool for typing, of course, but it's really comfortable and useful for a lot of the stuff I do on a regular basis. So, no, Bill... I am not a frustrated iPad user. What I WAS was a frustrated Windows 8 user. So frustrated that I took your new piece-of-shit operating system and tossed it in the garbage after downgrading to Windows 7, which was at least tolerable. So... Bill... before dumping all over iPad with your pathetic whining, you might want to take a look at the turd that you're claiming is such a superior experience. Because it's not. It so totally and absolutely is not.

• Rollins! I just tuned into Hawaii Five-0 tonight only to see that it's guest-starring Henry Rollins and Mare Winningham as child kidnappers! Yes... THE Henry Rollins!
As a big fan for a very long time, it was cool to see Henry Rollins playing a bad guy on TV. His performance was pretty darn good given that he didn't have a lot to do... however... there was a problem.
<< SPOILER ALERT >>
At one point, Henry's character has been caught. But he refuses to talk, so the cops decide not to be cops and beat the shit out of him to get the info they need. The first thing to enter my head was "Well this is going to be hilarious!," because the idea of two Hollywood actors beating up Henry frickin' Rollins is absurd. Even if he was handcuffed. But then the camera turns away, which means that the people making the episode also thought the idea of two Hollywood actors beating up Henry frickin' Rollins was absurd. And that made it even more hilarious.

• Restless! So... turns out that "Restless Legs Syndrome" is not the load of bullshit I always thought it was. I've had leg pains for as long as I can remember, but it's always been fairly mild and ignorable. Over the past year, I've been having increasingly odd and un-ignorable "rolling pains" that move up and down my legs. It kind of feels like electricity on the inside that will give me mild shocks in random places, then tingle and go dead. But it only seems to be a problem late in the day when I've been sitting at work... or sitting on the couch... or sitting on a plane... or laying down in bed. But when I move my legs, the weird feeling subsides. This means I am constantly shifting my legs, often-times without even realizing it. So it looks like I now have a neurological disorder. Which makes me wonder yet again "What's going to go to shit on my body next?"

• Riker! HOW DID I NEVER NOTICE THIS?!?
So... bad back... or lifestyle choice?

And... no internet. Again. This is getting silly.