The best piece of advice I give when people ask about visiting Disney World in Orlando is to stay on-site in a Disney hotel. It's part of the experience, it has all kinds of benefits, and even the cheapest Disney property assures you of a clean, comfortable, convenient place to stay. If I had the option of going to Disney World today and staying off-site... or saving my money for an additional six months so I could stay on-site... I'd wait the six months.
Disneyland is a little different, because the off-site hotels are often just as close and convenient as The Disneyland Hotel and Disney's Paradise Pier Hotel... even though you don't get the "Magic Mornings" early-entry and other benefits. The exception would be Disney's Grand Californian Hotel and Spa, which sits inside California Adventure...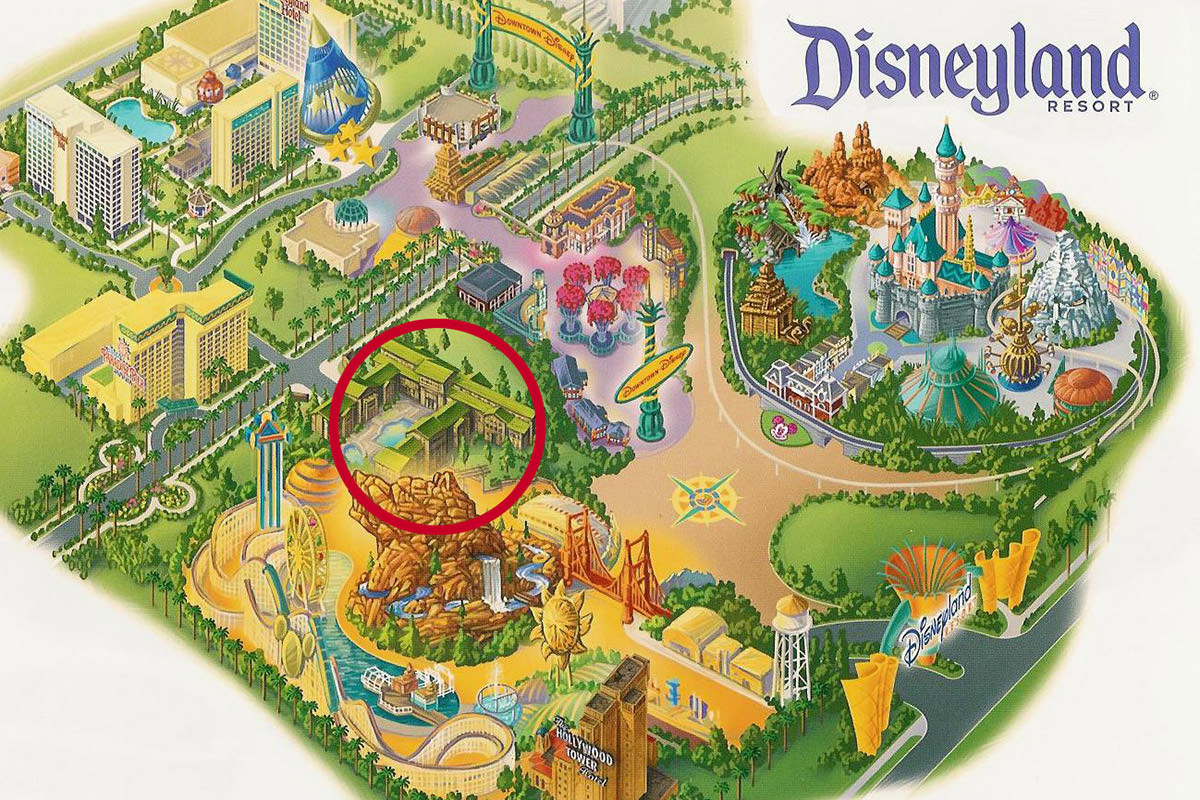 The hotel has its own private entrance to both California Adventure and Downtown Disney, which is pretty special.
But the biggest draw for me is that it's yet another architectural triumph from Peter Dominick, who designed Disney World's awesome Animal Kingdom Lodge and Wilderness Lodge. Sadly, he died back in 2009, so I guess this is the last Disney hotel we'll be seeing from him. Staying at his hotels is an experience every bit as awesome as visiting Disney World or Disneyland...

The "Downtown Disney" private entrance to The Grand Californian.
Even the frickin' front doors are magnificent...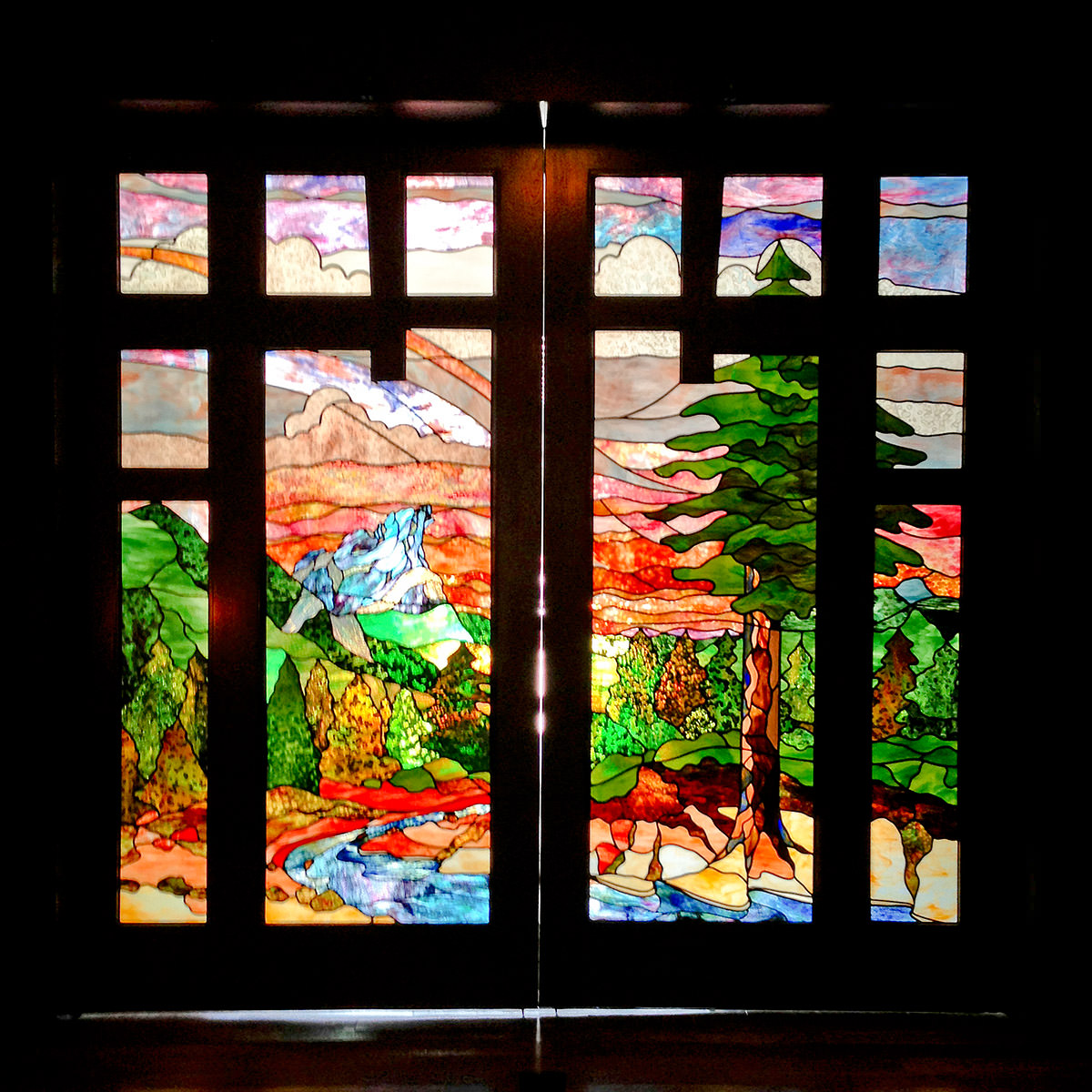 No joke... just walking up to those big main doors with the sun shining through is an amazing experience.
The rooms are quite nice, and everything reminds me very much of staying at Disney's Wilderness Lodge...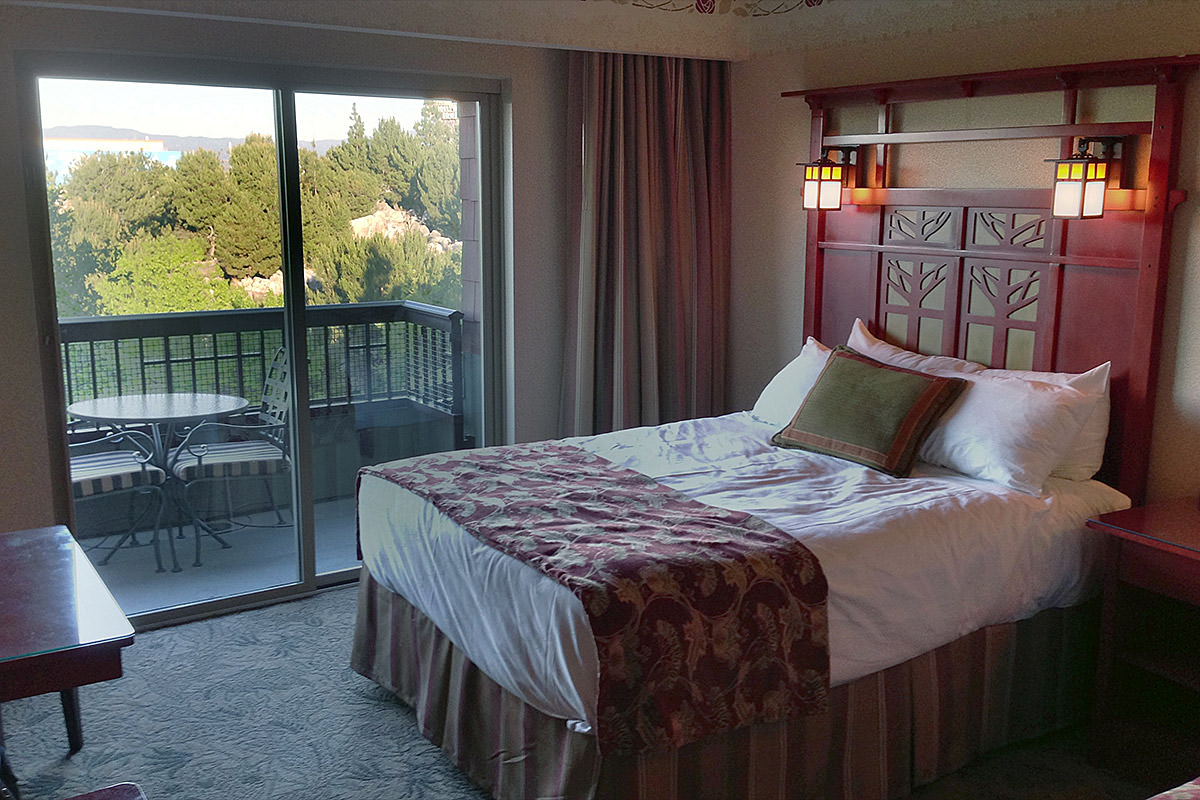 And now... a word about the view.
Since I was already paying the huge expense of staying at The Grand Californian, I felt I might as well go all the way and get a "Premium View" room... which either faces Downtown Disney, the parks, or the pool courtyard. Downtown Disney is noisy, and I've seen many noisy pools, so I picked the "Premium Parks View."
Only to find that my third floor room had no view of the parks. All I could see was trees. And the snout of Grizzly Mountain... if I went to the extreme edge of my balcony and leaned out.
So I went back down to the lobby and complained. There it was explained to me that the trees have grown over the 13 years the hotel has been open, so the lower floors don't have the view they used to. This was kind of upsetting, because they still sell them as Premium Park View Rooms! If they KNOW that there's no view, why do they still sell them as such? Well, money. And "technically" it still is a "parks view" since the parks are in that direction... you just can't see them.
In any event, I got moved up to the fifth floor, which was better... but still not the sweeping view of the parks I had imagined. Mostly just trees...

You can see a little Space Mountain and Soarin' Over California easy enough to the left. And if you squint you can see Tower of Terror and Cars Land. And there's Grizzly Peak hiding behind a tree there. So, yeah... it's a parks view. Just not much of one.
So, if you stay at The Grand Californian, skip paying extra for a "Premium View" that's not very premium. If you must have a "Premium View" room, I'd probably go with the "pool courtyard" view. Sure you've got kids screaming at the pool all day long... but at least there's something interesting to look at.
Anyway...
I didn't have any camera except the one in my iPhone, so I don't have any photos of this amazing hotel.
Well, okay, I have two I took one night...
Overall, I give Disney's Grand Californian Hotel and Spa my highest recommendation if you're visiting Disneyland. Yes, it's expensive. Very expensive. But it will enhance your Disney experience, and is likely worth the money (though I'd probably skip the "premium view" expense). I had a terrific stay, and would absolutely stay here again.