Today's the day our Supreme Court gets to decide whether they are going to be on the right side of history.
I find it absurd that a country founded on personal freedoms is set up so that nine people are going to tell gays and lesbians whether or not they can marry the person they love, but here it is. They'll either decide that taxpaying gay Americans are equal citizens deserving of marriage... or they'll decide that a citizen's freedom to marry should be regulated by the government and it is the law, not love, which dictates who can or cannot be married.
What a load of crap. Because, honestly, why should anybody give a shit what two consenting adults do with their relationship? Marriage equality has been legal here in Washington State for months and you know what's changed? Gay people can get married... THAT'S IT! No straight couple has suddenly been told they can't get married any more. Nobody is being forced to get "gay married." The sky hasn't fallen. Life goes on.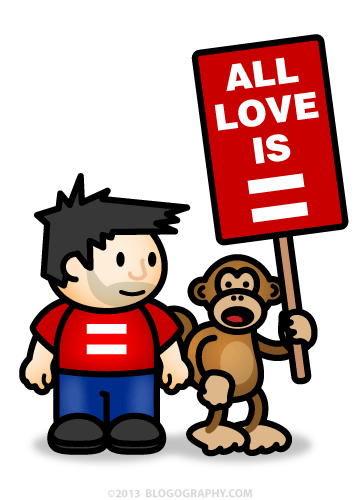 Unless you're gay, marriage equality DOES NOT AFFECT YOU.
But equality for every American affects everybody. Here's hoping the Supreme Court is smart enough to see that.