Back in 2005, I threw my tall hat into the ring to be considered for Supreme Pontiff of the Catholic Church. I don't know if you heard, but I was not elected, despite my astounding credentials.
Instead the The College of Cardinals elected Darth Benedict XVI, who went on to disgrace The Church and worked overtime to reverse much of the good will that Pope John Paul II worked so tirelessly to build with other faiths and the world.
Well, now that His Holiness has decided to resign, The College of Cardinals has a chance to rectify their poor judgement and make the choice they should have made all along...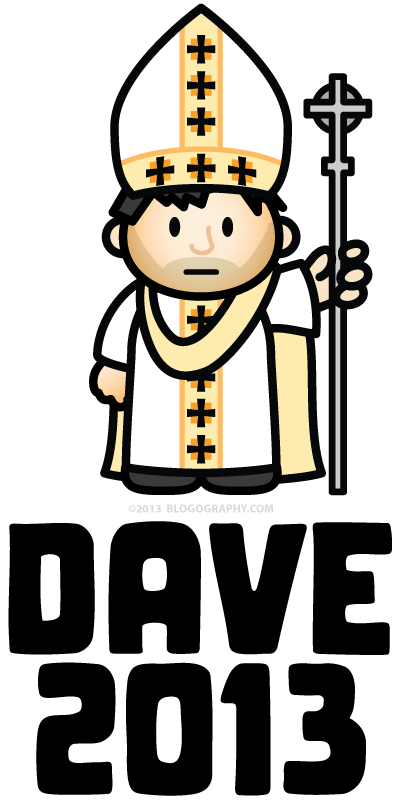 I hereby announce that once again I am putting forth my name for consideration to be elected Bishop of Rome, Vicar of Christ, Successor of the Prince of the Apostles, Supreme Pontiff of the Universal Church, Primate of Italy, Archbishop and Metropolitan of the Roman Province, Sovereign of the State of the Vatican City, and Servant of the Servants of God.
Partly because I think the PopeMobile would be a great way to pick up women... but mostly because I look great in really tall hats and a dress.
And I'm already infallible, so there's that.
So inform your priest... write to the bishop of your local diocese... contact your favorite cardinal... pray to The Almighty... and tell them all that DAVE IS MY POPE!
DAVE 2013!