Don't worry about five awesome days of crazy keeping me down... because Bullet Sunday starts now...

• Grohl! After seeing former Nirvana drummer and current Foo Fighter front-man Dave Grohl interviewed on The Colbert Report, I was compelled to check out his new documentary film, Sound City...
It's brilliant. A total love letter to old-school music production by some big names in the business... including Paul McCartney, Trent Reznor, Lindsey Buckingham, Mick Fleetwood, Stevie Nicks, Tom Petty, Lars Ulrich, and more. If you love music, this is a documentary that's well worth checking out.

• Cruise! The media has been in a frenzy over the horrors that plagued Carnival's cruise ship Triumph. And the stories were pretty nasty. I mean, once you're pooping in a bag and standing in line for four hours to get a ketchup sandwich, you're pretty much having the worst vacation ever...

Photo by Scott L./Wikimedia
Now, I've never been on a cruise where I had to poop in a plastic bag and eat ketchup sandwiches... the cruises I've been on have been perfectly lovely. So when I hear the public outcry from people vowing to NEVER EVER GO ON A CRUISE because of this misfortunate incident... well, it sounds like a pretty big overreaction. For every cruise disaster blown up by the media, there are thousands upon thousands of cruises that go off without a hitch. Including all six I've been on. And while it's not my most favorite way to vacation, I will absolutely go on more cruises in the future. The advantages of travel via cruising are just too numerous to ignore. But, of course, the media won't be covering that.

• Jelly! I'd much rather post my own stuff than repost things from others, but I just can't help myself this time around. This cartoon from Cyanide and Happiness is one of the funniest things I've ever seen...
Seriously. I can't look at this without busting up.

• The Bay! I have no idea how many times I've been to San Francisco, but it's a lot. I love the city. But more than that, I love the fact that I've been to the city so many times that I don't have to play tourist. I can actually spend my time enjoying it without having to rush from attraction to attraction... I've pretty much done them all.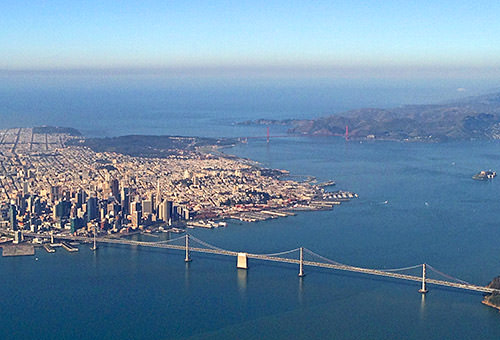 About the only thing I have to do is buy fortune cookies from The Golden Gate Fortune Cookie Company. Five bags of those will keep me happy for a month or so.

• Water! As I had mentioned last Bullet Sunday, I have a real worry about the lack of snow this year bringing drought come Summer. After flying over the mountains the other day, I think my fears are justified...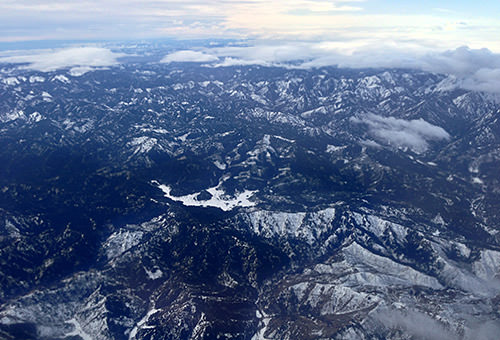 It's the middle of February. Now take a look at a photo I took of the same area back in APRIL of 2011...
By April of this year, I fear we'll have nothing left in the mountains. Hope we get plenty of rain.

And, on that somber note, I guess it's time to catch up on some sleep.