The geek news of the day has been burning up the internets, so everything there is to be said about it has probable already been said.
Not that it's going to stop me from adding my two cents over J.J. Abrams directing the next Star Wars film. As somebody who has been obsessed with the films and the culture surrounding them for most of my life, it would be impossible for me not to say speak my piece because I've never been one to hold my peace.
In many respects, J.J. Abrams is a no-brainer to helm the next generation of Star Wars movies. He very successfully relaunched Star Trek, so he can obviously handle a special-effects laden sci-fi film... even if his annoying over-use of stupid fucking lens flare was such an amateurish style choice as to be laughable...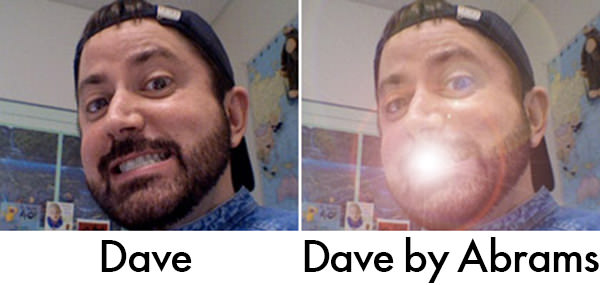 To be completely honest, flare aside, I loved the Star Trek reboot. It was respectful to the source material as much as it could be (for what it was). It had really good pacing. It had excellent structure with a definable beginning, middle, and ending. Characters were multifaceted and interesting (despite the fact that they were retreads of television icons). The threat was viable and felt dangerous. But, most important of all, it was just good Star Trek and a lot of fun.
So... maybe.
But that's just one film. What about the rest of his work?
As a "Television Guy," Abrams has a pretty big body of work there with writing, directing, and producing. Of his shows, Alias is my clear favorite... for the first couple seasons. After that, it just spiraled out of control in a gradual slide towards an unsatisfying conclusion. Which is pretty much the story of most his stuff, including Felicity, Lost, and Fringe. His other major works... Undercovers, Alcatraz, and Revolution, never managed to grab me at all. A truly mixed bag.
So... maybe?
But it's his film work that tells the tale. Since Abrams' projects always start strong, a movie would seem to be the ideal format for him. There's no room for that slow decline that plagues his television projects. Mission Impossible III is a good example. I thought it was a fresh and interesting take on the franchise that was really well thought out. It also ended with a satisfying bang that capped it off perfectly. Just like Star Trek. And while I thought that Super 8 was a whiny, corny, disastrous mess, there's no denying it was a well-made film. The true test, of course, will be when Star Trek Into Darkness comes out, because that will tell us if the first film was a fluke.
So... maybe.
In the end, about all I can say for certain is that J.J. Abrams can't do any worse than the shitty Lucas prequels.
For one thing, he can write dialogue that's not cringe-worthy.
And he seems to put things like "story" and "characters" above special effects.
I also get the feeling that he won't dumb everything down to a 2-year-old level by accenting the film with burp and fart jokes.
And it feels like he might have the cojones and integrity to stand up to Disney and not turn his movie into a 2-hour toy advertisement filled with stupid shit like Ewoks and Jar Jar Binks.
So... maybe.
As a huge Star Wars fan, I want so very badly for J.J. Abrams to get a fantastic script from Oscar-winner Michael Arndt and turn it into the most mind-bogglingly amazing Star Wars film since The Empire Strikes Back. This is an impossibly high expectation but, after what I've been through, I deserve it! We all do. And the wait is going to be torture.
So... hopefully.