Despite being a major comic book whore, I've never done a wrap-up of my favorite comics for the year. That needs to change.
Overall, I am reading more comics now that I have in many years. This is mainly due to the beautiful Retina Display on my iPad and its ability to purchase comics instantly and immediately via Comixology. Nobody is mourning the decline of printed comics more than I am, but I already have more than enough physical comic books with no room to put them all. My digital collection, however, takes up no space and is available to me wherever I have an internet connection. So many times I find myself stumbling across a review of some obscure comic that I want to read, then click over to Comixology and buy it. All too easy and addictive!

THE TWELVE BEST...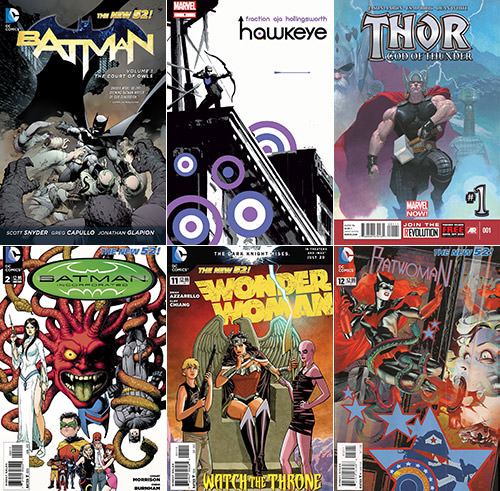 #1 Batman.
What can I say? My favorite comic book character of all time has been given some of the best stories ever in his signature book. Writer Scott Snyder has given us two great story arcs with "The Court of Owls" and "Death of the Family," all illustrated with jaw-dropping beauty by Greg Capullo. Looking forward to 2013, I can only hope that the creative team stays put and keeps cranking out some of the best Batman tales I've ever read.
#2 Hawkeye.
Never a character I've been overly enamored with, Hawkeye has always been nothing more that a Green Arrow knock-off who seems woefully out of place in Avengers stories to me. Enter Matt Fraction and David Aja, who wisely decided to use the character's primary weakness (no super-powers) as a strength by trying to make the book more "reality-based." The Clint Barton in this book is a fascinating effort and I can't wait to see what comes next.
#3 Thor: God of Thunder
With only three issues released thus far, I'm still ready to proclaim the title one of my favorite books of the year, and absolutely my favorite of the new "Marvel NOW" books. I really shouldn't be surprised, because Marvel has consistently given the character quality writers and artists over the past several years. And Jason Aaron and Esad Ribic are right up there. Their stories are epic and wonderfully told. If you haven't checked out Thor in a while, here's a good place to jump on.
#4 Batman, Incorporated
Proving that DC was intent on making sure only top-shelf talent was going to touch their Bat-Books, Grant Morrison is here with some really good Batman & Robin stories that I can't seem to get enough of. I still think the "Incorporated" concept waters down Batman, but it's easy enough to ignore that with stories this good.
#5 Wonder Woman
This is a book I both love and hate in equal measure. Sometimes the art looks great... other times it looks like stick-figures gone bad. Sometimes the stories are brilliant... other times they seem half-written and ill-conceived. But, and this is the important part... Wonder Woman never bores me. It's always fresh and interesting even when I am having issues with it. So much so that this is one of the few books that I buy day-and-date, paying the extra dollar rather than waiting for DC to drop a buck when the next issue comes out. What more praise can I offer than that?
#6 Batwoman.
The book is a deep, meaningful, entertaining read with some of the most beautiful art you'll ever see. All too often, the female version of a male character is just a retread of the same material... but with heels and lipstick. With Batwoman, we have a uniquely different character experiencing uniquely different stories, in a uniquely different way, and I love it. There are also heels and lipstick, which means the book pretty much has it all. And, as a special bonus, Batgirl is yet another unique and interesting book in the Batman Family that's also worth reading.
#7 Invincible
As Robert Kirkman ramps up to issue no. 100, he's got a story arc going on called The Death of Everyone that's going balls-out every issue. And, since it's Kirkman we're talking about, you know that killing off all his characters may not be an idle threat. No... he may very well do exactly that, choosing to start over with all new characters so he can keep surprising his loyal Invincible fans. Regardless of what happens, I'll keep reading. This book has the most consistent quality of any comic out there, and I don't plan on missing out.
#8 Justice League Dark
I dropped this title from the DC Comics "New 52" relaunch after just two issues. It simply wasn't doing anything for me. But then I read The Underwater Welder (see below) and was intrigued as to what Jeff Lemire has been doing there since he took over this book this Spring. What I found was really good stories that were actually better than what the lead Justice League book had going on. And, thanks to Mikel Janin, they were beautifully illustrated to boot. If you like some supernatural in your comics and are looking for something a little different than the standard super-hero fare, this is the book for you.
#9 The Walking Dead.
Just when I think this book is dead, Robert Kirkman somehow manages to save it from the grave with some really good stories. How fitting. And how great for fans of the book. If you are only familiar with the hit television show, the books are quite different... but in a very good way. Though be forewarned that with Kirkman, no character is safe. This was made shockingly clear in the controversial #100 issue that dropped this summer. The book haunts me still and, even though I didn't like where it took me, you can bet I'm going to keep on reading.
#10 The Underwater Welder.
This book was completely off my radar until somebody gave it to me as a gift. As my pick for one of the best comics (well, actually a 216 page graphic novel) of 2012, I obviously owe them a great debt. This is a really good mystery story with borderline awful art that somehow completely hits the mark. Jeff Lemire, who handles some of the better books at DC, also moonlights with indy books like his amazing Essex County and now this. I don't really know how to describe The Underwater Welder, because it doesn't really fit any specific genre. It's angst drama with a splash of sci-fi/horror that's ultimately a kind of a mystery. Or something. But however you want to look at it, this tale of flawed character on the verge of fatherhood who is attempting to sort out issues with his own missing father is worth a look.
#11 Aquaman
It's amazing how a D-List character like Aquaman has been given new life in DC's "New 52" relaunch. Until this effort by Geoff Johns, I always kind of ignored the character. He was occasionally used well in a team book, but ultimately nothing worth getting excited about. But now? Aquaman is actually interesting and the book is nicely entertaining in 2012. If I had one criticism, it would be that the endings to each of the story arcs have been a bit simplistic, easy, and sudden. Almost as if they weren't entirely thought out in the plotting stage. But, ultimately, this is a book well worth reading.
#12 Punk Rock Jesus
I don't even know what to say... except you need to try this book. Seriously.

OTHER CONSIDERATIONS...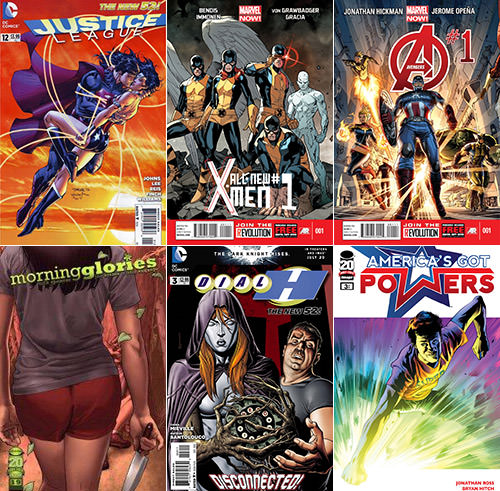 Justice League
Here's the thing. I like this book. I like it a lot. It's the classic by-the-numbers super-team heroics I love done really well. But everything always feels cramped and rushed. After reading every issue, I get a feeling that the story would have benefitted greatly if only they had a few more pages to work with. Oh... wait a second... they do have more pages to work with! Except they keep running these fucking "Shazam!" backup tales, STEALING PRECIOUS PAGES FROM THE MAIN STORY! It's so fucking stupid! The book is called JUSTICE LEAGUE, NOT SHAZAM! If you want to tell Shazam stories so fucking bad, GIVE HIM HIS OWN FUCKING BOOK! This is a $3.99 title. If the writer/artist truly only needs a $2.99 page count, THEN CUT PAGES so people who don't give a flying fuck about Shazam aren't forced to pay for this shit. Would have absolutely been in my Top 5 if they'd focus on the actual Justice League. P.S. I know it's probably a legal thing, but renaming "Captain Marvel" to "Shazam!" makes me hate the fucking character even more.
All-New X-Men
Surprisingly, it is actually all-new. Lucky for us, it's also all-entertaining. Thank you Mr. Bendis!
Avengers
A really good book destroyed by greed because Marvel is releasing two issues each month at $4 a pop. If they dropped the price a dollar after a month like DC does, I could see paying $6 a month for stories of this quality. $8 just feels like too much, even though I'm certainly enjoying the title.
Morning Glories
I was late to this party because I thought I was already getting the best entertainment when it came to a mysterious school with unusual students, thanks to the television show Tower Prep. But then the show was canceled and this book was recommended to me to fill the void. It is unlike anything I expected in the best possible way. Unlike the television show Lost where the writers didn't know what the fuck they were doing with all the mysteries and subplots... writer Nick Spencer has promised that this is not going to be the case here. There is a definite ending planned out, and everything he is doing is leading to that moment. Good enough for me!
Dial H
There are times I just want something different to read. But, when it comes to comic books, all too often "different" is just another word for something that is different for different's sake instead of something actually interesting. Based on a shitty idea for an old comic book called Dial H for Hero, writer China Miéville has knocked me on my ass with what he's doing in the "New 52" reboot. What a pleasant surprise and a breath of fresh air. I know it sounds hard to believe, but this is a book you really need to try. Most people will be surprised that Saga isn't on my list. For the longest time, it was. Until Dial H knocked it off.
America's Got Powers
Started out brilliant, but then started to fade (not helped by the long delay between issues). In the future, super-powered persons are used as television entertainment in violent sports-like competition, but with some surprising twists. Despite having some "been there, done that" elements (Hunger Games?), the book is fairly fresh and a fun read thanks to scripts by British personality Jonathan Ross and gorgeous art by Bryan Hitch. Still worth checking out.

NOT QUITE A COMIC BOOK COMIC BOOK...
Chris Ware's Building Stories
I am a massively huge Chris Ware fan, but what he does just doesn't feel like a "comic book" to me. His latest epic, Building Stories, is among Ware's best work, and showcases his unparalleled talent in creating true Graphic Novels that exploit the printed medium like nobody else. In this case, it's a $50 box stuffed full of fourteen separate pieces... from comic books to posters, to a fold-out game board... all genius. How you tackle the content is up to you, but everything intersects in different ways to tell a complete story that's not so much a story... but a snippet of everyday life told in separate pieces from different people in three different apartments. Figuring out how these pieces intersect is what makes everything so compelling and uplifting... even though the "story" itself is kinda depressing most of the time. I realize most people are not going to want to spend $50 to buy this tome, or even the $32 you'd spend at discount, and that's a real shame. This is a work of art that demands to be seen and experienced, and is easily one of my favorite "comic books" this year.