Before I rip into the brand new version of iTunes that Apple unleashed on the world today, I thought I'd say something nice.
I love the kind of instant fulfillment that iTunes provides.
Tonight I was watching television when I saw Victoria's Secret's "Sexiest Gifts" ad. It had a really cool song playing that I liked. So I Google the lyrics... find the song title (All Eyes on You by the band St. Lucia)... and BLAM! I go to iTunes and the song is mine.
Then I see a commercial for Men In Black 3 and BLAM! I go to iTunes and the movie is mine.
While at the iTunes Store, I see that seasons 1-3 of Community are on sale for $15(!) each... BLAM! Mine!
No more having to drive to the store or order online and have to wait for it to show up. You want something... BLAM! it's yours.
And now a few comments on iTunes 11...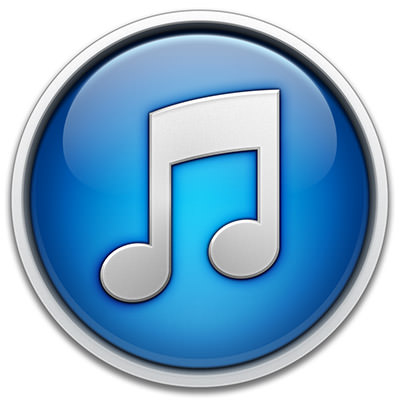 A classier, more elegant update to the ugly-ass iTunes 10 icon.

The new iTunes 11 interface is big and pretty. It's also a heck of a lot simpler. Everything that can be condensed and collapsed has been condensed and collapsed. That's both a good thing and a bad thing. Good because all the basic functionality is easier to use and out of the way. Bad because some extraneous functionality is not as easily accessible and you have to dig for it. And let's not forget the ugly... "iTunes DJ" is gone for some reason (so is Ping, but that's probably a good thing).
Anyway...
The most important update feature (for me, anyways) is that iCloud is now completely integrated into iTunes. The upshot being that now you can stream your movies, videos, and television shows to watch on your Mac without having to download them first, just like Apple TV. Cool! Now the only time I have to waste space on my hard drive for my iTunes purchases is when I want to have access to them while offline. A bonus feature is that iCloud stores your position, so you can start watching a show on your Mac, then pick up right where you left off on your iPad.
It's not all peaches and cream with iCloud integration, however. Even though you can stream video from the cloud, your Mac will still force you to fucking download all your fucking video purchases even though you don't fucking want them on your fucking Mac. At least from what I can fucking figure out. This is fucking bullshit...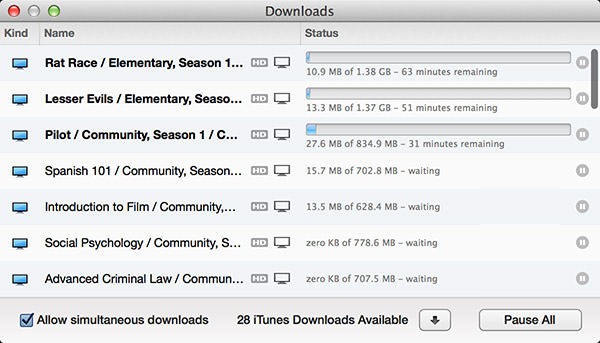 Yeah, delete that shit off your downloads list as many times as you want... they'll be back in your "Available Downloads" before you can fucking blink. Sure I can tell iTunes not to automatically download purchases, but they never go away. And sometimes at random, iTunes starts to download them anyway.
Since iCloud was basically added as a hack on iTunes 10, this idiotic bug upset me, but didn't piss me off. But now that iTunes 11 is "iCloud Functional"... it sends me into a thermonuclear rage that the only way to keep iTunes from wanting to download videos IS TO DOWNLOAD THE VIDEOS. NOTE TO APPLE: THIS IS FUCKING STUPID!
And speaking of FUCKING STUPID, does anybody have any idea why this dialog box keeps randomly popping up when I try to play a video?

It's not consistent. If I click to play the same video that gave me the above error, odds are it will play properly the second time. This is an amateur hour bug, and I cannot fathom how Apple lets this crap slip through. I'm using a brand new MacBook Pro. I've been using iTunes 11 for ONLY TWO HOURS and found this problem... surely they beta test for longer than two hours?
I was excited when I saw that Apple had integrated the iTunes Store into my library. How handy is that? No more being bounced out to the store every time I want to buy a new episode of a show or find similar series to purchase! Or not. Half the time when I press the "In The Store" button, I just get a list of recommendations. The other half of the time, I get NOTHING...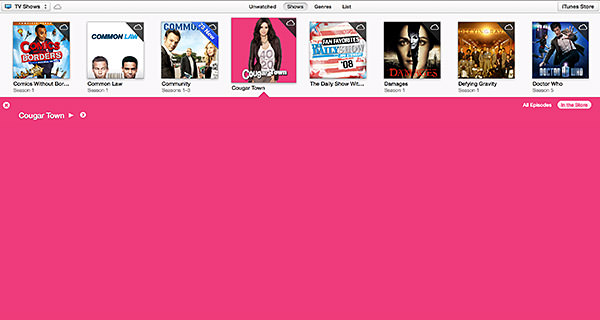 A smart e-retailer would pop up a list of more Cougar Town episodes for me to buy while looking at my past Cougar Town purchases. But Apple? They make me leave my library, go to the store, click on television shows, then perform a Cougar Town search. What a hassle. No impulse buys for me. I guess that despite Apple's massive success, they are still a little brain-dead when it comes to selling. Something tells me this will be fixed real soon. There's entirely too much profit to be made.
And it's not just taking my money where Apple makes things ridiculously inconvenient. Just finding my music in iTunes 11 is a hassle too. Let's say I want to play the Pet Shop Boys new album Elysium, so I search my library and up it comes...
I just click on the album, and I'm off and running, right? Of course not...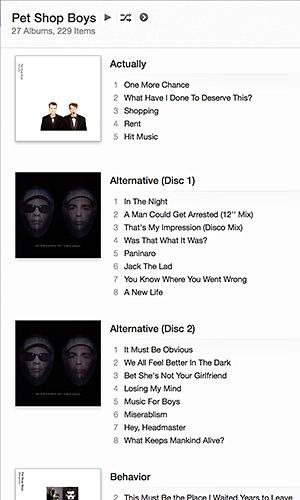 Even though I specifically clicked on the album I wanted to listen to, iTunes takes me to ALL of their albums. I have to scroll down to find it. Now, I know that I'm in "Artist" view, and if I were in "Album" view it would have worked properly... but why can't it work properly in "Artist" view too? It doesn't make any sense.
But, then again, more than a few things in the new interface don't make much sense to me. Just like in previous versions of iTunes, there's a "List View" where you can uncheck little boxes next to songs you don't want to have played. But what happens when you go to non-list views where there are no boxes to uncheck? Why, you still uncheck them! Metaphorically, I'm sure...
In lieu of checkboxes, "unchecked" songs are greyed out when you're not in "List View." Well, whatever. This just seems sloppy and lazy and un-Apple to me. "Well, there aren't any checkboxes in this view, but we can't think of a better way to handle things, so fuck it! We'll just pretend there are checkboxes!"
Meanwhile, back at the iTunes Store... things are equally screwed up.
Let's say that I'm shopping for television shows. I see an ad for the third season of The Glades, so I click through. Now, normally, if I wanted to see more seasons of The Glades I would just use the navigation trail at the top of the page...
But you know what? I clicked on that damn link a half-dozen times. And each time iTunes just reloaded the exact same page. Nope. In order to see what other seasons are available, it's back to the search box. And some wacky results..
This is about the most unhelpful shopping search results you could possibly get. The first results are just a bunch of random episodes. They don't even tell you which number each episode is. Hell, they don't even fucking tell you what order they're being displayed! I'm assuming they're sorted by popularity, but who the hell knows? And of course there's no option to change the sort... whatever it is. Want them sorted by date added so you can buy the latest? Tough shit! Can't do it. Even if you navigate to "All Episodes" they are still force-displayed in a seemingly random order. And when you click the back-arrow to go back to your search? Oh, sorry... refinements to a search aren't navigable, so you skip right past it. Useless. At the very least, Apple could put the "TV Seasons" at the top of your search results, because clicking on those will give you actually useful information... like episode numbers and air dates!
Blerg. With all this stupid crap Apple got very, very wrong... did they get anything right? Certainly! They have a new feature called "Up Next" which packs a lot of cool stuff in a small space...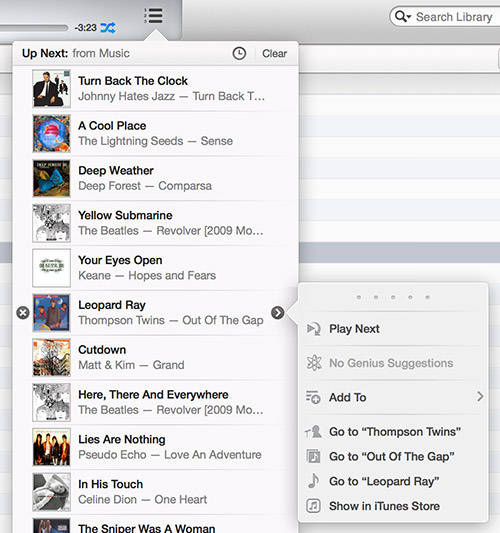 My library is playing through on "Shuffle" and the "Up Next" dialog shows what's coming. I can quickly eliminate songs I don't want to hear... move a song up the queue... add a song to a playlist... jump to the album the song is from... jump to the song in the iTunes Store... give a star rating... and more. Kind of nifty.
Another nice improvement is the mini player...

It's smaller, but does more. Amazingly, you can even search your library from it...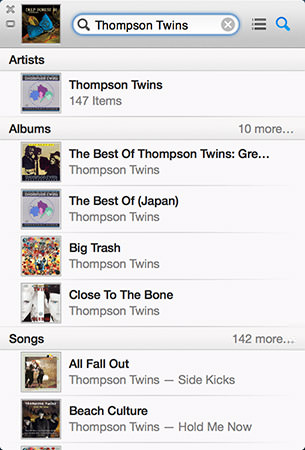 Sadly, you cannot access mini player when iTunes is in full-screen mode. I guess Apple felt it would be way too handy to be able to drag mini player to another virtual screen in "Spaces" while leaving the main player at full screen. I disagree. (UPDATE: or perhaps you can?)
One of the best things about iTunes is not a new feature... it's the speed. iTunes 11 is blazingly fast. Scrolling, even in album view, is a quantum leap above previous versions. Given how much time people spend scrolling through their libraries, this is a really big deal.
And that's about all that jumped out at me.
I haven't spent but a couple hours using the update but, despite my problems above, I have to say that I like it overall. For most of the stuff you'll use iTunes for, the interface is a big improvement. Hopefully the details that are less than perfect will be fixed in time.
And in the case of removing stuff from your downloads list... it had fucking better be sooner than fucking later.

UPDATE: It used to be that the iTunes Store would let you know if you've already purchased an item. Now, it doesn't. I don't know if this will lead people to accidentally re-purchase stuff they already bought, but it's pretty lame.

UPDATE: And... iTunes 11 video streaming is complete shit. Movies, shows, and videos will buffer for playback... but never actually play back. Hitting the play/pause button does nothing, yet I can "scrub" through the buffer no problem. This is fucking insane. How in the hell did this pile of shit ever get released? Even if Apple isn't beta-testing their software any more, they could at least have somebody play with it for 15 minutes to catch these bugs before they ship! I never wanted to be one of these people who said "Apple hasn't been the same since Steve Jobs died"... but, yeah, if this is the direction Apple is headed, we're all fucked.

UPDATE: For reasons unknown, I can no longer stream my video purchases. I have to download them before viewing, which is some stupid fucking bullshit. Amazon and Google videos will happily stream to your Mac or iOS devices. Apple, on the other hand, is living in the past, and forces you to download you purchases... wasting storage space and wasting your time. As you might guess, this laughably antiquated idiocy has me fucking furious. Guess I won't be buying video from Apple until they can stream your shit like everybody else.