I've started saving up for my next vacation, but can't decide where I want to go.
Antarctica is always at the top of my list (I want to see it before it's gone), but I need to find two or three people who would want to share a cabin on the ship. There is no way I can afford to do it on my own. Heck, I'll barely be able to scrape together the $8,000 to $10,000 for my share of a 3 or 4 person occupancy cabin. The high price tag is because I don't just want to board a cruise ship and sail past the 7th continent... I want to take an expedition ship which will actually send landfall excursions to Antarctica and let me wander around. Take a photo of a penguin or something. Anything less is kind of pointless, I think. The problem is that people spending $10,000 for ship passage expect it to be a luxury affair. The trip I want to take most definitely is not. So even people I know who might be able to afford it might have a problem spending two weeks on a no-frills ice-breaker ship for that kind of money.
Next up is India. I've longed to visit the country, and it bothers me greatly that I haven't been there yet. Yes, it's expensive (though half the price of visiting Antarctica!)... but the bigger problem is time. I would want a minimum of 3 weeks to explore a few highlights, but there's just no way I can be gone that long. And so I'd have to either rush through a trip and not get to see much... or settle for a much smaller itinerary and not get to see much. And I just can't make up my mind which is the lesser of two evils. Perhaps I should divide the country in half and make two trips out of it like I plan on doing for Australia. I don't know. All I do know is that I really have to visit India before I die.
And speaking of Australia... as I said, I ended up splitting the country in half for two visits. Last year I took the North half (plus Fiji), but the Southern half (with New Zealand) remains...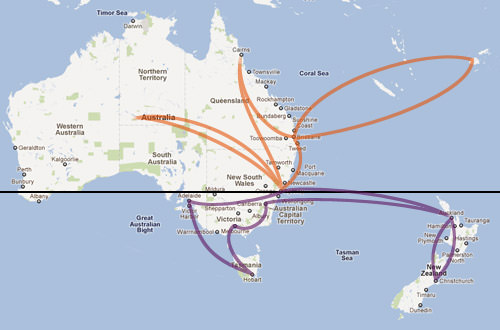 Not that I don't want to see Perth and The West, but that's another ballgame entirely.
I loved my Australian vacation. I am dying to go back. And I have long wanted to visit New Zealand (though it could easily be a trip all its own). The problem? Money again. I blew past my budget in no time because it's massively expensive Down Under. It's also so far away that you spend a big chunk of time on an airplane. But, again, I want to visit Tasmania before all the Tasmanian Devils are gone from the wild, so I've got to set there fairly soon.
More destinations I've long wanted to visit...
Peru/Machu Picchu.
Cambodia/Viet Nam.
Russia.
Israel/Jordan
Tibet.
Kenya/Uganda.
And dozens more places I haven't been.
Plus dozens of places I've already been.
And so... I have no idea.
I guess I'll see how much money I can save, find out how much time I can take off, then plan accordingly.
Boy does not having millions of dollars suck.