I got called for work yesterday at 6:30am. Things didn't go quite as smoothly as planned, so I didn't finish until this afternoon at 3:00, which meant I was awake just over 32 hours straight. This is not something I recommend, because your brain starts going all mooshy around 28 hours in. I was hallucinating that I was a magic dolphin at 30 hours. Once I hit 32 hours, my brain started shutting down, which made it difficult to drive a car. Or even walk to my car, for that matter.
Naturally, the lawn care service was blowing leaves and mowing grass when I got back to the guest house where I was staying, which made getting some sleep a bit difficult. Or at least I thought it would... at some point I passed out.
Five hours later when I woke up I decided I wanted sugar for dinner, so I went into town for dessert.
And that was pretty much my day.
EXCEPT... I did have a conversation with a woman this morning where I remembered to ask about the girl I saw who was using chewing tobacco yesterday. "When did the ladies start packin' dips?" I asked. "Haven't you heard about women's lib? Women are doing a lot of things men like to do." she replied. "But chewing tobacco? Ewwww!" I said. "Hey, don't knock it until you've tried it" she replied.
And so I went and bought me some long-cut, Wintergreen-flavored Copenhagen dips and found me a pretty red Solo cup to spit into. Then, after an hour of scouring YouTube for "how-to" videos, I was on my way...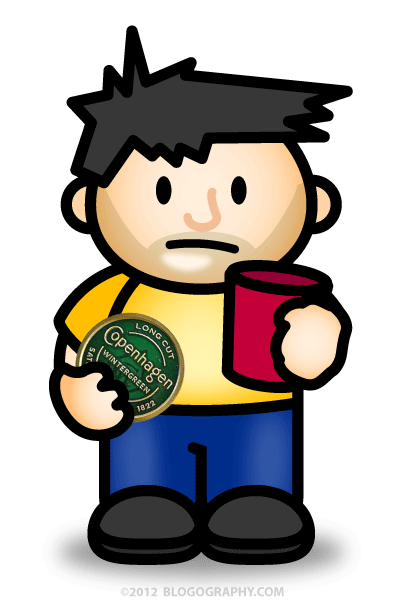 Now I'm buzzing' like a fuckin' bitch! As promised...
Here's hoping I don't get lip cancer and have to get my face cut off.