Friday, February 12, 2010. 7:20pm.
"So... for the first time in a very long time, those of us living on the West Coast of these United States of America are in the SAME TIME ZONE as the Olympic Games in Vancouver, British Columbia in Canada. Finally, we get to watch events LIVE and see competition outcomes AS THEY HAPPEN. How cool that we won't have medal results spoiled on the internet hours... or even days... before we get to actually see them taking place! Sweet!"
— David Simmer II, getting ready to watch the last Winter Olympics
Friday, February 12, 2010. 7:35pm.
"FUCK YOU, NBC! FUUUUUUUUUUCK YOU!"
— David Simmer II, after realizing NBC time-delayed their Pacific Coast broadcast anyway

Saturday, July 28, 2012. 12:05am.
I am not a huge sports fan, but I admit to being a fan of the Olympic Games because there's just something wonderful about the way the world comes together to participate in them. And nowhere is this more evident than the Opening Ceremonies, where all the athletes are full of hope and dreaming of gold.
This year the task of planning the start of the games fell to one of my favorite directors, Danny Boyle, who is responsible for one of my favorite movies, Millions. He had the daunting task of following China's widely-praised and celebrated Opening Ceremonies, which would be enough to break most men. But Boyle decided that since nobody would expect him to top China's spectacle, he would just "do his own thing" and try to entertain people.
And entertain people he did.
The show was a wholly bizarre affair, but not in a bad way. I actually really enjoyed it. So congratulations, Mr. Boyle, on rising to the occasion with creativity and wonderment.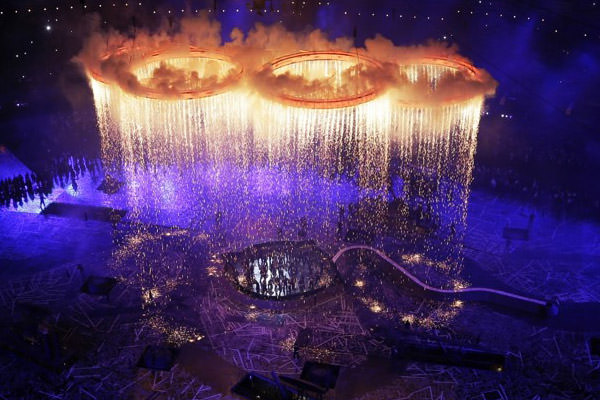 AP Photo/Morry Gash, Pool
And congratulations to NBC for fully living up to expectations and CRAPPING ALL OVER THE OLYMPIC OPENING CEREMONIES WITH YOUR HORRENDOUSLY SHITTY COVERAGE!
I'm guessing the rest of the world's news organizations paid proper respect to the ceremonies and covered the opening in a dignified and complete presentation. This was not, of course, the way that NBC decided to go. "Dignified" and "Complete" are just not words that enter into their fucking heads.
No, we Americans go to see a butchered presentation that was fucking time-delayed (again) then interrupted by constant commercial breaks and laughably bad commentary from Matt Lauer, Meredith Vieira, and (heaven help us) Bob Costas. The commentary was so bad that I wanted to turn the sound off, but then I would have missed out on the music, which was excellent. Except I couldn't really enjoy it because Lauer, Vieira, and Costas kept TALKING OVER IT ALL! And this brings me to the big question... WHAT THE BLOODY HELL?!?? I realize that your typical American television audience is about as intelligent as a box of rocks, but do they really need to be talked through a performance? And if you simply must open your stupid fucking mouths, did you really have to shit all over the spirit of the games by pointing out embarrassing, controversial, or otherwise derogatory things about the participating countries? What assholes.
And here I thought the pre-show interview where Bob Costas Ryan Seacrest embarrassed one of the gymnasts over her love of Justin Beiber was going to be the lowlight of the evening. Not even close. First Mitt Romney humiliates the USA with his non-stop parade of stupid fucking comments... then, because we haven't insulted the Brits enough, we decimate their Opening Ceremonies with NBC's profoundly bad coverage. But why stop there? Let's insult the whole world during the Parade of Nations! USA! USA! USA!
I realize that NBC has to pay the bills with advertising and be sure to pander to the lowest common denominator of their viewers... but that in NO WAY excuses what American Olympic fans had to suffer through tonight.
Saturday, July 28, 2010. 12:20am.
"FUCK YOU, NBC! FUUUUUUUUUUCK YOU!"
— David Simmer II, realizing nothing has changed since last time