This morning began with me staring into the mirror in horror as I saw that my once-beautiful tattoo had started smearing as I put on some healing cream. "GAH! IT'S MELTING!" I shouted to the world as I grabbed the tube of ointment. My first thought was that I had somehow used too much of the stuff and I was reading furiously to see if I had missed any warnings in the instructions. But then I noticed that my fingers had flakes of inked skin on them, and realized that it wasn't smearing at all... the dead skin was just mixing with the ointment to make a smeary mess on my arm. Jester said that would happen, so I stopped freaking out and just left it alone.
By this evening, most of the blackened dead skin had rubbed off when I put more ointment on, so everything was back to normal.
Well, not everything was back to normal.
My Blu-Ray copy of John Carter had arrived so I decided to take a look. Since it was based on one of my favorite books of all time, A Princess of Mars, and the preview footage looked awesome, I was always mad that I had missed it in the theater despite all the bad reviews...
Now, I should start off my "review" by stating that I had extremely high hopes for this film. Director Andrew Stanton was a self-professed fan of the original Edgar Rice Burroughs novel, and his track record for telling a story with Finding Nemo; Toy Story; Monsters, Inc.; and other amazing Pixar flicks was solid. So when the bad reviews rolled in, I was unconcerned. And when Disney announced they had a massive flop on their hands and were going to lose 200 million dollars on the film, I was even more unconcerned. Obviously Andrew Stanton had created a movie that was so faithful to the source material that the idiot masses of the movie-going-public-at-large were too stupid to appreciate it. And I also blamed the shitty film title and horrible marketing that did nothing to explain the concept of the film. It couldn't be the movie, it was everything else that was bad... right?
RIGHT?!?
Um. No. This movie sucks balls and has to be one of the biggest cinematic disappointments in the history of the movies. If you are sensitive to sporadic graphic language, a warning...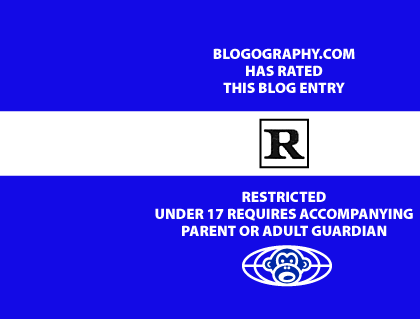 My spoiler-filled "review" is in an extended entry...
WHAT THE FUCK?!?
I mean, seriously... what the fuck happened? A Princess of Mars by Edgar Rice Burroughs has to be one of the most lauded and celebrated science fiction novels in the history of books. Everybody from Carl Sagan and Ray Bradbury to James Cameron and George Lucas have listed Burroughs' Martian Novels as an influence on their work. And even though the book was published in 1917, it contains concepts and ideas that were way, way ahead of their time. These books were so advanced that they have continued to influence both entertainment and science for nearly ONE HUNDRED YEARS. How in the bloody fuck could something this important and acclaimed possibly be sabotaged and screwed up in the translation to the silver screen?
Easy. It's the same way that it always happens.
The people behind the film IGNORE THE FUCKING SOURCE MATERIAL and try to "improve" something that DOESN'T FUCKING NEED IMPROVING!
And here we go...

The movie gets off to a bad start when we're treated to an extended bullshit monologue that explains the (incorrect) history of "Barsoom" (the martian name for "Mars") and the war that ravages the planet. So now, instead of having the viewer introduced to this strange world along with earth man John Carter, you've been given a bunch of meaningless crap to remember that will be forgotten by the time the movie ever gets to Mars. And for the life of me I cannot understand why they would do this. In the book, the reader experiences the story THROUGH John Carter. His amazement is OUR amazement. Why the fuck would you sabotage this very simple rule of story-telling in such a stupid and clumsy way? It makes -zero- sense and makes for terrible pacing.
Anyway, after being dazzled with beautiful visuals of Barsoom, we are dropped back on 1900's Earth which is where we are introduced to Edgar Rice Burroughs. His uncle John Carter has died and left him the entire estate. From there we are unceremoniously jerked back to the past when John Carter was still alive and trying to discover gold in Arizona. Due to his esteemed military background, the US Calvary attempts to draft him back into service to fight the Apache Indians. Wanting no part of it, Carter escapes and is chased into a confrontation with the Apaches which ends with him fleeing into the mountains. There he enters a cave where he runs across an angry martian with a glowing artifact. An artifact which ends up transporting him to Barsoom.
It's there where he becomes a reluctant hero and fierce warrior thanks to the lighter martian gravity which gives him incredible strength and leaping ability. Along the way he meets many fantastic creatures and a martian princess named Deja Thoris whom he falls in love with. I'd go into the details of story, but it's such a load of unnecessarily convoluted crap that it doesn't seem important. Suffice to say that Carter saves the day and wins the girl, just as you'd expect.
Unless you had read the original novel A Princess of Mars, in which case you would expect something entirely different than what you just watched.
I have so many problems with the film that I could spend days listing all the shit they got wrong. Instead, I'll just list my top ten...
The original story was a straight-forward action/adventure in a remarkable setting with incredible situations. The movie completely fucks this up by adding dozens of layers of needless complexity which do nothing but distract from the story. In the book, John Carter dies and has no idea how he ends up on Mars. It doesn't matter. But the movie has to explain all this with some kind of bogus bullshit about the martian religious leaders, The Holy Therns, coming to earth. Completely ridiculous.
They made the princess, Deja Thoris, some kind of scientist. I'm guessing this is a sad attempt at making her more politically correct to modern audiences by giving her a job other than looking pretty. But this is just plain stupid. In the books, the princess is incredibly smart and a competent warrior in her own right. There's no need to force this kind of crap on her, which only distracts from what an amazing character she already is.
The novels go to extraordinary lengths to show the race of Red Martians as possessing a code of honor that transcends all else. They would rather fucking die than to dishonor themselves or their princess. This never comes across in the movie in any form, and destroys the nobility that John Carter sees in martians that he didn't find in the people back on earth. It's an important part of what makes Barsoom so appealing to him, and the fact they deleted it so completely from the film was a huge mistake.
A fascinating side-story in A Princess of Mars has to do with the Green Martian, Sola, and her incredible story which adds some much-needed depth to her race. They hint to it (and the horrible suffering she endures at the hands of the evil Sarkoja) but in a way that completely misses the point of her character. Now, I realize that they can't fit everything from the book into the film, but if they were to take out all the stupid shit that didn't need to be there, they could have done a much better job of restoring this critical part of the story.
One of the overreaching themes in the original story was that Barsoom was dying. The water is drying up. The air is vanishing. The planet is becoming a barren wasteland. This is barely touched upon in the movie, which kills the subliminal feeling of despair and hopelessness that dodges the characters and sets up a critical plot point in the books (which is completely ignored by the movie, of course).
All of the cool martian technology goes completely unexplained, which is a damn shame. Taking two fucking minutes to explain the amazing concept behind the radium pistols alone would have gone miles towards showing how different things are between Earth and Barsoom. Instead they did this with janky blue laser weapons that may look pretty, but obliterates what makes Burroughs' martian tales so different from all the other standard sci-fi fare out there.
Martians are telepathic. John Carter gains a kind of super-telepathy that gives him an advantage when dealing with the martians. They wrote this out of the movie, which I totally expected, but it still bothers me. A lot.
The little comedic bits that were injected into the movie fail unanimously. The whole calvary salute idiocy? Crap. Sola's flying foibles? Lame. Calling Deja Thoris "Professor?" unbelievably idiotic. Funny bits help liven up the story, but why not work with the funny bits that were already present in the original story rather than adding stupid shit that takes the viewer out of the film?
Despite the action that permeates the novel, A Princess of Mars is ultimately a love story. Somehow this is completely lost in translation. There is -zero- chemistry between John Carter and Deja Thoris... partly because of the acting... but mostly because the movie never sets it up. In the book there is a cultural misunderstanding which has a wonderful payoff, creating a story that is as romantic as you will ever find. Why in the hell this plot point... THE VERY BACKBONE OF THE ENTIRE STORY... was so unforgivably gutted is a complete mystery to me.
The acting from Taylor Kitsch (John Carter) and Lynn Collins (Deja Thoris) was abysmally bad. Neither one of them embodied the characteristics that made the originals so remarkable and enduring. John Carter was portrayed as a scowling ruffian who is selfish and clumsy instead of the refined warrior who fights with honor and dignity. Deja Thoris was borderline hysterical in some scenes and lacked any form of nobility that her princess character requires to work. The voice talent for the CGI Green Martians was far better, but ultimately buried by the two leads sucking so bad.
And so... there we have it. A terrible failure of a movie based on an amazing book that deserved better. A lot better. I give it a D. It would have been an F, but the scenery was great and they did a great job with Woola. This may seem like the harsh ramblings of a dejected Burroughs fan... but even if this film weren't based on one of my favorite books of all time, it would still suck as a movie.
What I hate most about John Carter is that this colossal failure means I probably won't get to see a REAL adaptation of A Princess of Mars in my lifetime. So tragic. "John Carter OF MARS" had potential to eclipse even Avatar so far as visuals and story are concerned. But now? We'll probably never know.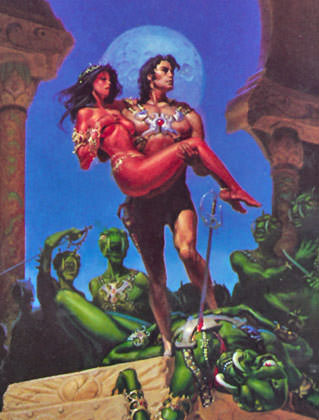 Guess it's time to re-read the books and try to forget I ever saw John Carter.
If only that were possible.