Ooh! You can WIN FREE STUFF in this entry! Read on, fair reader...
Since starting this blog, I've refused at least a hundred offers to review crap, promote crap, or sell crap. So when a guy from Moo Printing emailed me with an offer of free business cards,. I was going to say no. But then he also offered to let me GIVE AWAY free business cards if I'd review my Moo experience. So I said "okay!" because I love my readers more than I love not lying.
And because I had a good experience with Moo in the past for my clothing tags, I figured there was a good chance I wouldn't have to say anything nasty in my review. That would be really awkward.
So I'll skip to the good part first. I LOVE MY NEW BLOGGER CARDS!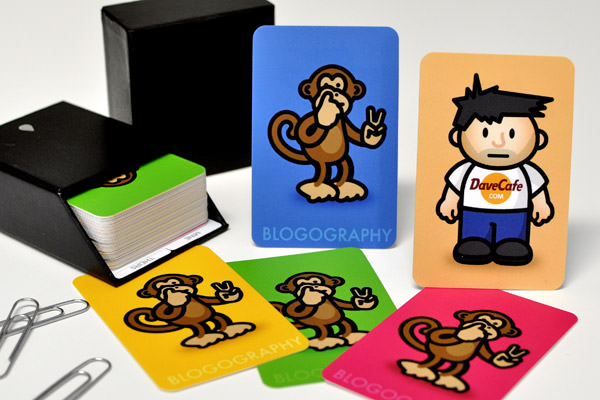 Moo makes it ridiculously easy to create great-looking cards, stickers, postcards, and other cool stuff.
Once you've selected what you want to print, all you have to do is decide what you want for a design. I created new DaveToons to upload, but you can easily import images or graphics from Flickr, Picassa, SmugMug, Facebook, and even Etsy...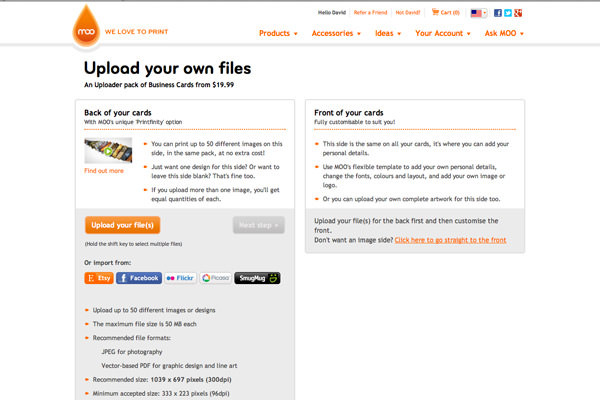 And here's the thing that makes Moo so frickin' awesome... you can have a separate design for the front of EACH individual piece! Ordering 100 business cards? All 100 can have a different photo on them! If you use less images than the number of pieces you're ordering, Moo will attempt to evenly divide the cards between the designs.
What's cool about this is that I was able to make cards for both my blogs in the same box to save money over ordering two different cards separately. I made Bad Monkey cards in four different colors for Blogography, then made Lil' Dave card for DaveCafe (which I uploaded twice so I would have extra...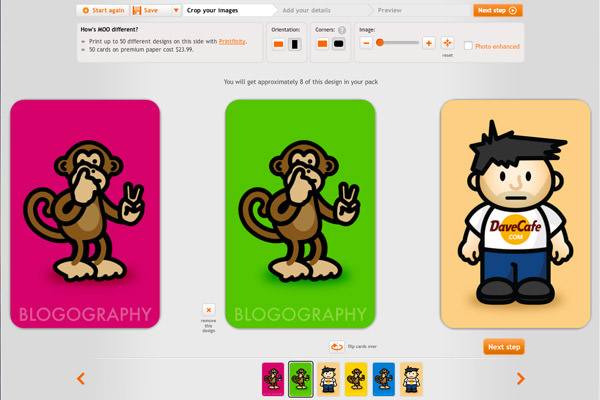 Then you turn the card over to design the back. You can select colors, type what you want, then have Moo do the rest... or you can design something from scratch like I did...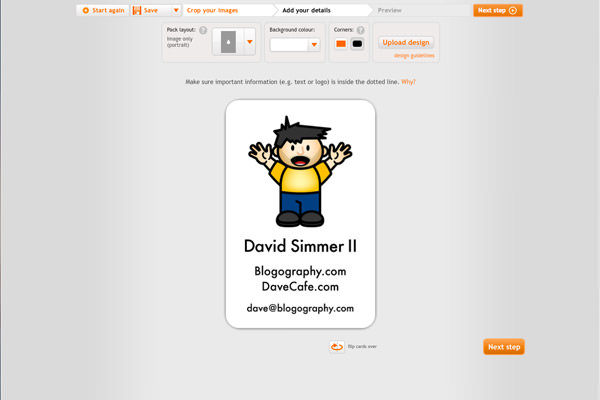 And that's all there is to it, really. The whole process is dead-simple, and Moo lets you see what your finished cards are going to look like before you place your order. Once you're happy with things, all you have to do is checkout and wait.
When my cards finally arrived, I prepared myself for disappointment. Because the colors never seem to turn out like what you wanted... especially with the crazy, unprintable bright colors I used. But, surprise surprise, the printing was pretty darn good. The shading on Lil' Dave's face usually comes out all banded when printed, but the Moo printing had gradients that were smooth as butter. My "impossible to print" colors turned out much brighter than I was expecting (though not quite as bright as this photo from my iPhone shows)...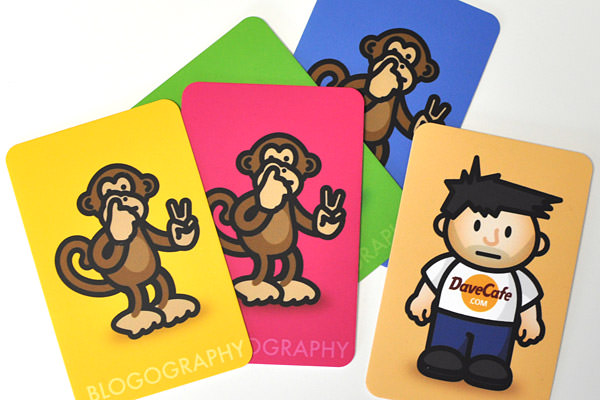 What really great is the paper stock Moo uses. The "Classic" paper I selected is a really nice 16pt thick stock with a satin finish that's soft to the touch. They also have a "Green" (as in eco-friendly, not color) stock that runs a bit higher. They "feel" good in the hand, and are sure to make an impression when you hand them out.
As shown in the first photo, Moo packs your cards in a classy but sturdy black box. It has tabbed dividers for "MINE" and "THEIRS" so you can even use it as a case if you want.
About the only complaint I had was that the cards were not centered in the cutting die very well when they were punched out. They're a couple millimeters offset. This doesn't seem like a big deal but, on something as small as a business card, you definitely notice it. I would think that Moo would be a little more careful given their high-quality standards, but there you have it...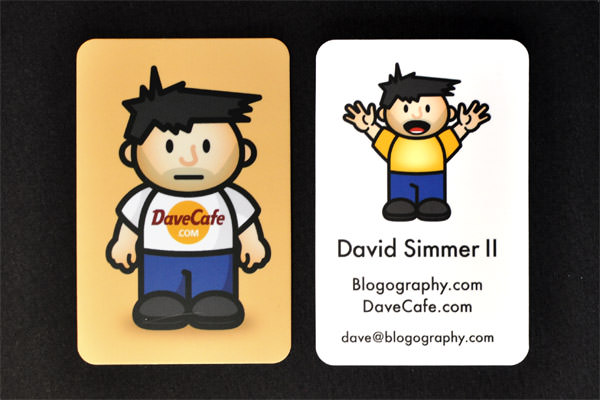 Does it "ruin" the card? Not really. I stayed within the "safety margin" I was given, so nothing got cut off. Most people probably won't even notice. But to an anal-retentive designer like myself, it's kind of a bummer. And yet... they're still the best business cards I've ever had.
And now for the good part...
Moo has generously offered to let me give away a box of 100 "Classic" business cards (a $39.98 value) plus free domestic shipping (a $7.75 value). If you want extras like "Green" paper... or the nifty rounded corners I have on my cards... or rush shipping... or international delivery... or whatever... you'll have to pay the difference yourself.
To enter in the drawing, just leave a comment telling me your favorite sandwich. I'll draw a name at random from all the commenters in one week on May 23rd (so get your comment posted by May 22nd!). Be sure to leave a valid email address so I can contact you if you win (it won't be shown). GOOD LUCK! And thanks to Moo for not only my beautiful business cards, but for thinking of my readers too!
Wanna Moo too? Here's a direct link to their business cards page!