Happy Mother's Day! And word to your mother, because Bullet Sunday starts... now...

• Bank! The Avengers just blew past ONE BILLION DOLLARS at the worldwide box office. Not bad for a movie built for comic book geeks. The only way things could get much better would be if Marvel could get some cooperation between the various movie studios that have the rights to their characters. It can only benefit everybody involved. A cameo appearance by Spider-Man in an Avengers flick would only raise interest in Spider-Man's movie, for example...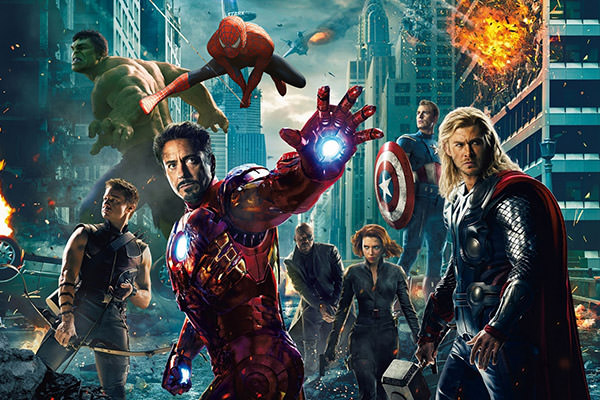 But the meeting I most want? X-Men vs. Avengers. Not the cheesy, shitty X-Men from the crappy original trilogy... but the real X-Men we saw in the X-Men: First Class movie. Because the current Avengers vs. X-Men comic book is killing it, and that would make for one incredible flick. But nobody ever accused movie studios of being very smart, so it's probably never going to happen. Such a shame.

• CS6! And so Adobe Creative Suite 6 was unleashed this week. So far... I'm kind of digging it. As somebody who shoots a lot of wide-angle photos, the new "Adaptive Wide Angle" correction filter in Photoshop is worth the upgrade alone. Illustrator gets variable-width strokes and some really nice gradient tools. InDesign gets some really cool layout tools. And everything seems to be a bit snappier thanks to their new "Mercury" graphics engine. I also like the "pro" interface overhaul (even though it doesn't utilize the "full-screen" feature of OS X, which is just stoopid). Overall, a pretty decent upgrade.
Except for the cost. I bypassed Adobe's insulting and absurd CS5.5, so all my pricing is for upgrading "CS5 Design Premium." Except there is no "Design Premium" any more, so I have to get "Design & Web Premium" to get everything I previously had. Price? $749. Bullshit. In 2010 it was only $599. So I guess I skip "Premium" and get "Design Standard" for $549. It only has Photoshop (NOT Extended), Illustrator, InDesign, and Acrobat... which is lame bullshit.
The high prices are meant to push people to join Adobe's "Creative Cloud" offering, which gets you everything they make for $50 a month. This would be a bargain if I actually used everything they make. As a previous customer I get a year at $30 a month (introductory price), which is still too pricey for what I end up using, but it will give me time to figure out what I'll eventually end up buying. Hopefully Adobe will realize that people don't want to pay for what they don't use and offer an option without the video production tools at a more reasonable cost. As it is, "Creative Cloud" is more a rip-off than anything else.

• Iconic! I've written before about the carousel of progress that's been the evolution of Adobe Creative Suite icons. It went from an inexplicable WTF? in CS2... to a nice white on tone in CS3... to a very classy black on tone in CS4... to a pleasing tone-on-tone in CS5. And now in CS6? I don't even have an opinion...

Except to say that they feel clunky, amateurish, and look like shit in my Dock...
Not even color coordinated? Really? Pathetic. And the document icons are even worse. I'd be embarrassed for Adobe, but it's not like they'd give a crap. They're the only game in town now and they know it.

• DVR! Back when I had satellite television, I had a TiVo DVR. It was heaven. The best possible way to watch television. But I had to give up satellite for cable because my location wouldn't let me get HD channels by satellite. Unfortunately, Charter Cable doesn't have TiVo. I was stuck with a HEINOUS PIECE OF SHIT called a "Moxi" DVR. It was a poorly-designed, constantly-over-heating, featureless, stuttering pile of FAIL! It had to be replaced twice. Then the third one died this past week. So Charter gave me a generic Motorola DVR that's a heck of a lot better than MOXI, but still a featureless piece of shit (you can't even hide channels you don't get!).
Which begs the question... Why is TiVo the only company who can make a DVR that's worth a damn?
Charter Cable has been promising TiVo to their customers for ages. It was supposed to arrive next month. Now the rollout has been delayed. Who the hell knows if it will ever be released. What I do know is that I am sick and tired of the sub-standard DVR bullshit they keep shoving down my throat. Maybe it's time to ditch cable altogether and buy all the stuff I want to watch with AppleTV?

• Hooray! From the television up-fronts we now know that Person of Interest, Revenge, Castle, Suburgatory, Happy Endings, Scandal, Raising Hope, and Grim have all been renewed for another season. In somewhat good news, Community, 30 Rock, Parks & Recreation, and Fringe got partial final season orders for them to finish up their shows. While better than a flat-out cancellation, this still sucks pretty hard. Community is essential television viewing.

• Crap! The Finder and Awake... two of my favorite shows were canceled. Awake I kinda get. The show was a bit esoteric and didn't have a huge amount of mainstream appeal with the whole "two worlds" concept. People aren't that smart. But The Finder?!? Such a frickin' amazing and entertaining show. I simply do not understand how it failed to build a huge audience. To add insult to injury, they ended the season with a massive multi-character cliffhanger. I can only hope that Hart Hanson will use a couple episodes of his other show, Bones, to wrap things up. Damn. Fucked by FOX again.

And now? I should probably back-up my laptop now that I've added a bunch of crap. That's a good Sunday project.