So. Very. Tired.
After dealing with ten buckets of crazy on my flight back to Seattle last night, I caught my connecting flight, hopped in my car, and arrived back home a little after midnight. Which doesn't sound late until you realize that's 2:00am in Kansas City. This made for a long day today that no amount of 5-Hour Energy could fix. At least not an amount I could afford.
And now that I'm completely wiped out? NO BLOGOGRAPHY FOR YOU!
Except...
Yesterday I had to rush through my blog entry to make my plane, so I didn't get to explain my participation in the 30 Days Drawing Challenge. Pablo Calle over at You Are The Danger provided a list of 30 things to draw in 30 days which was found by Lee over at Quit Your Day Job, and I'm playing along. Because I like to draw. And here's my second drawing:
30 DAYS DRAWING CHALLENGE: Draw Your Favorite Animal...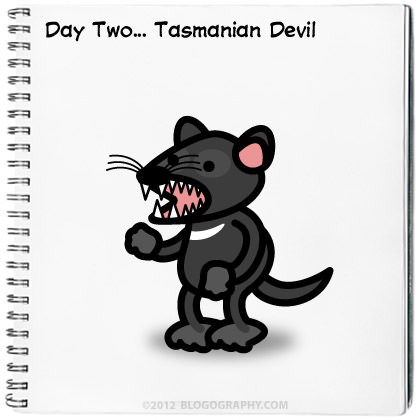 After having visited the Lone Pine Koala Sanctuary, I fell in love with Koalas, because they're just that adorable. But I really fell in love with the Tasmanian Devil after having learned how endangered they are. Much of the population in the wild has been plagued with facial tumors that grow until it becomes impossible for them to eat, leaving the poor critters to starve to death. Yes, they can be a bit foul-tempered, but they're tough little guys that have to scavenge out an existence and pose no harm to humans. If you want to learn more about these wonderful creatures, there's a site devoted to saving them.