Wah!
The last day of a cruise is usually a "Sea Day" so that everybody can pack their suitcases, settle their onboard account, arrange their disembarkation transportation, and have one last chance to stuff their faces with all the food they can get their hands on.

For me, 10-14 days is about the right length for a cruise. Any shorter and you barely have time to unpack, get used to the ship, and start relaxing. Any longer and you start to go insane over the idea of being trapped on a boat one more day. And that's where I'm at right now. I see these cruise itineraries of 30 and 45 days (and up!) and just don't know how people do it. Maybe if I had a larger cabin with a shower that was bigger than a bread box I'd feel different, but I doubt it. And so I've started to mentally prepare myself for dealing with the reality of post-cruise life. And when you've been living in an "unreality" bubble for ten days, that's not an easy thing to do.
For anybody who is interested in all the gory details, I've put the particulars of my Panama Canal cruise onboard Island Princess in an extended entry.
30 DAYS DRAWING CHALLENGE: Draw Your Favorite Plant...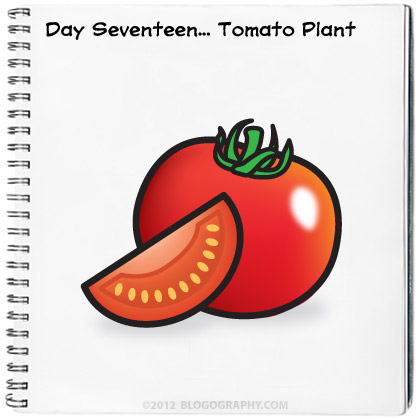 I love tomato plants because tomato plants give us tomatoes and tomatoes give us pizza sauce.
REVIEWING MY PANAMA CANAL CRUISE ONBOARD ISLAND PRINCESS...
ITINERARY...
The big draw for this cruise was a trip to the Panama Canal. There are also stops at Aruba, Cartagena (Columbia), Colon (Panama), Limon (Costa Rica), and Grand Cayman, along with four days at sea. I don't like boring "sea days" at all, so I always book cruises that have as few of them as possible. Four is more than I would have liked, but at least they weren't all in a row, which would drive me nuts. Overall, this was not the most exciting of cruise itineraries I've had, but it was all about being able to check-off "Go through the Panama Canal" from my bucket list, so I didn't mind. If I had it to do all over again, I'd probably have picked a ship that crosses all the way through the Canal instead of having to take an excursion to get the complete crossing, because that was kind of lame.
SHIP...
The Island Princess is a small ship compared to the massive floating cities that have started cruising the Caribbean, but it has to be in order to fit through the Panama Canal (at least until 2014 when the bigger locks are completed). Personally, I prefer smaller ships because it's not so crazy to deal with the shore excursions and such, but I know that's not typical of most cruisers who seem to want the biggest ship on the ocean. Still, the amenities and services onboard Island Princess are still pretty darn good... better than at most hotels... so there's really no cause to complain. I have no idea how old the ship is but, for the most part, it was in great shape. The carpet in my cabin was a little worn, but hardly shabby. Everything appeared fresh, clean, and well-maintained. The decor was very tasteful and mercifully reserved.
STAFF...
With very few exceptions, the crew onboard the Island Princess was fantastic. Though this is really to be expected, as I have yet to take a cruise where the staff wasn't amazing. The thing that differentiates Princess from the pack is that their customer base skews older, so everybody tends to be a bit more patient with you. They don't rush you anywhere or try to hurry you up when you order a meal or check out at a shop and whatnot. Since older people often need a little extra time, the staff has just adapted to the situation. Once you get used to the pace, it's kind of nice.
DINING...
All cruise ships have an abundance of delicious, quality food onboard, and Island Princess was no different. I didn't have a single meal that I didn't enjoy thoroughly. I selected "Anytime Dining" because I want to eat when I'm hungry instead of when a clock tells me to. This means I can eat anytime at The Bordeaux "fancy" restaurant, the Horizon Court Buffet, the Princess Pizzeria, The Grill hamburger/hotdog stand, or the ice cream bar. Wherever you eat, the cost of the "Basic" restaurants is included in your fare. Like most cruise ships, there are also a couple of "Specialty" restaurants that cost extra, but the food at the "regular" eateries is so good I often don't bother. All that being said, I rarely ate at the buffet this cruise because the vegetarian options were slim, and those they did have weren't things I liked (when the opposite is usually true). Instead I ate most every meal at The Bordeaux which always had some kind of appetizing vegetarian choices (and, just as good as the food, was the company I had when sharing a table every night!). I'm still waiting for some cruise line to put in a cupcake shop. This hot trend seems like a no-brainer so far as a food dessert option on a cruise ship, but is oddly overlooked.
STATEROOM...
My cabin was a balcony room on the port side of Baja Deck forward. As expected, it was clean, well-maintained, and perfectly comfortable for as little time as I spent there. I'm not claustrophobic, but I always get a balcony room so I don't feel like I'm trapped and can see what's going on outside. Sure it costs more, but it definitely makes a cruise more enjoyable. My bed wasn't anything to blog home about (they never are on a cruise ship) but I could sleep on it, which is all that really matters.
THE GOOD: The closet/changing area in my cabin was big! Plenty of room to stash a suitcase (which becomes a dirty clothes bin) and hang all my clothes. Deck chairs had fabric seats instead of hard plastic, which was very nice. Flatscreen television was a decent size. Lighting was great (oh how I hate it when your small cabin is poorly lit and feels like living in a cave). Overall pleasant and comfortable.
THE BAD: The room safe is small. Tiny. Wee. Miniscule. Petite. Puny. As in 2-Cans-of-Coke small. No way you can get a laptop in there. Heck, you can't even get an iPad in there. I felt lucky that my frickin' iPhone fit. This is ridiculous, as most everybody now-a-days has electronics they want to secure. With such a big closet area, I don't get it. Still, I never felt my MacBook/iPad/Camera was at risk just sitting in the closet because the cabin stewards always seem to be careful while they're freshening your room. Bathroom was (as usual for cruise ships) tiny. The shower was (as usual for cruise ships) smaller than tiny. I have no idea how half the people on this ship even fit in the shower when I barely do. Only two power outlets at the desk that were too close together.
PUBLIC AREAS...
Princess ships all seem to have a library and a card room. While the card room seems like a waste of space considering how often I see it vacant, the library is much appreciated. Lots of books you can check out. Even a daily quiz, which I enjoy. I have no idea why more cruise lines don't have libraries, as they always seem to be in-use on the Princess ships I've cruised on. Being a smaller ship, the atrium isn't as massive or grand as on other ships, but still very elegant and nice. As usual with cruise ships, there were times that deck lounge chairs were hard to find, but Island Princess seemed better than most.
ENTERTAINMENT...
The casino is nice, but I never bothered. Art auctions are standard on a cruise ship, but I make my own art. I'm not even remotely interested in theater shows, so I have no idea how they were. I'm even less interested in many of the seminars and talks, so I have no idea about those as well. The movies were varied and a good mix, with a few semi-recent flicks tossed in which was nice. A few of the demonstrations were fun... I watched the fruit-carving and towel-sculpture ones... but activities I've seen on other Princess cruises (like ceramics and art classes) were missing here. I'm probably not the best judge for this stuff since I don't really care about them and prefer to entertain myself, but there certainly seemed like there was something for everyone.
SERVICES...
Internet was surprisingly decent speed compared to other cruises, but still absurdly expensive. I'm not a spa guy, but the Lotus Spa onboard offered just about anything you could want. I was pleasantly surprised to see acupuncture services offered, which makes perfect sense. The gym was nicely equipped and offered trainer services and classes for all kinds of fitness activities. The "Future Cruise Desk" is a nice service to find out about other cruises you can take, but it wasn't open often enough and was crowded every time I stopped by. Interactive kiosks would go a long ways towards helping to sell passengers on another cruise, but none were to be found.
SHORE EXCURSIONS...
Due to rather short port call times, excursions weren't as big a focus on this cruise as others I've been on. As always, the ones I took seemed kind of crowded, but that was to be expected. As usual for Princess, everything was well-organized. I wish there were more "specialty" excursions that may be expensive, but had smaller groups with more unique experiences. With the exception of the Sloth Sanctuary Tour, which was awesome, I'd rank all my other excursions as "average."
IN SUMMARY...
If I don't compare the destinations in this cruise to other cruises with more spectacular ports of call I've taken, this was a very nice and enjoyable vacation. I wanted to cross the Panama Canal, and I did that, so mission accomplished. As expected, Princess delivered a superior cruising experience, and I would absolutely sail with them again. And with that in mind...
FIVE THINGS PRINCESS COULD HAVE DONE TO MAKE MY CRUISE BETTER:
Stop using a hard-sell to try and force me to get my photo taken at every port. Why not try asking me instead of telling me? If I want a photo, I'll stop for one.
And speaking of photos... why are you so old-school in offering only printed pictures? Why can't I go online to browse photos from my cruise and purchase digital copies? I'd buy a lot more if I had a digital option, because that's how I prefer to organize and view my photos here in the year 2012.
MONITOR THE VOLUME ON YOUR "MOVIE UNDER THE STARS" PRESENTATIONS. SOMETIMES WHEN EATING AT THE PIZZA COURT ON THE LIDO DECK IT WAS SO LOUD I COULDN'T HEAR MYSELF THINK! And, though I certainly think your kitchen crew deserves recognition on our final day of the cruise... DO YOU THINK YOU COULD LOWER THE VOLUME ON THE DINING ROOM SPEAKERS A FEW FUCKING DECIBELS BEFORE YOU BLAST THAT CHEESY MUSIC TO INTRODUCE THEM?!?
Stop charging for soda. I know this is a money-maker for you, but it's just nickel-and-diming your non-coffee-drinking customers. The fizzy sugar water costs practically nothing, so your 1000% mark-up just pisses people off. Disney is one-upping you on this by providing free pop and making their money on stuff that makes sense.
Put a sign on your post box when the mail has been collected so people know they can't mail postcards from the current port anymore. And why not allow your customers to mail their postcards after sailing? You're coming back in ten days, just hold on to them until the next time you're in port.
THREE THINGS I AM LOOKING FOR ON FUTURE CRUISES:
Longer port call times. It's just ridiculous to have four or five measly hours in a port. Eight hours should be the minimum so I have time to actually see and do something.
New ports to explore. How many times can one visit Ocho Rios?
Specialty excursions (as mentioned above) for people who'd rather not endure the huddled masses.
And with that... goodbye Island Princess. Yer a fine ship, and I'd be sailin' ye again if our paths cross once more!