It's the storm before the calm!
Tomorrow afternoon I leave for a couple weeks vacation. I am not even close to being ready. Between non-stop work and a couple of unplanned trips, there hasn't been time to do much of anything. Even so, I managed to get a suitcase packed, eat dinner, get my ducks in a row, and make sure I've got a bunch of comic books loaded on my iPad for the flight. I'm as ready as I'm gonna be. And if I forgot something? That's what a credit card is for.
So there's not much cause to go into a panic, is there?
30 DAYS DRAWING CHALLENGE: Draw Your Best Friend...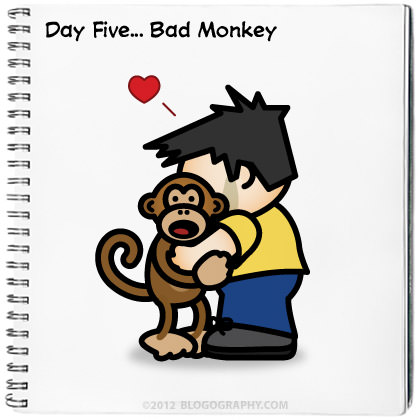 In the context of this blog, Bad Monkey is my best friend.
When it comes to real life, I'm blessed with a multitude of "best friends" that I love more than chocolate pudding. And let's not forget my blog readers, who I love more than Taco Doritos. My life is better because of all of you!*
&nbsp
* Well, okay, most of you. But especially you.