If I have to listen to Mitt Romney mangle the lyrics to American The Beautiful one more time, I'm going to fucking lose it. The lyrics are NOT "for purple mountain's majesty..." it's "for purple mountain majesties." Those are the lyrics. Those are the words in the original poem upon which the song is based. If you're going to pander to the lowest common denominator with a bullshit smokescreen masquerading as patriotism, you should at least put the effort into doing it right.
Gee. I'm in a bit of a mood tonight.
That's what happens when you start working at 4:30am.
And you have to read about George Lucas telling the world that Greedo always shot first... that everybody is just "confused" and bad people want Han "to be a cold-blooded killer."
I saw the original Star Wars dozens of times... and by "original" I mean the actual film and not the Special Edition crap. I watched it again dozens of more times on LaserDisc. And not once during any of those times did I ever think that Greedo fired first. But, more importantly, I never once thought that Han Solo was a cold-blooded killer. Greedo had a gun pointed on him... he was acting in self-defense...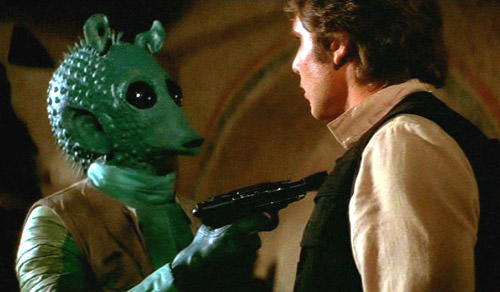 And, as we found out in The Empire Strikes Back, the guy was a scoundrel.
Which brings me to my point...
If I have to listen to George Lucas mangle Star Wars one more time, I'm going to fucking lose it.
HAN SOLO SHOT FIRST! I'd also go a step further and say that Greedo never shot at all... but I must be confused on that too.
Or sane.