Stop your grinnin' and drop your linen... Bullet Sunday starts... NOW!

• Magic? It used to be that whenever I saw some sports figure scream "I'M GOING TO DISNEYLAND!" after a big victory, I'd scream back "WHORE!" I mean, it's such an obvious attempt to score Disney ad money. But the more I think about it, what better way could there be to celebrate than to have a party with Mickey Mouse at the most magical place on earth?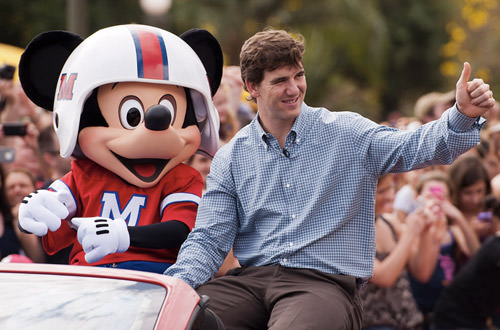 And then I see the happy photos of Eli Manning at Disneyland after his Super Bowl win and know that I would totally celebrate all my most important victories there. Of course, should I become victorious at conquering the earth, I'll own Disneyland, but still...

• Restart? I'm not a very emotional person. Which is why my nearly being driven to tears by a frickin' Chipotle commercial was about the most shocking and disturbing thing that could have happened to me while watching the Grammys. So called "factory farming" of animals is about the cruelest, most destructive, and unhealthy way to create "food" you could think of. To have somebody step up and say "enough" is so very encouraging...
There's no Chipotle anywhere near me but, if there were, I would patronize the hell out of that restaurant.

• Shop? Speaking of patronizing a worthy business... I'm going to have to start shopping at my local JC Pennys. How awesome that they didn't cave to pressure from the homophobic hate group "One Million Moms" and fire Ellen DeGeneres as their new spokesperson...
And to the bigoted asshats at "One Million Moms"... go fuck yourselves. You obviously all need a good fucking if your idea of "values" is to spend your time attacking somebody as generous, inspiring, and remarkable as Ellen DeGeneres. And may your God have mercy on any of your children who happen to be gay. Because if they're not going to get your love and support, being able to turn on the television and see somebody like Ellen may be all they have.

• Krave? After hearing about "Krave," the breakfast cereal filled with chocolate candy, I simply had to try it. How could I not? It's cereal. WITH CHOCOLATE CANDY INSIDE!!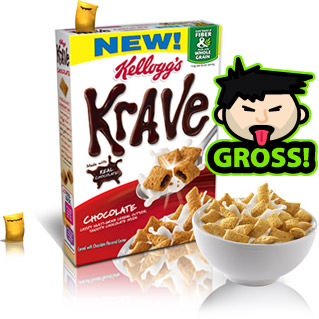 The verdict? Awful. Just awful. Both the "Chocolate" and "Double Chocolate" varieties taste like chemical waste. The texture is bizarre (in a bad way) as well. I can't fathom why anybody would eat this when they could just sprinkle M&Ms over a bowl of Golden Grahams?

• Confusion? I'm a Mr. Potato Head fan. I'm a massively huge Batman fan. But I honestly don't know what to make of this...
Why? It doesn't look like Batman or Mr. Potato Head. I'm not saying it's a bad concept for a toy... but surely they could have just dressed Mr. Potato Head as Batman instead of coming up with this hunk of plastic monstrosity.

• Protest? It seems like only yesterday I was walking through Syntagma Square in central Athens, Greece (actually it was five years ago). Despite a somewhat disappointing visit to the Hard Rock Cafe there, I very much enjoyed my visit to the city. Which is why I am very upset to see it erupt in flames...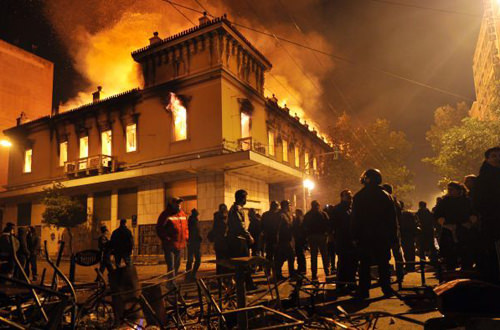 Photo taken from ABC News.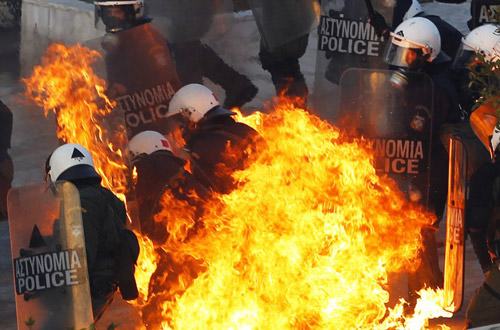 Photo taken from Reuters.
I'm all for the right of free protest when you disagree with something, but this is horrific. Do the people who own the shops and cafes getting firebombed deserve this? And while I admit that I don't know if the police crack-downs have been overly-violent, I have to question whether firebombing them could ever be a justifiable act. Greece is in serious trouble... to see violence drive it even further to the brink is profoundly sad. Come together, people... I very much want to visit your country again one day.

And now... back to the Grammys...