I first became a fan of Betty White while watching reruns of The Mary Tyler Moore Show. Her character of Sue Ann Nivens was about the most beautifully messed-up thing I had ever seen on television, and any episode where she appeared was guaranteed to be a laugh riot.
This led to me watching game shows where Betty might appear, and her guest-spots on Match Game, Password, and many others became the stuff of legends.
After that, Betty became a bit of an obsession, and I'd watch anything she'd appear on. And yes, this included 180 episodes of The Golden Girls plus twenty-some-odd episodes of The Golden Palace. Probably because of all the things Betty has done, playing naive and innocent Rose Nylund was the most bizarre. It was not only opposite of what Betty White was like in real-life... but it was also opposite from most other characters she had played. The easy route would have been for her to take the role of man-obsessed sex-fiend Blanche Devereaux (which she was originally offered), but instead she went for the role that would be more of a challenge.
Though, I dare say that playing one of the sweetest, kindest people on earth wasn't too much of a stretch. Betty's tireless efforts on behalf of animals and other worthwhile organizations sets the bar for others to follow. And despite her having always been a bit raunchy, the fact that she is so widely known to be incredibly kind, caring, and generous makes it easy for me to be a huge, huge fan...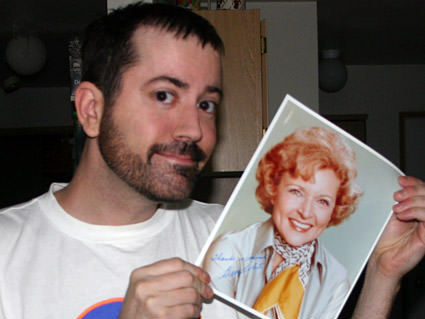 As you can imagine, I was very happy when she made such a huge comeback in recent years. Though, in reality, she never really went anywhere (as her massive IMDB page will show). To see legions of people loving on Betty as I had for decades is pretty amazing. That this newfound popularity led to even more fantastic appearances... such as her groundbreaking guest-hosting gig on Saturday Night Live... not to mention a new television show with Hot in Cleveland... is a Betty-fan's dream come true.
So Happy 90th Birthday to one of my favorite people on earth!
Here's hoping for many more birthdays, and many more years of doing what you do best... entertaining the world in a way few people have ever done!
If you want to help her celebrate, I can think of no better way than cruising YouTube for Betty White videos. That can bring a smile on even the worst days!