Hey!
Can you believe it? There's a new issue of Thrice Fiction out! I wrote a short story and made a bunch of pictures for it! And a lot of other cool people contributed awesome stuff too!
Want to take a look? You can download a FREE copy right here. Yes, that's right... FREE!
Thanks to everybody who has supported Mr. RW Spryszak and myself with our little project here. I continue to be amazed at how well it's done as we close out our first year. I thought maybe a few dozen friends would be interested... but we just keep growing. Even bigger things are in store for 2012, so stay tuned!
And speaking of big things, a couple people have asked me how to get our magazine on their iOS devices since we don't have an app for that (yet!). Fortunately, Apple makes it really easy to read Thrice Fiction eBooks on your iPad, iPhone, or iPod Touch! Here's all you gotta do in three easy steps...

STEP 1: Start up Apple's Safari browser (other browsers might work, but Safari has been tested) then navigate to our website at http://www.ThriceFiction.com/.

STEP 2: Click on the Thrice Fiction eBook download link then tap OPEN...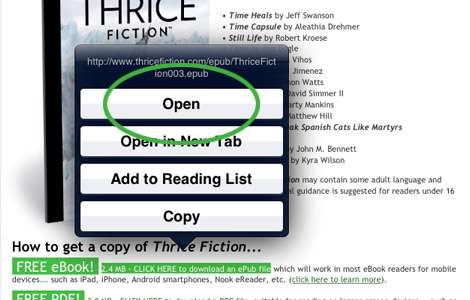 STEP 3: The book will load into your browser then ask where you want to open it. Select Open in iBooks...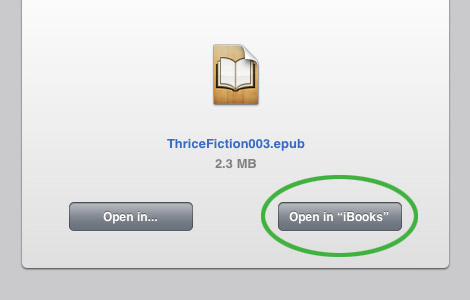 And that's it! Your issue of Thrice Fiction will automatically be added to your iBook library (be sure to check out previous issues in the ARCHIVE tab!)...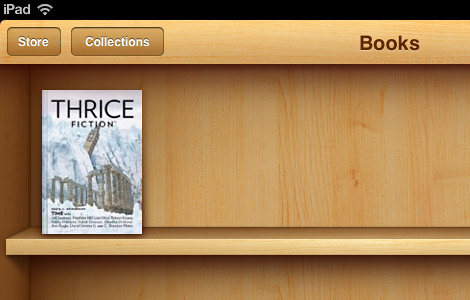 Just tap the magazine and you're good to go...

Thanks for supporting Thrice Fiction! Tell your friends!