Hello from the future.
I am posting this entry a day early because most of my September 22 will be spent in a metal tube being hurled across the Pacific Ocean.
And not in a good way.
To understand why the flight to Australia sucks so bad for me, it's helpful to remember that, despite what you might have heard, the earth is round. Airplanes use this little-known fact to their advantage when plotting a course so that they fly the least amount of miles in the shortest amount of time. This kind of thing is known as "The Great Circle" routing. As an example, if I were flying to Amsterdam over in DutchyLand, the pilot would fly over Northern Canada and Greenland like so...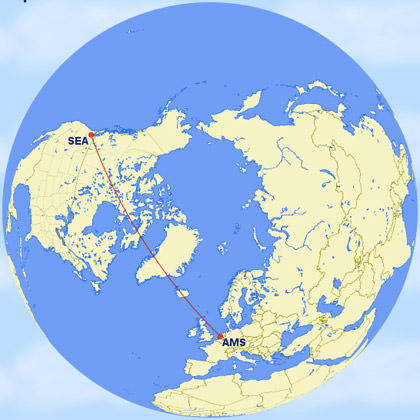 Awesome map courtesy of the The Great Circle Mapper!
The above journey is about 4900 miles (7890 km) compared to the over 6000 miles (9650 km) it would take to fly along the latitude lines straight across a map...

Map courtesy of Google Maps!
The problem with Australia is that there's no "Great Circle" route to take. This can be confirmed on The Great Circle Mapper by typing in my SEA-LAX-SYD route like so...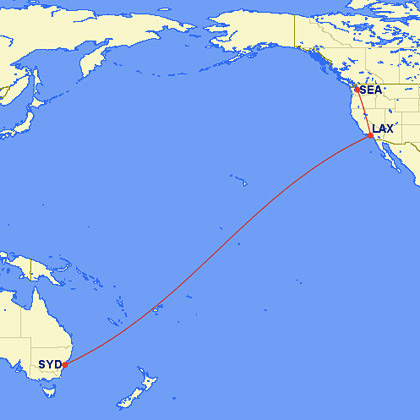 Since the curvature of the earth can't help us here, it's about 7500 miles (12050 km) from LAX to Sydney direct.
Which is a 15 hour flight.
And considerably longer than my previous longest flight of 5030 miles (8095 km) from Istanbul to Newark.
Blehhhhhhhhh.
I suppose it wouldn't be too bad if you were flying in "World Business Class" with lay-flat seats you can sleep on... but to buy an upgradable ticket would have cost me three times as much money plus a big bundle of airline miles. So I booked a coach ticket and used my frequent flier status to get a free upgrade to Delta's new "Economy Comfort Class" seating. It apparently offers 4-inches more legroom and 50% more recline over the "Economy Discomfort Class" seats you get from a regular coach ticket.
Still not a fun way to spend 13-1/2 hours, but it's better than nothing.
But the important thing to focus on is that I'm off to Australia, which is someplace I've never been.
That plus a handful of sleeping pills might just keep me sane for the flight Down Under.