"Some men just want to watch the world burn."
— Alfred Pennyworth, The Dark Knight
In total seriousness, why can't I block incoming call numbers on my iPhone?
Or, to be more accurate, why do I have to "jailbreak" my iPhone to block incoming call numbers on my iPhone?
How "smart" can a "smart phone" be if you can't tell it to block calls you don't want?
Last week somebody had my mobile phone confused with a FAX machine. For two hours. After the first hour, I added the caller to my address book so I could assign a "silent" ringtone. Because that's the absolute best you can do with an iPhone. For the past couple days I've had to once again ignore my phone because of a number I don't know keeps calling. Today I couldn't stand it any longer and answered. It was a company wanting me to take an opinion poll. My opinion was that they could shove their fucking poll up their ass since the call was eating into my minutes.
Pathetic.
The fact that Apple doesn't allow people to manage who has access to them is pathetic.
In other bad news, this is London...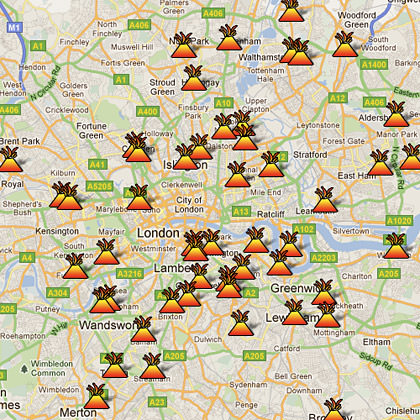 The above map shows incidents of "rioting" in The City and its surrounds.
I can pretend to understand the thinking that would cause somebody who feels poverty-stricken, oppressed, and abused by The System to resort to violence and destroy the property of innocent people who are just trying to make a living... but not really. Especially when people are being endangered and hurt.
"London shops that survived the German blitz bombings and fires, now being burned to the ground by their own in 2011."
— @felix85, via Twitter
Sadly, this kind of mentality feels like a sign of things to come. And it's only a matter of time before it reaches our shores. With each passing day, US citizens grow more and more tired of the fucked-up political bullshit that's destroying their lives and this country. There's no respect, compassion, understanding, or compromise any more. Just hate. And all that hate has to go somewhere.
It's just a matter of whether the world can survive it.
"No, I don't mind being the smartest man in the world. I just wish it wasn't this one."
— Adrian Veidt, Watchmen
Though right now, I'd settle for a smarter smart phone.