Yeah, yeah, it's Bullet Sunday ON TUESDAY! What can I say, this has been a crazy week with a lot going on. Fasten your seat-belts...

• Billboard! Speaking of Sunday... we left Atlanta, Georgia around 8:00am for the long 6-hour drive up to Louisville, Kentucky for some ghost-hunting. It was, for the most part, an uneventful drive. I spent most of the trip watching for billboard signs. This may seem crazy-stupid to most people who try their best to ignore billboards, but I'm from Washington State where they are illegal, so I find them fascinating...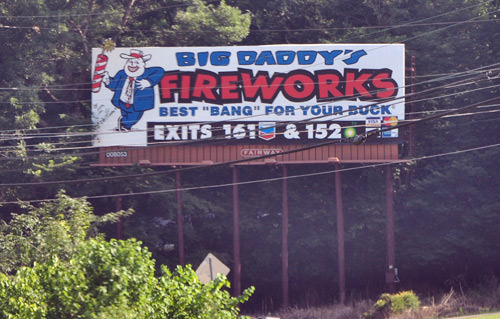 A huge number of signs are for fireworks stands. Often times these places are open 24-hours, which is even more inexplicable than the fact that you can make a living selling fireworks. How often does one have a fireworks emergency at 2:00am?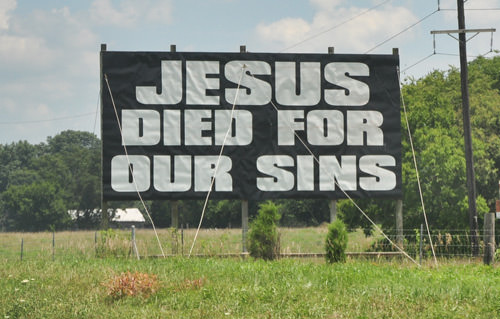 Billboards for Jesus were also very popular. These I don't understand... they give you a message, but no follow-up? No church you should visit? No advice to read The Bible? Nothing? I guess these are just reminders in case Christians forget or something?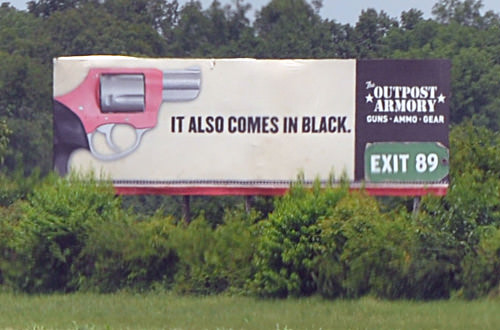 Just in case you're driving down the highway and decide you need a gun on the spur of the moment? Or maybe you left your firearm at home and need to pick one up along the way to grandma's house? I'm guessing it's more likely there for men on their way home to a cheating wife or women on their way home to a cheating husband.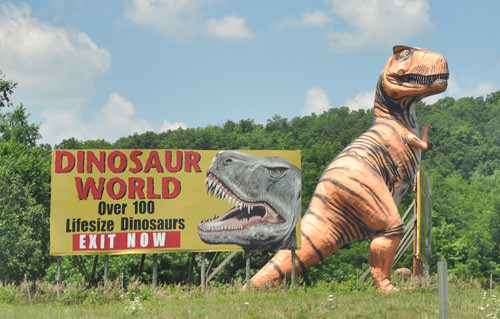 Some billboards need a little extra attention. A life-size dinosaur apparently does the trick.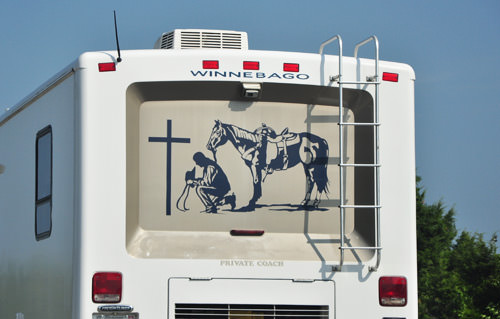 While technically not a billboard, I thought this was kind of nifty. A Christian cowboy who wants everybody to know that he's a Christian cowboy perhaps? Note that the horse is not kneeling down. Obviously he's some kind of satan-worshipping atheist or something.

• MEGA! On Tuesday morning, our group decided not to rush back to Atlanta and instead decided to hang around Louisville for the day. First stop? MEGA CAVERN! It's an impossibly massive man-made cavern that has actually been back-filled so that the ceiling isn't 90-feet in the air and they can actually run a business there. Tourists, of course, can also go on a tram ride around the place...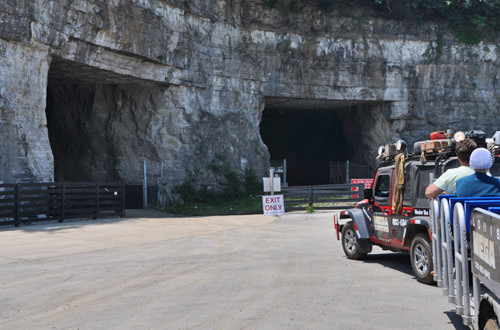 Into the mouth of the MEGA CAVERN!!!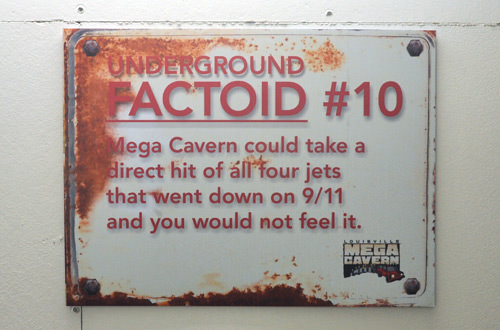 Before going on the trams, there are signs like this to make you feel safer about descending into the bowels of the earth.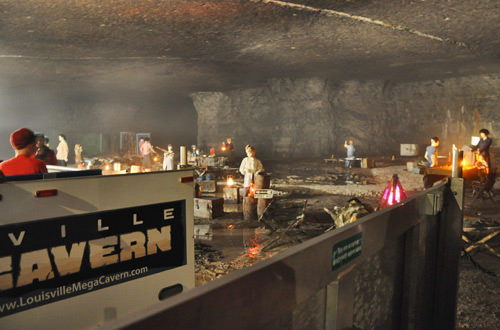 At one time, MEGA CAVERN was designated a massive fallout shelter in the event of nuclear war. The dioramas they had depicting life underground was so depressing that I'd rather run to ground zero and die a quick death.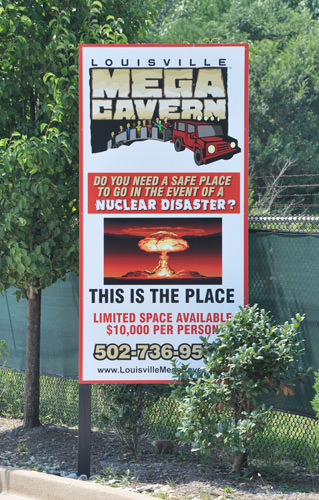 But, if you think a miserable life underground would be better than death, then you're in luck! For $10,000 per person, you can reserve a spot!

• Slugger! And, of course, what would a visit to Louisville be without a visit to the Louisville Slugger factory and museum?...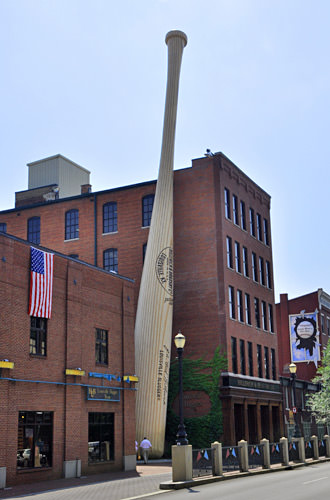 My, what a big bat you have!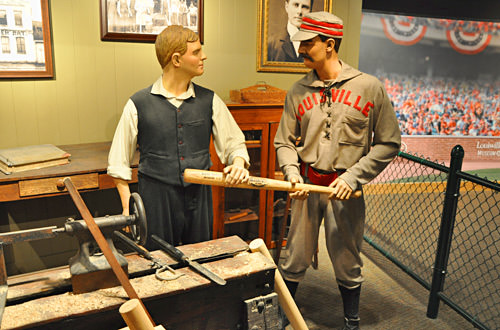 Just like MEGA CAVERN, the museum using dioramas to help explain their history.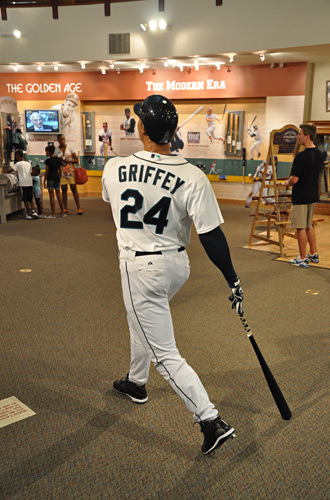 SEATTLE REPRESENT! Even if it is just a creepy lifelike statue of Ken Griffey Jr.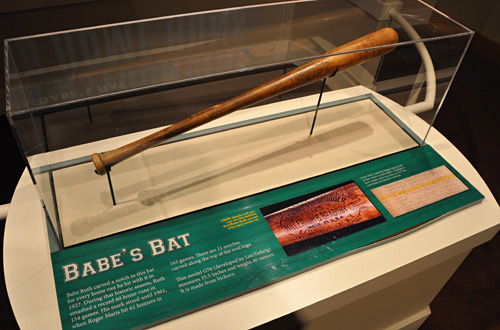 You can see famous Louisville Slugger bats from all kinds of baseball players old and new... including Babe Ruth!

• Balls! If you ever find yourself in Louisville at Fat Jimmy's Pizza, his Hot Buttered Balls are highly recommended!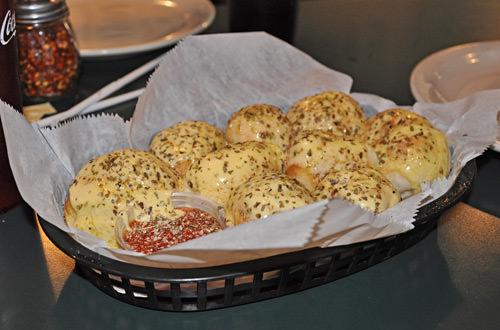 And that catches me up through yesterday. Tomorrow? PART TWO! Which will hopefully get me caught up through today. Or one would hope.