I write this knowing full-well that I won't be able to publish it until Monday since I don't have internet. Oh well, I guess it's bullets on delay.

• Marriott. Playing Priceline Roulette for an airport at Atlanta's Hartsfield-Jackson Aiport South region almost always results in one of two properties... Westin or Marriott. Though I seem better suited to the Westin, the Marriott has a lot going for it (best hotel shuttle ever!), so I wasn't at all disappointed I ended up here on Friday night. About the only thing I don't care for is the hotel restaurant. Not that it's bad... I've never gotten sick there or anything... I'm just not partial to the food. So I Yelped for nearby restaurants, and found one right at the back of the hotel. In fact, I could see it out my window. Pulling it up on Google Maps it looks like this...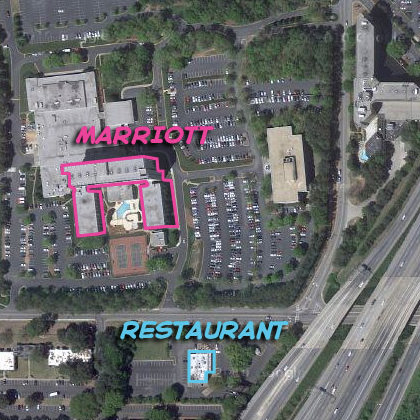 Simple, right? Just walk out the back of the hotel, cut through the tennis courts, then cross a street.
Well, no. Not really.

• Entrapment, Part One. The tennis courts were closed and gated off for some reason. No big deal, I'll just walk around. But, no, the back gates to the hotel were locked off completely...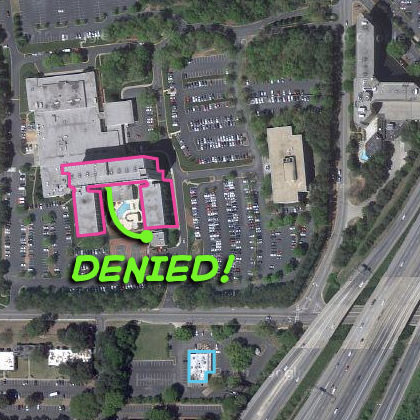 Irritating, but I guess that's how you keep random people who are not hotel guests from using your pool, so okay.

• Entrapment, Part Two. Since I can't go through the hotel, I'll just go around it, right? WRONG! There's a big ol' locked fence at the back of the hotel lot!

• Entrapment, Part Three. So this means the ONLY way to get to a restaurant that's within spitting distance of the hotel, is to completely exit the hotel property and walk all the way around...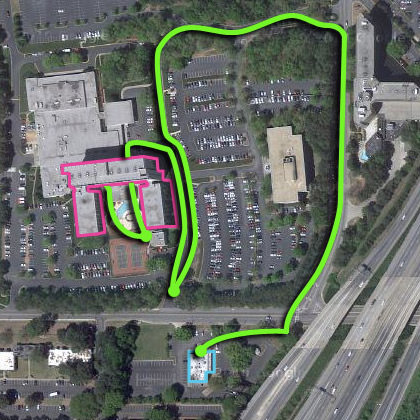 Which sucks, right? But that's not even the worst part. Not only does the Marriott block you from leaving their property out the back... THERE'S NO FUCKING SIDEWALKS SO YOU CAN ESCAPE OUT THE FRONT EITHER!!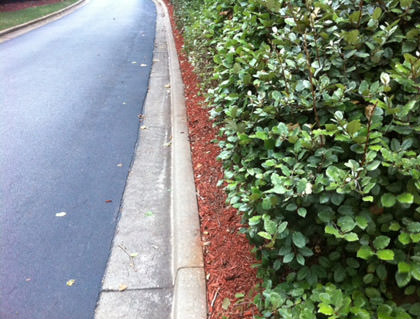 Here's your sidewalk, muthafucker! All six inches of it, bitch!
What the fuck? I mean, seriously, WHAT THE FUCK?!? All I can think of is that they don't want you to leave unless you drive out. Any attempt to walk out of the fucking place means you either have to climb a fence or walk down a dangerous driveway with no sidewalks and cars bombing up and down at reckless speeds all day long. How fucking stupid is that?

• Dinner! And so I finally manage to get to the restaurant... Joe's on Sullivan... after wandering around the Marriott's property for a half-hour trying not to get run over and killed. How was it? Well, the service was decent. The food was okay, though my "black bean burger" was falling apart so badly it was hard to eat and the potato salad tasted like it came from a can. But, overall I was happy to have made the effort to get there.
Until I started getting cramps on my way back to the hotel...

• Distress. By the time I managed to get back to my room, my stomach was in turmoil and I was sweating so bad that it was dripping down my face. All I wanted to do was lie down, but I had to take a quick detour to the bathroom so my intestines and stomach could explode... FOR THE NEXT SIXTEEN HOURS! In all honesty, I have no idea where it all came from. I'm confident I crapped and puked my entire body weight three times over, but it would not stop. Any attempt to keep down medication was futile, because it would just come right back up. And then, just as I was considering calling for a ride to a hospital... I passed out. When I woke up, I was really queasy, but at least I wasn't leaking bodily fluids any more.

• Stung. Since I got off work early and had an entire Saturday free, my plan was to spend the day in downtown Atlanta goofing off, then go to Johnny Rockets for dinner. Around noon yesterday, I pulled myself together and took the hotel shuttle to the airport so I could ride MARTA rail into town. But I didn't make it any further than the airport. I was feeling so awful that just the thought of 25 minutes on a train was enough to make me want to die. So I got a mini pizza from the airport atrium, then went back to the shuttle stop... WHERE I WAS STUNG BY A BEE! Right on my hand. Which caused my finger to swell up like a baloon. Could things get any worse?

• Worse. Why yes, things can get worse! I get back to my hotel room so I can finalize the next issue of Thrice Fiction Magazine (which is amazing... you have no idea) only to find that typing with my bee-stung hand is excruciating. On top of that, lunch seems to have made me sick all over again, because I can barely sit upright without feeling like I'm going to puke my guts out. So there I am... laying in bed rolled in a ball, typing one-handed on my laptop on a Saturday night.

• Worser. I could go into greater detail, but suffice to say that my Sunday went like this... 1) Wake up sick. Still. 2) Find out my headphones are broke. 3) See that my finger isn't swollen anymore, but it aches worse than ever. 4) Have to sit next to a gum-smacking whore on the hotel shuttle back to the airport. 5) Find out my flight is delayed, and I might be missing my connecting flight in Seattle. 6) Somebody opens a can of fish on the plane, which already smells like somebody peed on the floor. 7) Arrive with time to spare to catch your connecting flight, but find out it's clear across the airport. 8) Finally make it back home, but find out your luggage didn't. 9) Arrive home and find out that the internet isn't working. 10) Finally get to my own bed after a week of very little sleep, only to find that I can't fall asleep. Best. Sunday. Ever.
And on that happy note, I suppose I should take some drugs to see if I can force myself to sleep. That aught to make for a fun Monday-morning at work...