The battle for marriage equality in New York has the attention of the entire nation on both sides of the spectrum. If it passes, this will be a major step in ending the institutionalized bigotry against committed gay and lesbian couples wanting the same right to marry that everybody else has. Or the end of the world, depending on your views.
A week ago while trying to figure out a way to lend my support to such a worthy and important cause, it occurred to me that Lil' Dave and Bad Monkey were "born" and "raised" in New York. They're New Yorkers! This led to a DaveToon modeled on the "New Yorkers for Marriage Equality" campaign...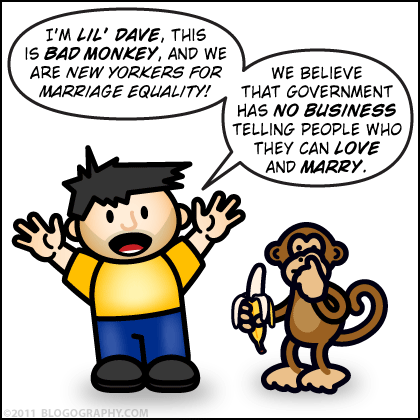 But after I finished, I decided not to publish it out of fear that it might give the appearance of mocking something I care deeply about. The fact that my gay friends are seen as lesser people in the eyes of the law and their rights are up for debate is disgusting to me. I simply cannot fathom how this is even an issue in 2011. Even more disgusting is how the people most opposed to "big government" interfering in our lives are the same people pushing to have laws which strip tax-paying citizens of their rights. I guess "big government" is perfectly okay if it's persecuting people you don't like. This is the very definition of hypocrisy. It is anti-American. It has no business being a part of a country founded on the principle of freedom. It is just wrong. If you don't believe in gay marriage then don't marry somebody of the same sex... that's your decision. But you have no right to make that decision for everybody else in the United States of America. End of story.
So as the New York Senate reconvenes today to debate whether homosexuality is grounds to relegate somebody to being a second class citizen, I remembered the cartoon and changed my mind. People can look at it however they want, but it sums up my feelings on the matter completely: Government has no fucking business telling consenting adults who they can love and marry. And it's no less true if it's coming from a cartoon.