Despite the bad reviews, I simply had to go see Green Lantern after checking into my hotel.
The reason I had to see it was because Green Lantern is one of my favorite super-heroes (after Batman, of course). In fact, an issue of Green Lantern was the first comic book I ever bought. I've been a fan through thick and thin ever since...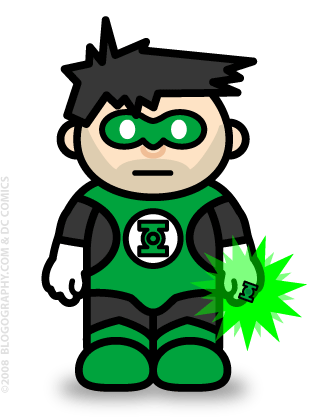 Sadly, the movie itself is pretty bad. Several elements are good, but the big picture is a hot mess with too many inexplicably boring bits. Since I really have no idea how to review such a scattered film (let alone attempt to sum up the story!), I guess I'll just run through the bullets...
The Good
• Casting. Ryan Reynolds was perfectly cast. He captured the cocky charm of a fearless test pilot effortlessly. Likewise, Peter Skarsgard playing Hector Hammond and Mark Strong's turn as Sinestro were shockingly good. Blake Lively as Carol Ferris seemed a little forced and awkward at times... and her character had really lame similarities to Pepper Potts from the Iron Man films... but it wasn't as disastrously bad as say... January Jones in X-Men: First Class.
• Scope.I really enjoyed that they went a little "cosmic" with the movie. Green Lantern is at his best when he's out amongst the stars, and having him mixing it up with aliens and other worlds was a very good thing. If, by some miracle, a sequel happens, I hope that they ignore earth completely (especially since that's where most of the boring bits happen).
The Bad
Parallax. As far as villains go, Parallax was probably not the best choice. His comic book back-story is rather long and complex, and the way they dumbed it down to fit in a movie was kind of lame and dismissive. On top of that, he just wasn't very compelling an opponent in the film, because his powers weren't really defined. He could be almost god-like one minute... then surprisingly weak the next.
Pacing. As I mentioned, there's unnecessary stretches of sheer boredom plaguing the film. It's totally amateurish, and I'm guessing the writer(s) simply didn't know how to edit for a streamlined story... so they just threw in as many bits as possible in the hopes that something would gel together and "stick." It doesn't.
The Fugly
• CGI Uniforms. I understand the logic of the Green Lantern Corps uniforms being pure energy, and the concept of computer graphics being the best way to show this is sound... but it failed on every possible level. Ryan Reynolds looked like he had been Photoshop-painted, badly in every scene he's Green Lantern, and it took me completely out of the movie. You can tell that the effects team knew the uniforms looked like shit because they went back and added "energy crackles" and "energy glows" here and there in an attempt to camouflage them. If anything, it just ended up making things worse by drawing attention to how tragically bad they looked. I simply cannot fathom how anybody could look at test footage and decide this was the best way to go. I mean, they did render test footage of the uniforms, didn't they?
Case in point... ONE of these photos is fake. I spent two minutes slapping on some green pixels in Photoshop. Can you spot it? Guessing isn't as easy as you'd think since they're all pretty shitty...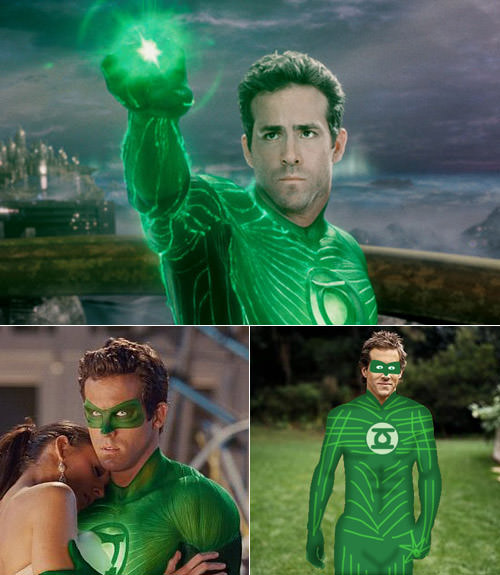 • Internal Logic. I understand that you have to suspend disbelief in order to accept a movie universe where people are flying around playing super-hero... but, even so, there has to be an internal logic to the story and plot so you can suspend disbelief. Green Lantern has so many inconsistencies and gaps of internal logic that I found it impossible to get into the film. There was this whole deus ex machina thing going on where plot points existed not because they made sense, but because it was the only way the writers found to move the story forward. This caused me to constantly question the characters, which is a very bad thing from a story standpoint.
• The Story. Green Lantern has a classic origin story... dying alien gives hotshot test pilot Hal Jordan a ring with amazing powers and inducts him into the Green Lantern Corps, which is a kind of intergalactic police force. This part is handled fairly well in the movie, but things go off the rails really quickly afterwards. The problem is that there's just not a story you can grab ahold of and be taken away by. There's only fragments of different stories woven together seemingly at random. This didn't hold my interest because my attention was never focused on one thing long enough to give a crap about the stuff happening on-screen. For me, at least, the film can never overcome this deficiency, and comes out totally mediocre because of it.
And this updates my whole "Y2K Super-Hero Comic Book Renaissance" scorecard as follows...
Batman Begins... A
Batman Dark Knight... A+
Blade... B
Blade 2... B
Blade Trinity... B-
Catwoman... F
Daredevil... B-
Daredevil (Director's Cut)... B+
Elektra... D
Fantastic Four... C
Fantastic Four: Rise of the Silver Surfer... D
Ghost Rider... C
Green Hornet... D
Green Lantern... C+
Hellboy... A
Hellboy 2: Golden Army... A
Hulk... C-
Incredible Hulk... B
The Incredibles... A+
Iron Man... A+
Iron Man 2... A
Jonah Hex... F
Kick-Ass... B+
Punisher... C+
Punisher War Zone... C
Spider-Man... B+
Spider-Man 2... A
Spider-Man 3... D-
Superman Returns... C+
Thor... B+
Watchmen... B
X-Men... C
X-Men 2: United... D
X-Men 3: Last Stand... F-
X-Men Origins: Wolverine... D
X-Men: First Class... B