Well... I woke up with my back feeling far worse than it was yesterday. This really blows, because I've got a long drive followed by a long flight tomorrow. Guess I'll be spending my day mostly medicated. Yay.
Of course I still haven't packed a suitcase. Given the excruciating pain throbbing in my lower back, it's probably a better use of my time to lay in bed with a heating pad all night. Which means I'll be packing when I get up in the morning. And doesn't that sound like a bucket-full of laughs and good times.
The problem with laying as still as possible for hours-on-end is that there's not much else to do except think. The even bigger problem is the stupid crap I think about, most of which makes me want to scream my head off.
Things like... how fucking bat-shit-crazy is it that the same people who freaked out and thought armageddon was nigh because two dudes kissed on Glee are all gung-ho to see photos of Osama Bin Laden with his head blown off? I mean, seriously... a sign of love and affection between two people can't be shown on television because its paramount to a complete breakdown of society if they both have a penis... HOWEVER an image of graphic violence and horror is perfectly okay. In fact, let's make popcorn and invite the neighbors over the watch!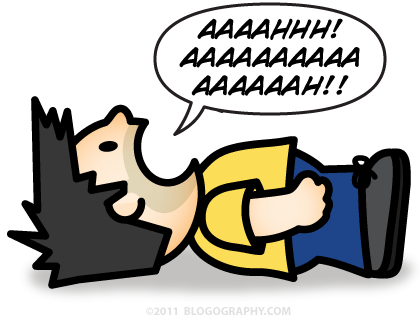 And it only gets worse from there.
I long for those magical days of yore when I was too busy to think such horrible nonsense.
The best I can wish for now is that I fall asleep soon.
Hopefully before I start thinking about how dumb-fuck asshole Minnesota House Majority Leader Matt Dean called beloved author Neil Gaiman a "pencil-necked weasel" that he "hated" because he's too damn stupid to bother getting all the facts before resorting to name-calling and accusations of stealing. What a worthless piece of shit. Is it too much to ask that ANY of our elected officials use even a half of their brain before they open their idiot mouths?
Dang. Now I'll never get to sleep...