What's better than arriving home exhausted and smelling like airplane?
Arriving home and having your internet fail just as you are writing up your latest blog entry! Sweet!
While waiting for Hilly and "The Sheraton Posse" to get back from the "Rocky Steps" the other day... Dustin, Vahid, and I decided to grab some lunch and wander through the Philadelphia Pride Street Fair that was going on a block from our hotel. One thing is for sure, the gays know how to throw down a party! Everybody was there...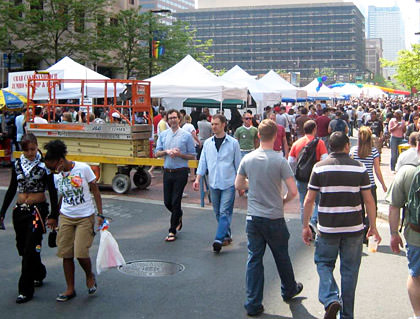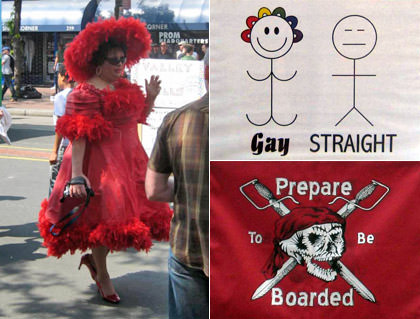 Despite being straight and clueless as to much of what was going on, we had a good time. Probably because Dustin managed to find a gelateria that sold authentic Italian gelato! As I entered the shop I was hoping against hope they would have stracciatella, and they DID...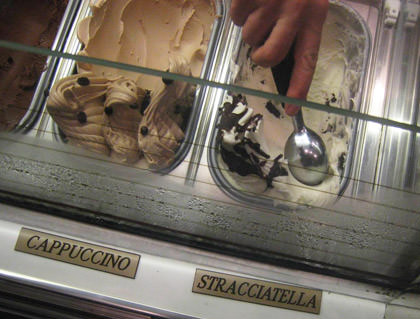 Crazy deliciousness ensued.
But all was not perfect.
Because heaven forbid that people should get together to hang out and have fun when there are haters out there determined to spoil everything. Bring on the anti-gay militia protesters...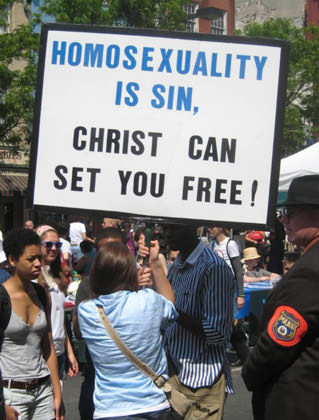 BAD LETTER SPACING IS SIN, PROPER KERNING CAN SET YOU FREE!
By far my favorite protesters were the "ex-gays." People who were once gay, but then found Jesus and became straight. And there's nothing wrong with that. I think people should be whoever they want to be, and if somebody decides that homosexuality isn't right for them, then by all means turn in your rainbow flag and enjoy your new-found hetero lifestyle. But to say that your decision is the correct one, and everybody else should live exactly as you do isn't the least bit narcissistic...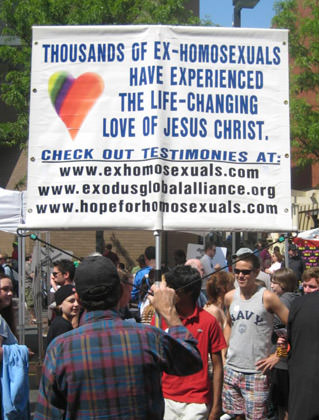 Deep down, I'd say he misses the cock, and came here to boy-watch.
Now, to be fair, many of these protesters are not actually coming from a place of hate. They genuinely believe that they are showing love by trying to "save" sinners from eternal damnation. Their interpretation of The Bible tells them that homosexuality is a one-way ticket to hell, and they love the gays so much that they are willing to risk being ridiculed and despised to help them out. And that's fine... I can respect that. Everybody has to live according to their beliefs...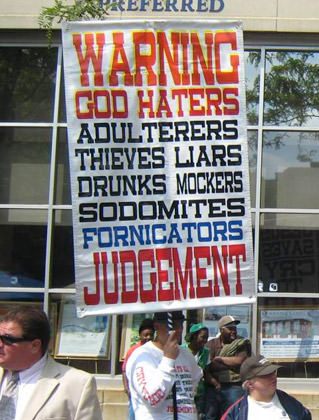 Apparently Matthew 7 is missing from his Bible.
But when you decide to protest INSIDE the street fair, I don't care what "place of love" you are coming from... that makes you a fucking asshole. You are disrupting the event and intruding on other people's happiness. If you simply must wave your little signs of condemnation, do it OUTSIDE the street fair. That way, you get your message across just fine (because everybody attending has to enter and exit) but without being complete douchebags...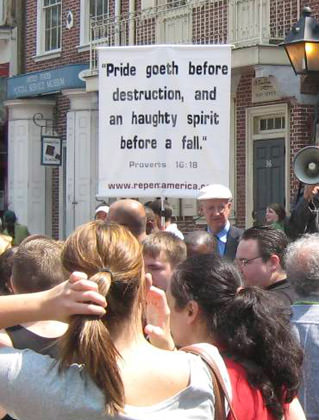 Disrupting an event to feel better about yourself isn't prideful?
But my real problem here is that the protesters are just plain ignorant of the scripture they use to judge others, and I find it ironic that I know The Bible better than most of them do. I am not a Christian, but I have read The Bible in its entirety more than once, and have spent time studying it (both on my own and in study groups from no less than a half-dozen different churches). Just because I choose to base much of my belief system on Buddhist teachings does not automatically make me ignorant of Christianity, even though that's the conclusion most Conservative Christians seem happy to draw...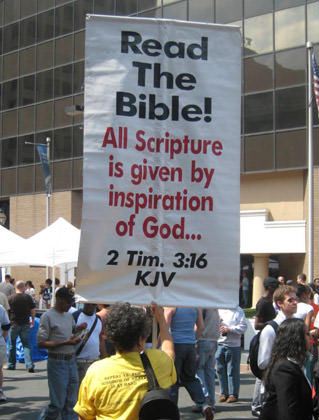 Boastful and abusive, she apparently skipped over 2 Timothy 3:1-5.
For example, take this one (ironically, the flip-side of the sign above)...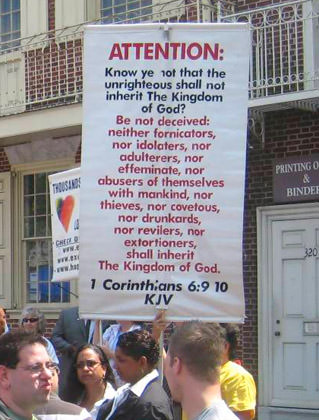 I reads The Bible real good... ask me!
I wonder if the rude bitch holding up this sign has any clue as to the meaning and history behind the scripture she is quoting. Given the context, it is fairly obvious that she is focusing on the word "effeminate" to mean "gay" and is pretty much telling all the hetero-challenged fornicators at the street fair that they are going to hell. Apparently the only "kingdom" the gays get is "The Magic Kingdom" in Walt Disney World.
Or is it?
Because "effeminate" as it pertains to this passage from The Bible has absolutely nothing to do with being some kind of "sissy-boy homosexual." I am fairly certain it is instead referring to an entirely different meaning of the word (weakness through over-refinement) and is talking about delicacy or weakness of faith and spirituality... not delicacy of manhood (which is kind of sexist when you think about it). I know this because I questioned the passage when I had first read it and decided to do some research. As anybody who has studied translations of ancient texts will confirm, you can't always take things at face value, so you pretty much have to do research. Now, obviously, somebody could take their personal belief that being gay is a weakness of faith and spirituality and deem this passage relevant to their cause, but that's another argument. An argument I wouldn't respect unless the person doing the arguing was well-studied on how The Bible has been changed during translation from Hebrew, Greek, and Aramaic... and how it has been drastically altered and revised over the years to accommodate the whims of man... not God.
But something tells me that this would not be the people seen here. They haven't the decency or class to be respectful of others and protest outside the event... so I'm guessing they don't have the smarts to debate scripture with any kind of intelligence.
Still, I can't help but wonder how these douchebags would react if somebody decided to hold a protest in their church during services? After all, "...whatsoever ye would that men should do to you, do ye even so to them." —Matthew 7:120*
*For a very informative take on this "Golden Rule" take a look at this. Amazing how we are all so much more alike than we are different.