A second day of bullets for double damage!
Today's bullets will be fired from Part Three of my "Get to Know an Island" series: OAHU EDITION! Since yesterday was spent exploring the Leeward side of the island, today I decided to head East and take a look at the Windward region of the island...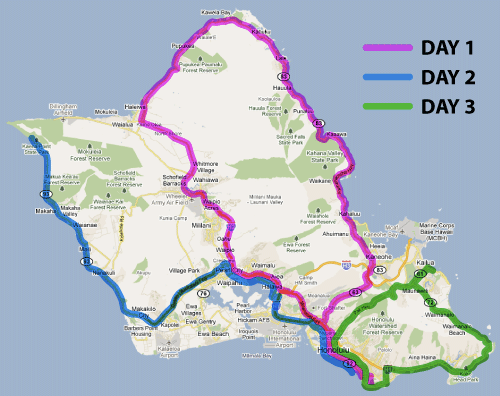 • Nu'uanu Pali Lookout. I had just been here two years ago but, since it was along the way, I decided to stop again. This is actually a pretty gruesome place... it's where King Kamehameha the 1st and his army drove a bunch of their enemies off a cliff into this here valley...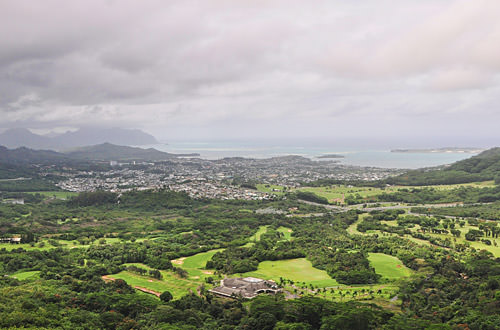 It's a lot nicer when the weather is good, but I was still glad I stopped.

• Kailua Beach State Park. And here it is... the best beach I've seen on all of Oahu: Kailua Beach. It's absolutely stunning, and on-par with my favorite Maui beaches. The surf seems fairly mild, which is why a bunch of para-surfers and wind-surfers were out and about...
The sand is powder-fine and beautiful...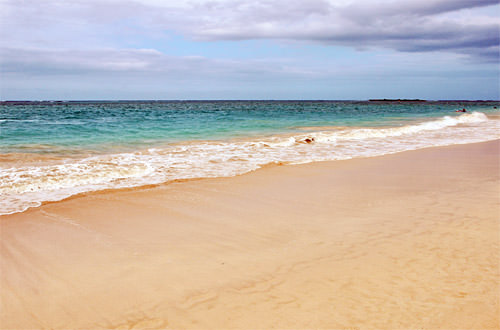 The park is in a residential area, which is kind of a nice surprise. The lack of hotels and resorts means that the beach isn't completely overrun like Waikiki. I'm guessing it's pretty crowded on the weekends, but on this Monday morning there wasn't a lot of people there. All I know is that if I wanted some beach-time when visiting Oahu, it would be Kailua and nearby Lanikai Beach all the way.

• Makapuʻu. Across from Oahu's "Sea Life Park" (where you can swim with dolphins and stuff), there's a strip of rocky beach that's a great place to look for crabs, fish, and other critters that call the place home. Typical of Hawaii weather, I was able to look North and see a rain storm moving in...
Then look South and see sunshine...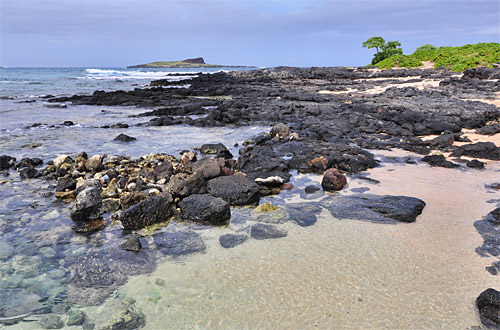 It was kind of nice to see blue skies, because it's been on-again-off-again raining my entire trip.

• Halona Blowhole. And so now I've finally seen a blowhole. This is a geological formation where a sea cave has an opening above it. When waves flood the cave, water is blown out of the hole. Hence the name...
The volume of water that can shoot up is huge and makes a big impression in person. But in photos it's the smaller plumes that look more interesting.

• Lanai Lookout. I'm guessing the reason that this place is called "Lanai Lookout" is because you can see the island of Lanai from here. This seems odd, as I would expect that Molokai would be in the way... but whatever. I didn't see anything. Except interesting land formations and some pigeons chilling out and watching the waves...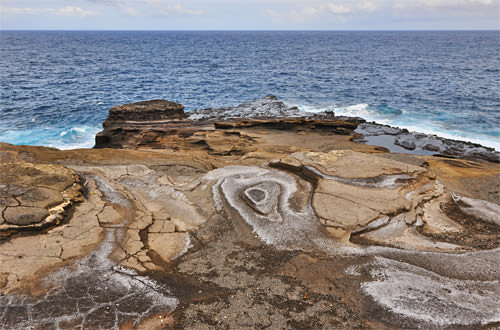 • Hanauma Bay. This is the only place other than Pearl Harbor and Nu'uanu Pali that I've been to in Oahu outside of Honolulu/Waikiki on one of my previous trips. If you like to snorkel, this is an amazing place to do it...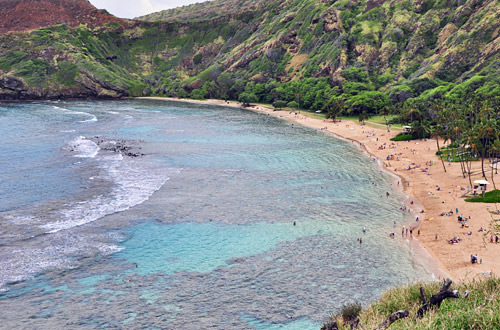 Unfortunately the bay has been ravaged by the masses of tourists who flock here. I'm surprised that the damage hasn't ruined the place completely, but there's still an abundance of marine life to be found. Park rangers are trying their best to educate people about how to minimize their impact, but the thousands of people who show up every day (except Tuesday) do take their toll. I worry that eventually they'll have to close down popular places like this in order to let nature recover a bit, but I suppose that's better than the alternative.

• Diamond Head State Park. This is a very nice park, but parking is crazy. Even on a Monday afternoon. Cars are piled everywhere, so eventually I just waited for somebody to leave and got a spot next to the Amelia Earhart memorial that's there...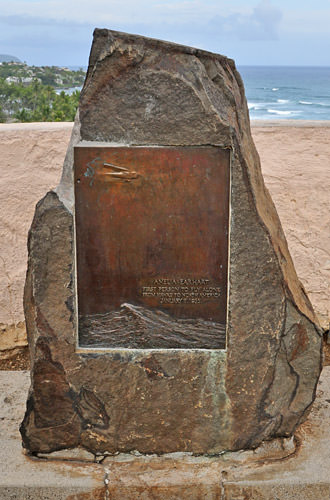 A lot of surfing going on...
And here's the lighthouse I was looking down upon from the top of Diamond Head two days ago...

• Puka! Since I had a late 9:00pm flight, there was time for one last dinner in Waikiki. Despite having eaten there three times already, I could think of only one place I wanted to go... PUKA DOG!!
Despite the $7 price tag, it remains my favorite meal on the island. Soooo good and a fitting finale to my trip.

Annnnnd... that's it for my trip to Hawaii. I am really glad I took the time to explore Oahu and see some of the many great things the island has to offer. Unfortunately, one thing it doesn't offer is free wi-fi at Honolulu International Airport, so I'm afraid this entry won't be posted until I get home. Stupid airport.