It must be karma. I write about how travel really isn't that bad for me just six days ago... then today I proceed to have one of the single worst travel days I can remember in twenty years. Seriously, I sit here wracking my brains trying to come up with something that went right today... just one little thing that I can cling to... and there isn't anything.
• I check out of my Cologne, Germany hotel and have to pay nearly $100 for internet over 5 days. $100 for something that was supposed to be free...
And yet, no amount of discussion when I checked in could dissuade them from charging me for internet. Even calling up their own website did nothing to forward my cause. Since I had to have internet for work, there was nothing I could do but pay it.
• It snowed last night. My suitcase wheels keep getting gummed up with slush, so I end up dragging my suitcase for ten minutes to the tram stop. On the plus-side, this cleared the sidewalk for everybody else.
• It's foggy at the airport, and so my flight out is delayed. This is very, very bad, because...
• I have flown into Paris' Charles de Gaulle Airport once. Every other time I've visited the city, it's been by train. I have never had to transfer planes there, so the total nightmare that ensued was entirely unexpected. After landing, LATE, the plane ended up racing around the airport for a good twenty minutes before we got to the gate. My arrival into Terminal 2-G necessitates exiting security and taking a long bus-ride though the French countryside so that I can get to Terminal 2-D and go back through security. By the time I finally got to the gate, they were already boarding the plane. So much for a bathroom break on my nonexistent 1-hour-40-minute layover. I can't wait to do this all over again on my way back.
• You know those flights that are so bad that having the plane go down in flames would actually be preferable to enduring it? Yeah.

• It will come as no surprise that my luggage was lost when I finally made it to Málaga, Spain. I can only imagine that it's still making the trip from Terminal 2-G to Terminal 2-D at Charles de Gaulle. Here is the "Passenger Kit" I got to survive on until my bag (hopefully) arrives tomorrow...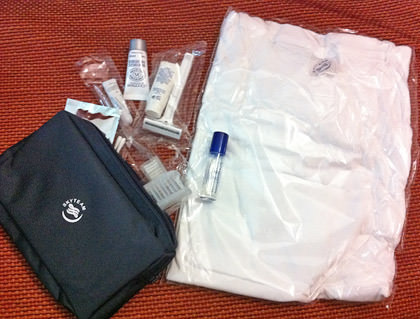 • I try to arrange pickup from my airport hotel's courtesy shuttle only to find out that there isn't one. This comes as a bit of a surprise, because it clearly stated that this is a feature of the hotel on their website...

I guess hotels can write whatever the fuck they want to on their website and not have to deliver.
• Since there's no shuttle, I end up taking the bus. Except the bus driver ignores my stop request and so I have to back-track with a 25 minute walk along a busy highway.
• This same noisy highway runs directly by my hotel. Which would ordinarily be a problem, except there's a major construction project next door with trucks, bulldozers, and lots of other heavy equipment, so I can barely hear the highway noise. Since it's now 7:00pm, I can only guess that the construction runs around the clock. As if all that weren't bad enough, the hotel is apparently trying to "camouflage" the noise by blasting elevator music in the hallways at full volume. Thank heavens I have earplugs, though I sincerely doubt they'll do much good against the full-on audio assault in this room.

And there you have it. A day where absolutely everything went wrong. I can only hope that things improve tomorrow or else I may never want to travel again.