ZOMFG! I am so much cooler than you are right now. And let me show you why...


This crappy photo doesn't do it justice... the printing is incredible. Bright, vivid, accurate color.
My new MacBook Pro GelaSkins arrived!
Because these things are printed on demand, I was expecting the quality to be pretty crappy. I couldn't have been more wrong. These things are super-sweet, and look just awesome!
My one disappointment is that they don't give you a template to construct your art on. I ended up taking a screen-shot of their "skin-maker" and blowing it up so I could try and get the Apple logo right. Except there was no way of getting the placement exactly how I wanted because the screen-shot is just a blurry mess. Even worse, the "screen proof" they show you is shockingly inaccurate. This is pretty harsh. If they are going to offer a cut-out design, they should provide a way of getting a decent template to work on. Sure registration isn't going to be dead-perfect, but having a LITTLE bit of accuracy would go a long way.
Because this is what I was expecting to get...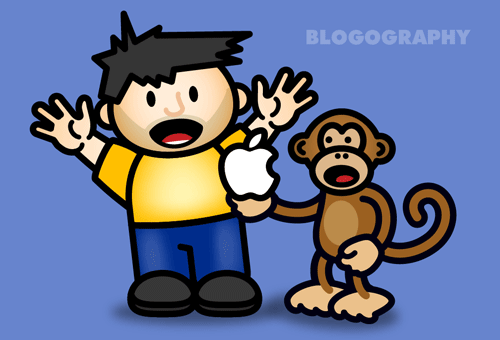 But, as you can see from the above photo, the Apple cut-out ended up being considerably larger than their website depicts... this caused the thick outline around the Apple logo to end up way too thin. I mean, it doesn't look BAD by any means... and people would probably never notice if I hadn't pointed it out... but, for a guy who is hung-up on good design, things like this drive me bonkers.
Anyway, if you are looking to skin your electronics, I can't recommend GelaSkins highly enough. They're a big pricey, but the quality is definitely there. I just wish that they offered a proper template so people can have the artwork look as they intend it to be.