What the deuce?
As anybody who has read Blogography for any amount of time already knows, I positively loathe Pat Robertson. The bastard is bat-shit crazy, and regularly says stuff so outrageous that you have to question his sanity. Except I don't question anything. I know he's insane.
He's so insane that I put him at the very top of my "Are You Insane?" self-diagnosis chart back in 2006...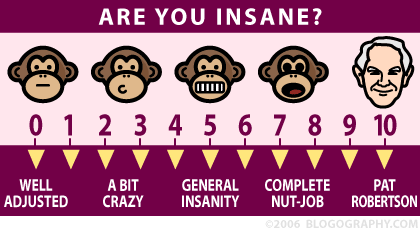 And "crazy" is the least of his sins. In January of this year, I wrote "It's not just that Pat Robertson is a stupid, hypocritical, uncaring, opportunistic, lying piece of shit, it's that he's just plain evil." This was in response to him saying the Haitian people made a pact with the devil in order to end French colonization, and that's why God decided to devastate the country with an earthquake. Like I said, evil. He's right up there with Nancy Grace and Ann Coulter...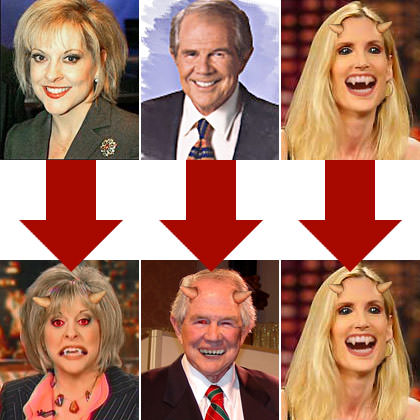 Then today something astounding happened.
Pat Robertson took a time out from being an evil lunatic, and actually had a moment of lucidity...
Like I said, what the deuce?
Much like Pat Robertson, I don't condone drug use. I honestly think it leads to more problems than it will ever solve for the vast majority of the population. But, so long as people don't abuse it by driving while high... and so long as they smoke their marijuana in the privacy of their own home where I don't have to inhale it... who gives a shit? Should we really be spending billions of dollars to incarcerate those who would rather get high off pot than drunk off alcohol? If people want to get high and aren't harming anybody else, then they should be able to do that. It's called "freedom."
And who knows? Not only might the legalization of marijuana save us on prison costs... it might also save us tons of money in the "war on drugs." Maybe if people can get legally high, they won't have a need to turn to harsher drugs that are harmful. That would be swell.
And let me tell you... if pot were legal, I'd be buying some right now.
That's about the only way I can deal with the fact that I am actually agreeing with something that Pat Robertson said.