reflex |ˈrēˌfleks| noun.
An action that is performed as a response to a stimulus and without conscious thought.
There are times I feel as if all the life has been beaten out of me and I'm nothing more than a zombie on auto-pilot. Anything familiar gets dealt with using minimal effort. Everything else gets overlooked or ignored. There's no energy available to think or feel about anything. So I don't. Every day I'm just going through the motions and acting on reflex...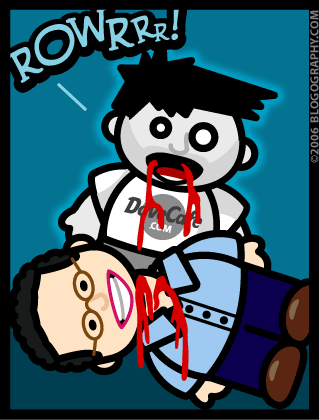 Attacking Jared The Subway Sandwich Whore would totally be reflex.

And the longer it goes on, the harder it is to escape.
The longer it goes on, the more you don't want to escape. But then something comes along to delight you, and the zombie fog is lifted. In this case, it was something totally unexpected. But very welcome.
I just wish I could get the taste of brains out of my mouth.