I think I might have a problem.
I loathe Reality Television, but find myself watching it anyway. Well, selectively watching it. Most of it is total shit and filled with stupid drama I would never want in my own life... let alone to watch for entertainment. But there is gold to be found in the manure pile.
For me, it basically breaks down to four shows...
Okay then... one television program you do NOT see on my list is Hoarders, a show which focuses on the truly sick and sad world of "compulsive hoarders" (people who cannot throw anything away, and accumulate massive piles of crap and filth). The show has absolutely NO appeal to me, and the idea of watching scene after scene of freaky shit like this makes me want to vomit...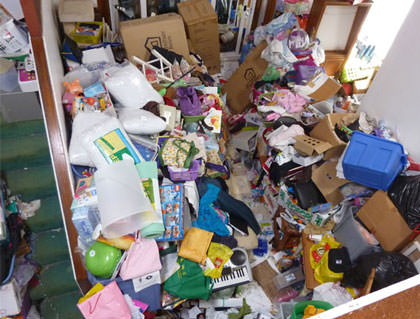 Until this past weekend when I realized I AM TOTALLY A HOARDER!
At least when it comes to old computers, electronics, and (especially) cables...
I would have taken a photo but, to be honest, I'm just too embarrassed.
But realizing you have a problem is the first step of recovery, so I threw out TWO HUGE GARBAGE BAGS worth of old cables. Some of them were easy to toss out... like old parallel printer cables and SCSI cables for which have no use, as I don't own any devices which use them any more. Others were more difficult... like USB and power cables which are perfectly good, but I have dozens (hundreds?) of them. The worst offenders were stereo RCA cables and phone line cables, which nearly filled an entire bag all their own. And yet, I have no idea how I got so many of them in the first place. I probably just got in the habit of grabbing them any time somebody had them left over or something, and they just piled up over the years.
The old computers and electronics, however, I can't bring myself to toss.
I have eleven old computers (mostly Atari brand) complete with peripherals that are just too awesome to be destroyed. Including an original Macintosh (still works!) and two Apple Newton models (still work!) and Atari 2600, ColecoVision, & Atari Lynx game systems (all working!)... among many others. Odds are, I will never seriously use them. But they are an important part of my computer and video game loving past, and I just can't bear to part with them. So back into storage they go.
So yes, I am a hoarder. Of a sort.
But it can't make me relate to the reality television show of the same name any easier, nor make me want to watch it.
Thank heavens. Isn't four of them enough?