You know, the next time I participate in a meme that requires using my iTunes library, somebody please remind me to delete Duran Duran's Love Voodoo. I like the song, but it's always popping up and screwing me on these meme things.
Or maybe not, because I actually have a really good voodoo story to tell. And, though you will probably not believe a word of it, I swear on my iPhone that it's all true.
Back in 1983, I won a regional high school DECA (Distributive Education Clubs of America) competition that sent me to the nationals competition in New Orleans. Unsupervised. This made for a very interesting trip. But, oddly enough, the most interesting thing to happen did not involve drinking, partying, or sex. It involved voodoo. Real voodoo.
It all happened while I was souvenir shopping on my last day with some friends I had made at the competition. One of the girls had found a shop advertising "love potions" and didn't want to visit alone, so I went with her. As we wandered the shop, I saw some cool writing on little scrolls that were tied to some tree bark. They looked like some kind of good luck charm or something, so I decided to buy one as a souvenir. When I asked the odd lady behind the shop counter about it, she asked me what I wanted it for. "Uhhh... what?" I queried. She rolled her eyes and said "for what you want... love, luck, protection, money... whatever you want!" I couldn't make up my mind, but then something occurred to me... "can you get rid of warts with one of those things?" The woman said "for ten dollars!" without batting an eye. That was pretty pricey for a souvenir back then, but it looked cool, authentic, and unique, so I said yes...
...mostly because I had spent the past dozen years struggling with a few warts between the fingers on my right hand. They had been frozen off, cut out, and medicated with everything the doctor could think of, but they always came back. I didn't believe in voodoo or witchcraft or whatever but, so long as I was buying a souvenir, the least I could do was curse my warts while doing so. After explaining the situation, the shop lady told me she needed some of my hair (which she cut a small bit off my head) and that I was to come back in one hour. I wasn't expecting a wait, but I agreed.
And when I returned sixty minutes later I was shown the "voodoo charm" (or whatever) she had made me, and it was wicked-cool. I was certainly going to get my $10 worth, and so I handed the money over with a smile. That's when the woman grabbed the piece she had made... AND LIT IT ON FIRE WITH A CANDLE! That's right... the souvenir I just bought was burning. Not knowing what to do, I just stood there for a minute as my ten bucks went up in smoke. Eventually the woman gave me a look that said "you're welcome!" so I left the shop dazed and confused.
The next afternoon I was shuttled to the airport so I could catch my flight home. As I was taking my seat, I happened to notice something strange about my hand. The never-ending warts were GONE! All of them. Overnight. No bullshit. No lie.
And I've been wart-free ever since. Believe it or not.

And now, since I need a photo I took for this meme, I present "Voodoo Man" from the delicious Voodoo Doughnuts in Portland, Oregon...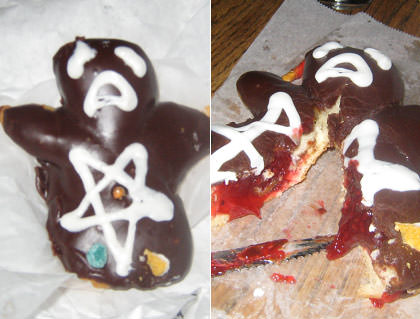 And now I want a donut.
In other news, HAPPY CANADA DAY to my friends in the Great White North...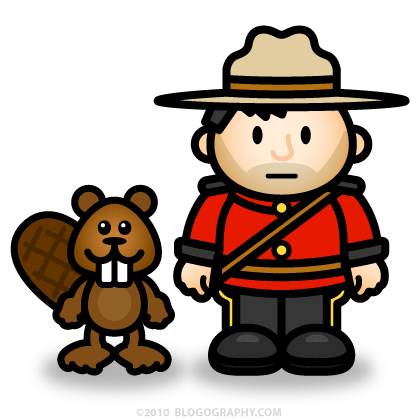 Hope everybody had a good one!