Today's word in the TWENTY/TWENTY meme is "Spy."
I had to really wrack my brain on this one, because it's not like I know a lot of spies to take their photographs. Eventually I decided to find something vaguely James Bond-ish in my photo library and make it work. Then, just as I was starting to look, I remembered that I had a photo that was totally James Bond... namely, my visit to "James Bond Island" in Phang Nga, Thailand...
The real name of the island is "Ko Khao Phing Kan" and the skinny rock there where the evil Bond villain, Scaramanga, mounted his Solex weapon is actually called "Ko Tapu" or "Nail Island." My brother and I took a boat there while visiting Phuket in South Thailand. It was a very cool trip, because the scenery was pretty incredible...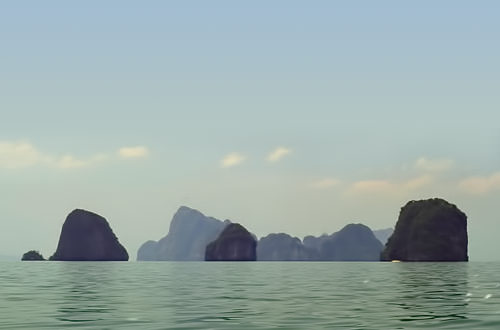 Wow. I really need to go back one of these days.

In other news, I had pancakes for dinner. They were crazy-delicious.