I could write for pages about the sad decline of journalism world-wide, but there seems to be little point in it. From television anchors injecting their personal feelings into the story... to newspaper writers drawing conclusions for the reader... to networks claiming impartiality while ramming their agenda down your throat... to internet "news" sites not bothering to check their "facts"... it's all such a horrendous mess that finding out what's really going on in the world today is all but impossible unless you are there to witness events in person.
I suppose it was inevitable, because people just don't seem to care about the truth anymore.
But even worse than all the things that we get wrong when it comes to journalism, at least the issues that the media decides to cover are getting exposure. What about important issues that get buried?
Take, for instance, an issue that I am hugely passionate about, ACTA...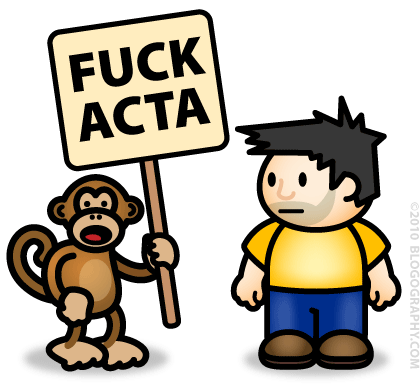 Since the most common meaning of ACTA is "Association of Canadian Travel Agents," I suppose I should state for the record that I have nothing against Canadian travel agents, but am instead referring to the world-wide "Anti-Counterfeiting Trade Agreement."
Something else I should probably get out of the way...
I am in no way supporting counterfeiting here. Theft is theft, and I believe strongly that people should be compensated for their work, and have the right to prosecute those who would steal it.
And yet, because of journalism FAIL!, most people have never even heard of ACTA.
If you're not entirely bored by now and want to read the rest of my rant, I've put it in an extended entry...
So what exactly is ACTA? What does it do? Well, I wish I could tell you, except all the negotiations for the "treaty" are held in secret. In fact, one of the Obama Administration's very first acts in office was to deny access to ACTA negotiation documentation. So much for President Obama's promise of government transparency, but he's a politician, and I'm used to being lied to by politicians.
Based on what we do know, however, ACTA is "a proposed plurilateral trade agreement for establishing international standards on intellectual property rights enforcement throughout the participating countries. Its proponents describe it as a response 'to the increase in global trade of counterfeit goods and pirated copyright protected works.' The scope of ACTA is broad, including counterfeit goods, generic medicines, as well as 'piracy over the Internet.'" (source: Wikipedia).
So what's wrong with that? Counterfeiting is bad, so ACTA should be a good thing, right?
In theory, yes. Realistically speaking, I would have nothing to fear from ACTA myself. The only intellectual property I've obtained illegally... Baltimora's Living in the Background album... is now available on iTunes, so all my music, movies, television shows, books, and other items are 100% legal.
Well, mostly 100% legal.
There are a few songs I've purchased which are not technically legal. For songs I want which are not available here in the USA iTunes store, I pay friends in foreign countries to purchase them for me either on their International iTunes Store... or via CD rip... and email me the files. By my standards, I've paid the artist (or, more likely, the artist's record label) for the use of their music. By copyright standards, it's still illegal.
There are a few movies and television shows I've purchased which are not technically legal. Because of different tape formats and DVD region encoding, the media I purchase is not playable here in the USA on my equipment. But I purchase the media anyway so I can justify downloading the shows via BitTorrent. By my standards, I've paid for the stuff I've downloaded. By copyright standards, it's still illegal.
Seriously, I am as legal as I can reasonably be for everything I have. Stealing is against the fundamental precepts of my beliefs, and so it is not something I care to participate in.
And yet... by making the admissions above, I am clearly a counterfeiter in the eyes of the law. The letter of the law does not distinguish intent, nor does it account for severity. I am a criminal. It doesn't matter than I would happily legally purchase the content I've "stolen" if I had the opportunity. It's far easier for record labels, movie studios, and television networks to put the blame on me for their failure to distribute their product in a way I have access to.
As an example, take the music group a-ha... a long time favorite band whose best music came after their one hit "Take On Me." If you go to the USA iTunes store, all you can purchase is their earliest works and a few incomplete albums or EPs with one or two songs each. So how do I legally obtain their music? I either have to ask a foreign friend buy the CD and pay them outrageous money to ship it to me, or pay an importer outrageous money to purchase it direct. This is sublimely stupid in the age of digital distribution, but what other choice do I have if I don't want to steal music? For a band like a-ha the outrageous money is worth it to me (though I still haven't ponied up the cash for their latest album, and am hoping they have it for sale when I see them on their farewell tour in New York City). But what about other musicians that I am not fanatical about, yet still want to enjoy their work? Well, I take the "not-so-gray-area" legal route and pay a friend to send it to me digitally. Not really stealing, but technically illegal.
So, while I honestly shouldn't have anything to fear from ACTA, the reality of the matter could be very, very different. All I can do is speculate here because, as I mentioned, the negotiations for the "treaty" are private, but it's informed speculation.
Let's say the attorney for a-ha's Norwegian record label reads Blogography and finds this entry. I claim to have purchased import albums of all the a-ha music I own, but my admission of other crimes makes this claim suspect. Well, thanks to ACTA, the US government waives my personal rights and allows the evil Norwegian lawyers to invade my home, confiscate my computers and iPods, petition my Internet Service Provider to take down my blog for promoting piracy, have me added to the FBI's criminal watch-list, and extradited to Norway to have my day in court. Ultimately, I would be exonerated because I do, in fact, own all the import CDs for the a-ha music I have on my iPod, but it would make little difference after all I'd have been put through (though I would like to visit Norway again, so maybe I'm just whining here).
That's a pretty unrealistic scenario, I grant you... especially where Norway is concerned. But let's flip it around and take a look at it from the other direction. Let's look at how The United States of America would deal with such a situation.
Not so funny anymore, is it? Because we've got plenty of examples of just how fucked up things work here, don't we? Hell, we've got the RIAA suing a 10-year-old girl with a disabled mother for crimes they claim she committed at 7 years old! Now imagine that ACTA gives the RIAA far-reaching global powers that could theoretically allow them to search your iPod for stolen music as you enter the country (or dozens of even scarier scenarios I could dream up). Far-fetched? Paranoid? Maybe. But history will back me up when I say that nothing would surprise me when it comes to an American company's lust for lawsuits.
And I haven't even touched on the internet yet. ACTA has the potential to fuck up the internet but good. Suddenly ISPs are responsible for their internet customers. Web hosting companies are responsible for their customers. Bloggers are responsible for their commenters... it goes on and on. And if you don't think that's problematic... just read about how Google is being sued in Italy for a video that one of their users uploaded which they had nothing to do with. ACTA could make such insanity commonplace. Somebody posts a link to a site which offers just one illegal download in your comments and suddenly you're sued for providing access to stolen goods and your blog is deleted? Maybe.
Again, I'm not advocating counterfeiting or theft here, I'm just saying that keeping the negotiations for ACTA private has horrendous potential for diminishing personal liberties and internet freedom.
So why is something so terrible being ignored (for the most part) by journalists here in the USA? Well, look no further than the owners of the television networks, movie studios, and news organizations which control journalism in this country. You think ABC News is going to have a "Special Report" about the potential dangers of ACTA when they are owned by Disney, who is understandably rabid about protecting their intellectual property? Of course not. Sure it may get mentioned in passing as a show of "journalistic integrity" but that the real dangers are being glossed over should surprise nobody. Contrast and compare with what you'd see in Denmark (which, oddly enough, is one of the countries wanting to keep ACTA private)...
The odds of seeing discussion like that on a major network here in the USA is effectively zero.
So what can you do to educate yourself? Well, Boing-Boing is leading the charge in keeping people informed about ACTA goings on, so subscribing to their blog is probably a good start. If you're interested in researching ACTA yourself, here are some links...
Privacy and freedom don't come out of ignorance... you're going to have to fight for it.