I have mixed feelings about animals being held in captivity for entertainment value.
For the most part, I'm against it. I see animals chained up at the circus or animals trapped behind glass at the zoo, and can't imagine that this is an acceptable way to treat them. These animals aren't living, they're existing, and that's a pretty big difference. Even when the people keeping the animals insist that they're receiving the best of care and are safer than they would be in the wild... or if they're of the mind that the animals don't know any better and only understand about getting fed... well, it's still a far cry from living in the wild.
But... "the wild" isn't what it used to be.
Jungles are being deforested. Glaciers are melting. Rivers, lakes, and oceans are polluted. Natural habitats are being dozed over to make room for condominiums. Pretty soon, there won't be much "wild" for animals to live in.
So... what to do?
The only way to insure the survival of a growing number of species is to raise them in captivity. And not all zoos are created equal. A growing number of zoos are going above and beyond to recreate the natural habitats of the animals living in captivity. The San Diego Zoo has been working on this for years, and others are following suite.
Then there's Disney's Animal Kingdom, where they've really put in the effort in recreating an animal's environment. And today they announced the birth of a critically endangered gorilla who might not have even had a chance in the hostile world we live in...

Now THAT'S an adorable baby!
But then there's the other side of the coin. Dangerous animals kept in captivity where it's easy to believe that we're the one's in control. We're the ones making the decisions. We're the ones making the rules.
And it makes for good family entertainment...
Until we receive a very real reminder that the animals are, in fact, still animals.
The tragedy at Sea World comes as a shock... but really shouldn't. The shocking things is that things like this don't happen more often.
And again, it's hard for me to sort out my feelings here. On one hand, animals as entertainment is not something I'm ever going to be comfortable with. On the other hand, the money Sea World gets from the entertainment goes towards their substantial efforts in education, conservation, rescue, and preservation.
So... what to do?
I guess there's nothing we really can do except BELIEVE it will all work out somehow...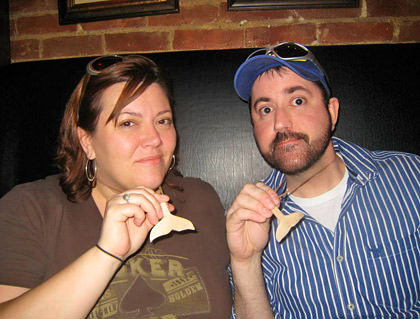 I wonder what this all means for those of us who have been indoctrinated into the Cult of Shamu?