Today I attempted to make up for my lack of tourism yesterday by hiring a guide to show me a bit of Bucharest. Usually I don't like guided tours, but I wanted very much to have a historical context for the places I'd be seeing. It was also helpful to have somebody be able to negotiate entry to the various places, as many of the buildings are owned by the State and require special arrangements or considerations to visit them. Having a private tour guide and driver for one person is not overly-expensive considering the value you get in return.
The weather wasn't all that great today, but I didn't mind so much. Bucharest has sights that are remarkable rain or shine.
I was dropped off in front of the Romanian Savings Bank Palace, a beautiful building with French architectural elements that I would have dearly loved to see inside. You just know that the atrium under that natural-light cap is glorious...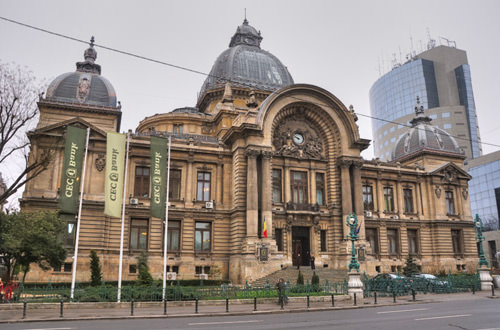 From there it was a short walk to the Stavropoleos Monastery, home of a beautiful little church that had so many interesting details that I could have easily wasted half my day exploring them...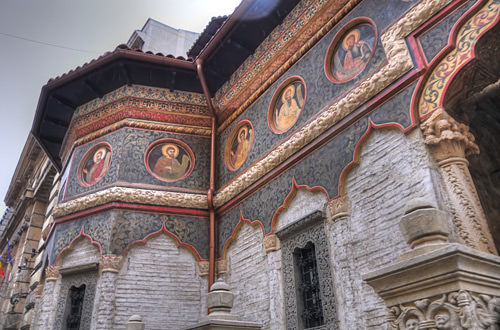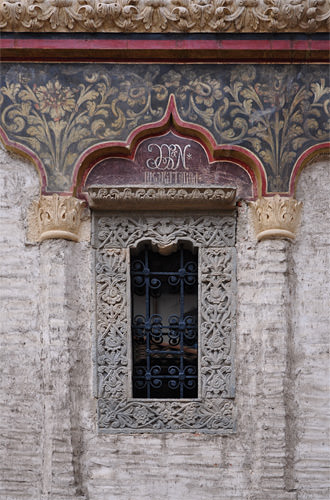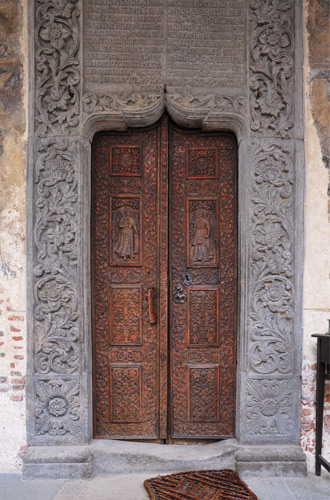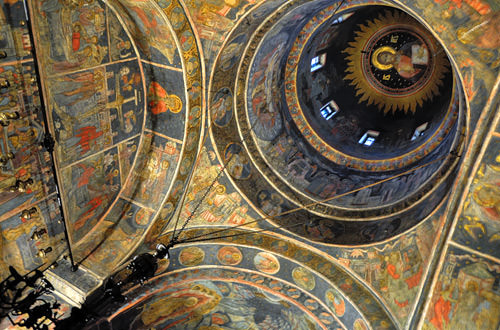 Wonderful little churches are scattered everywhere around Bucharest, some having been influenced by neighboring countries. Like this Russian church I saw as we headed back to our drop-off point...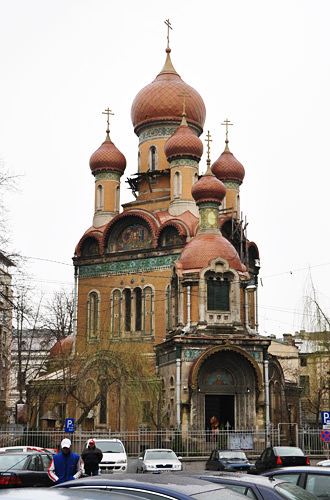 Along the way we took brief shelter from the rain by walking through the Macca-Vilacrosse Passage, a very cool covered arcade walkway that spans two small streets. The yellow glass is a brilliant idea, because it gives off a warm glow that looks like the sun shining, even on overcast rainy days...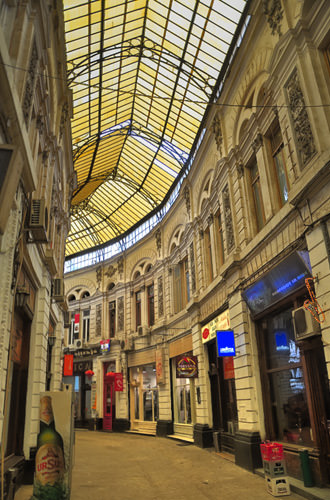 After a short car-ride, we arrived at the Metropolitan Church, which holds the relics of Demeter Basarabov, the patron saint of Bucharest. I didn't want the noise of my camera to disrupt the prayer service inside, so I can't show you the magnificient interior, but even the outside is pretty amazing. There's a cool fresco on the outside which depicts heaven on one side and hell on the other. In-between the two is the church entrance, which is an interesting symbology to present to parishioners...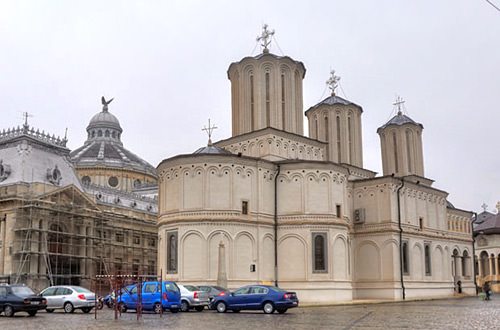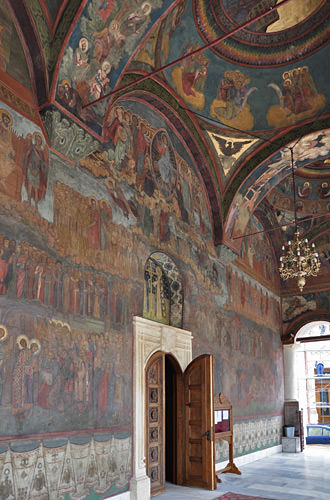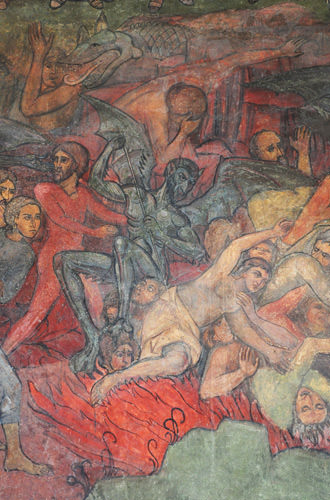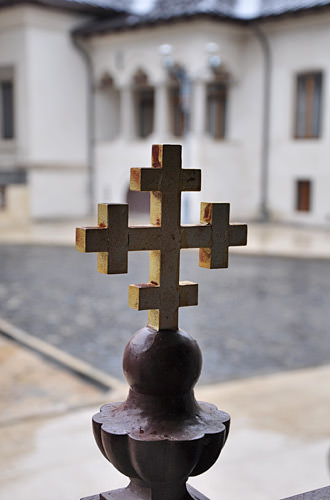 Next up was a bastion of excessiveness that would put Lord Dimwit Flathead shame... Nicolae Ceauşescu's massive Palace of the Parliament. Second only to The Pentagon in size for administration buildings around the world, there's no way to adequately describe just how big this place is. Standing all the way back to the street from across the guest parking lot, I still needed to stitch together a panorama in order to fit it all in a photo, despite the fact that I'm using a wide-angle lens...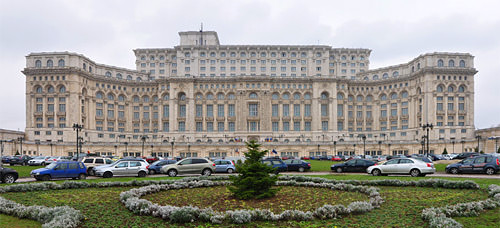 It's huge. Impossibly, massively, remarkably, huge. Thanks to some clever negotiations by my guide, I was able to get in on an English-speaking tour which would allow me to see 5% of the 1,100 rooms that make up the palace. I pretty much spent the entire time with my jaw on the floor as the tour wandered from one decadently appointed gigantic room to another...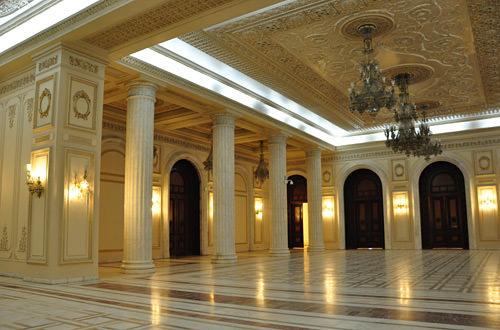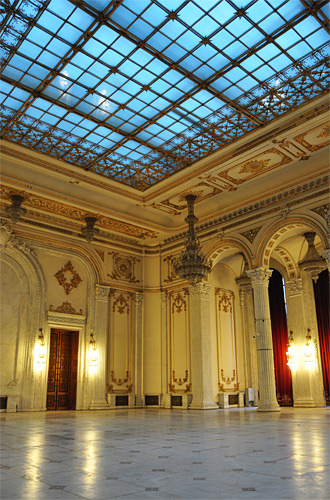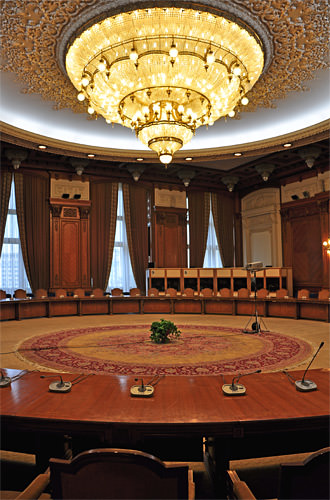 And lest you think that the room designs are in any way superficial, they're not. Each element is impeccably rendered down to the smallest detail. Everywhere you look, there's astounding displays of craftsmanship that just boggles the mind. Here's a close-up of the ceiling for that last photo. I'm confident that if I were to get even closer, even more tiny details would emerge...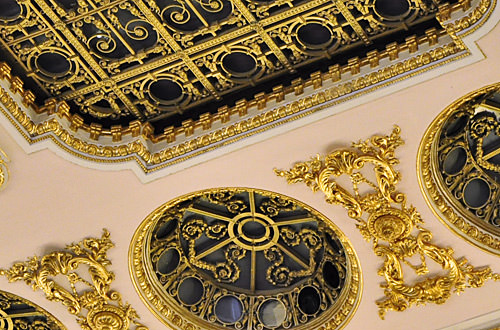 After collecting my wits, we proceeded to the Cotroceni Palace Museum, which happens to be the official residence of the President of Romania. Not surprisingly, absolutely no photography of any kind was permitted anywhere on the palace grounds. This is a real shame, because there are incredible sights to behold within.
Seven hours into the tour, we ended up at Revolution Square, which is home to one of the most interesting buildings I've ever seen, the Romanian Athenaeum. As a place built to celebrate the arts and sciences, it's truly a magnificent structure... not so much on the outside (though it is beautiful), but on the inside, which is just amazing. Of course, they don't allow photos in there either (that seems to be a reoccurring theme here in Bucharest) but it's definitely worth a visit...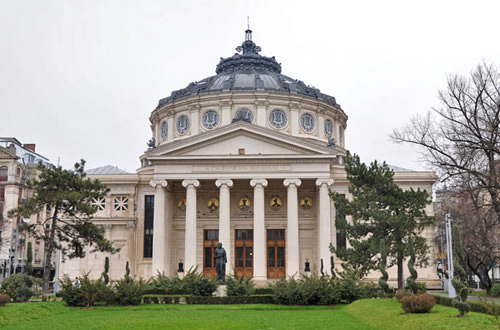 Which brings us to Revolution Square itself, where the Romanian Uprising finally brought the Nicolae Ceauşescu communist regime to an end. To the more recent generations of Western World, this sounds like an event which happened long ago. But in reality, it was just twenty years past. And there I was, standing in the spot where it all ended... and began anew... and where many people lost their lives as tanks crushed them and gunfire tore through them as they fought for their freedom. I remember very well reading and watching the events in Bucharest unfold with the rest of the world, and it was a bit surreal to be looking across at the balcony of the Central Committee Building where Ceauşescu gave his final ill-fated public address...
At the center of it all, a monument was built in remembrance of those who lost their lives...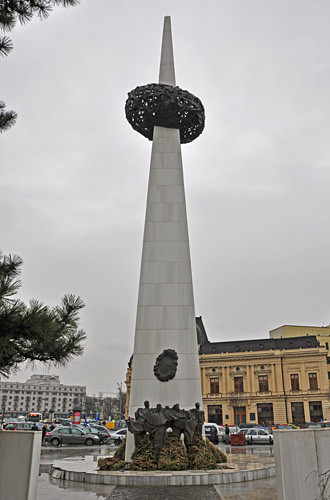 And thus ended my very small excursion into Bucharest. Of course I wish that I had a couple more days to explore the city, but I fit in as much as I could in the limited time available. As with any time you're lucky enough to travel, something is better than nothing at all!
And if you're looking to arrange your own tour of Bucharest or the surrounding area, I give my highest possible recommendation to RoCultours/CTI. As an academic touring company, you get an in-depth exploration of the things you see rather than just sitting on a bus as somebody points things out to you. This makes a world of difference when compared to the usual organized tour, and also allows for customization that would otherwise be impossible (I provided a list of things that were important to me, and they somehow found a way to make it all happen... like magic!). RoCultours/CTI came highly recommended to me, and I'm happy to pass along this "find" to anybody who ends up here looking for information on Bucharest.