Imitation is supposed to be the sincerest form of flattery.
But when it's a poor imitation, it's just insulting.
I created Lil' Dave and Bad Monkey "DaveToons" back in 2002 for my Hard Rock Cafe fan site "DaveCafe" (click here for the whole story). Since that time, they've appeared on my blog regularly, and have been printed on everything from shirts and hats to playing cards and bumper stickers. Here at my home in the Wenatchee Valley, they've been all around for years because I'm often giving T-Shirts away to my friends or donating them to events and such.
So I imagine it was only a matter of time before somebody decided to rip-off my characters to sell their crap. A year or so ago, somebody told me that a coffee stand had changed "Bad Monkey" to "Naughty Monkey" and made him as the mascot for their business...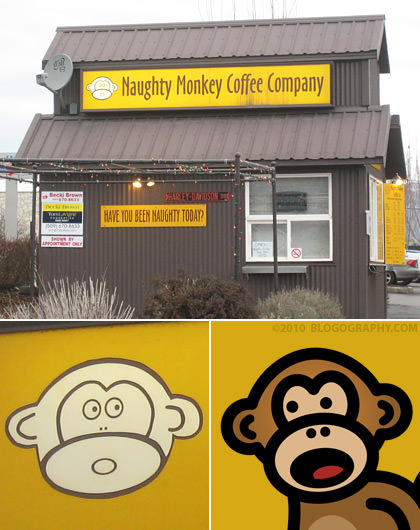 Poor imitation on the left, original on the right
He's kind of been butchered here... the relocation of his nose is particularly disturbing

They even took the color of the shirt he was printed on!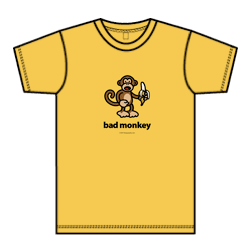 The sad thing is that if the owners of the coffee stand had bothered to follow the copyright link on the shirt to my blog and emailed me, I might have given them permission to use my character and also do their artwork for them if they were nice! It's a small valley... we may even know the same people. Maybe we could have worked out a deal where they'd sell my shirts and I'd split the profits with them! I usually don't license out my art for commercial purposes... but, come on, a struggling independent local coffee company wanting to name their business after something you created? How cool is that?!?
But they didn't, and (assumably) ripped me off instead (I don't buy this as a coincidence). Then, surprise! IT'S KARMA, BITCH!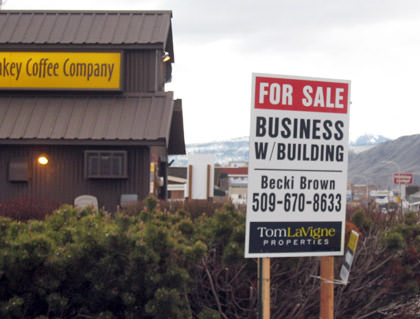 The reason I don't license my characters or give permission to use them for commercial purposes is simple. I don't make any money off my creations, so why should anybody else? I guess that doesn't stop people from taking them anyway. And, in this case, I guess justice was served.
At least until somebody else buys the business and re-opens it.