w00t! It's the last Bullet Sunday of 2009!

• TQ 2010. The moment we've all been waiting for has come. Jenny has announced the venue for TequilaCon 2010...
I am sooooo looking forward to another awesome TequilaCon event!
You can read my wrap-ups for TequilaCon 2009 here... TequilaCon 2008 here... and TequilaCon 2007 here.

• Kindle 2. I bought my mother a "Kindle 2" electronic book from Amazon. I was waiting on Barnes & Noble's "Nook" because it looked a little niftier in pictures, but the reviews were less than stellar so I went back to the Kindle. The device itself is pretty sweet, and a lot easier read from than I had expected. Sure it would be nice if the "e-ink" display had whiter whites for better contrast with the "type" but if you have decent light, it's not bad at all. Bumping up the type size seems to help. In any event, my mother likes it quite a lot, which is all that really matters...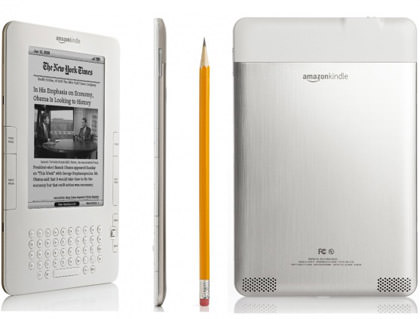 You can buy new books directly from Kindle easy enough (assuming you have a 3G signal... shopping over EDGE is painfully slow). The good news is that new e-books are released at the same time as the hardcover, but cheaper. As an example, the latest James Patterson release "I, Alex Cross" retails for $27.99, can be bought on Amazon for $18.33 (including tax & shipping), or delivered to your Kindle instantly for $10.79 (including tax). But the best news is that you can get free sample chapters of most books to decide if you want to buy them or not, which makes shopping for Kindle more like shopping at a book store. Overall, I'm impressed. Like most electronic devices, I wish Apple would overhaul the user interface to something more intuitive, but it's all good.

• Totino's. I left work at 3:00 because I was tired and hungry and couldn't stand the thought of sitting at my desk one more minute. Despite a rumbling tummy, nothing really sounded good... EXCEPT A CHEAP-ASS 99¢ PIZZA FROM TOTINO'S!
So few foods can give you 46% of your daily fat content, 36% of your saturated fat, 6% of your cholesterol, 24% of you carbs, and a whopping 56% of your daily cholesterol requirements... all in one convenient box! Genius!

Annnd... I'm spent. Assuming I don't die from my poor nutritional choices in food, I suppose I'll be back tomorrow.